Deluxe 'The Singles Collection' Vinyl 45s Box To Celebrate GZA's Landmark 'Liquid Swords'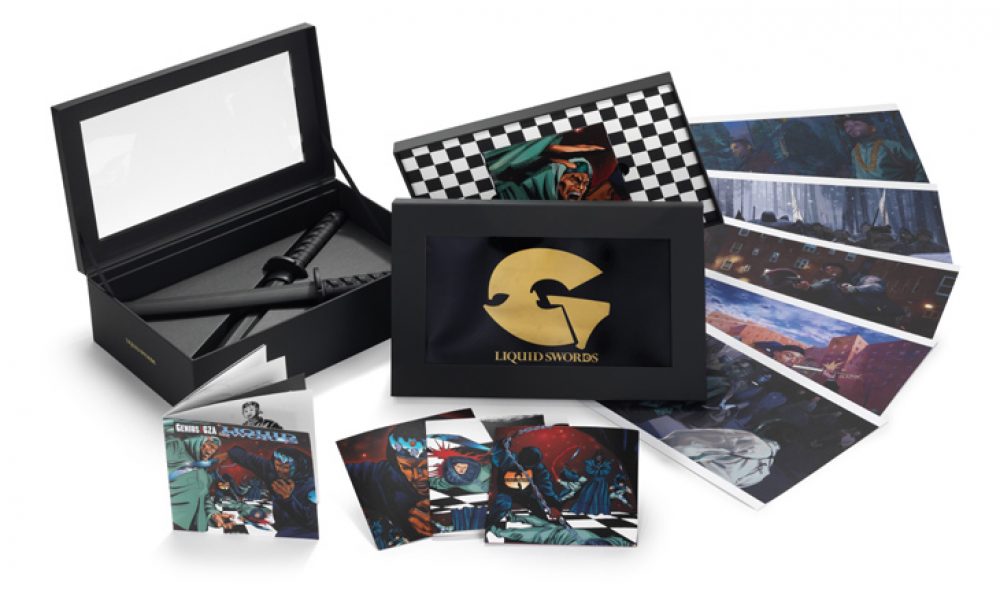 UMG are to release a special deluxe Vinyl 45s Box 'The Singles Collection' featuring the four singles from GZA's landmark hip-hop album Liquid Swords on 17 November 2017.
The inaugural release in UMG's new 'Urban Legends' series, the box features Liquid Swords' quarter of cornerstone singles presented as picture sleeve 7-Inches with artwork from original 12-inches. The singles are 'I Got Ya Back'; 'Cold World'; 'Liquid Swords'; and the double A-Side classic 'Shadowboxin' / 4th Chamber'. Also included here as a B-side is the "Cold World" RZA Mix, featuring D'Angelo, which was included on a cassingle version of the original, but never on wax.
Each set comes with five 15.75" x 10.25" high end prints by artist Andrew Hem – new visual interpretations of each song, a 7" x 7" booklet featuring a reprint of Wax Poetics GZA interview with breakdowns of all four singles, all housed in an oversized art box with unique easel back and display window.
Liquid Swords: The Singles Collection
Originally released in November of 1995, the singles from Liquid Swords spanned an impressive year-and-a-half timeframe, from 'I Gotcha Back' in August 1994 to March 1996's pristine 'Shadowboxin' / '4th Chamber. In between was an artistic journey that touched an almost uncountable number of rap fans around the globe.
The Wu-Tang Clan, who first exploded in 1993, might have seemed like veterans by the time Liquid Swords hit. But they were, as we now know, still in their infancy. And amongst the unique crew of nine, GZA was the group's veteran presence. He was the only MC to have released an LP before Enter The Wu-Tang (36 Chambers); in 1991, as The Genius, with Words From The Genius.
By the time the Liquid Swords era arrived, GZA was established as one of the most intelligent, powerful and unique MCs in the hip-hop game. Fans ate up each single as it appeared, fuelled by the overall Wu-Tang frenzy fanned by solo albums including Method Man's Tical; Ol' Dirty Bastard's Return To The 36 Chambers; and Raekwon's Only Built 4 Cuban Linx.
At the peak of his powers as a producer in the mid-'90s, Wu-Tang mastermind RZA crafted a distinctive soundtrack for GZA at his basement studio in Staten Island. This haunting landscape of dusty samples, sharp snares and menacing urban gloom – culled from the Japanese film Shogun Assassin as well as wide-ranging R & B and funk sources – would soon become a pillar of hip-hop history. These sounds were to become GZA's 1995 sophomore classic, Liquid Swords – considered by many to be the ultimate Wu-Tang Clan solo album.
A very limited number of 500 sets will also include two practice swords housed in an additional box, and are autographed by The GZA. These are only available online via Urban Legends.
'The Singles Collection' Vinyl 45s Box Set will be released on 17 November. Scroll down to read the full tracklist and order it here.
GZA: Liquid Swords 'The Singles Collection' Tracklisting:
SINGLE 1: 'I Gotcha Back'
'I Gotcha Back' (LP Version)
'I Gotcha Back' (LP Instrumental)
SINGLE 2: 'Cold World'
'Cold World" (LP Version)
'Cold World' (RZA Mix) (w/ D'Angelo)
SINGLE 3: 'Liquid Swords'
'Liquid Swords' (LP Version)
'Liquid Swords' (LP Instrumental Version)
SINGLE 4: "Shadowboxin'"
'Shadowboxin' (LP Version)
'4th Chamber' (LP Version)
Format:
UK English