Anti-Flag Reveal Album 'American Fall', Announce UK, US Dates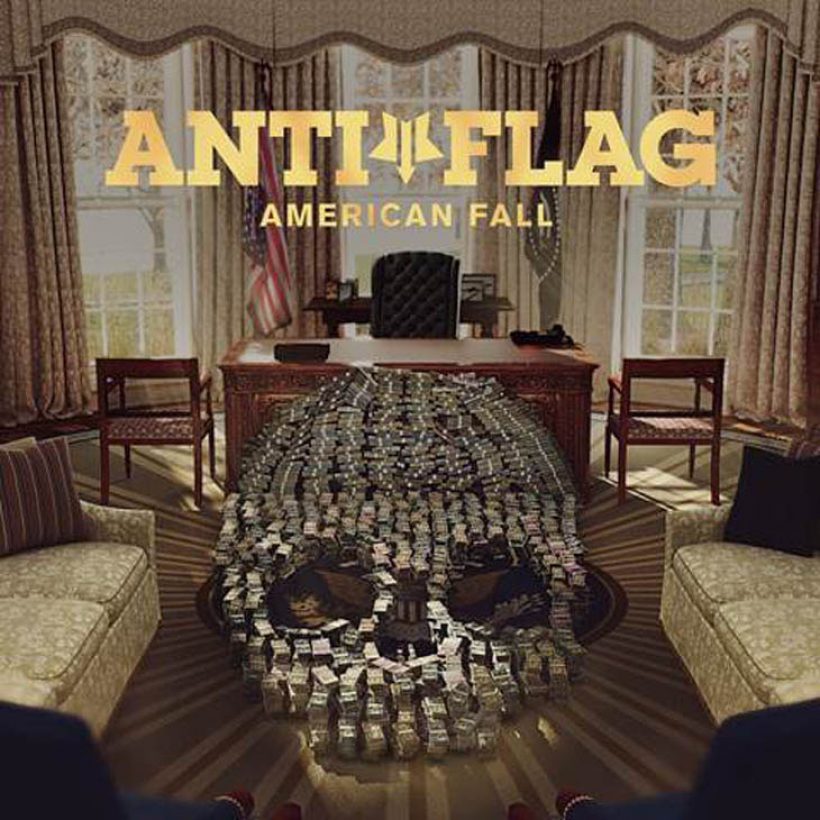 Highly-regarded Pittsburgh punks Anti-Flag have announced details of their new album, American Fall. Released via Spinefarm Records on 3 November 2017, the album is the much-anticipated follow-up to 2015's American Spring.
Since unleashing their seminal 1996 debut, Die for the Government, Anti-Flag have empowered and emboldened their listeners for two generations with a timeless punk spirit. With today's chaotic political landscape stemming from the controversial 2016 presidential election, the Pittsburgh, PA quartet (Justin Sane [vocals], Chris#2 [bass, vocals], Chris Head [guitar, vocals], and Pat Thetic [drums]) felt the time was right for Anti-Flag to release their most definitive offering, American Fall.
Co-produced by Good Charlotte's Benji Madden, American Fall fuels politically-driven and powerful self-awareness lyrics, while the 11-song collection is structurally fused together in a new sonic direction of punk-rock singalongs and big hooks.
"We must challenge racism and hatred everywhere we see it: at school, at work, at the dinner table with our families…absolutely everywhere. The line has been drawn," Anti-Flag say in a press statement, relating to their new song 'Racists' and the lyrical content of several songs on American Fall. "On one side stand those who fight for humanity, optimism, and empathy. On the other side are those who precipitate bigotry, cynicism, and apathy. Now is the time to get off of the fence and choose which side of history you want to be on."
Anti-Flag - Racists (Lyric Video)
Anti-Flag will bring their memorable live set on the road over the next few months, with select tour and festival dates in the US and UK announced, including Aftershock Festival in Sacramento, CA on 21 October with Nine Inch Nails and Perfect Circle. Plus, the band will perform at this year's Knotfest in Toluca, Mexico on 28 October.
Scroll down to read the Anti-Flags UK and US tour dates. American Fall is due for release on 3 November and can be ordered here.
Anti-Flag perform the following UK and US dates:
UK:
11 October: Manchester, O2 RITZ
12 October: Bristol, O2 Academy
13 October: Leicester, O2 Academy
15 October: Leeds, O2 Academy
16 October: London, O2 Kentish Town Forum
17 October: London, O2 Kentish Town Forum
18 October: Newcastle, O2 Academy
19 October: Glasgow, O2 Academy Glasgow
US:
21 October: Sacramento, CA, Aftershock Festival
28 October: Toluca, Mexico, KNOTFEST
30 October: Cincinnati, OH, Bogart's
31 October: Niagara Falls, The Rapids Theatre
2 November: Sayreville, NJ, Starland Ballroom
3 November: Philadelphia, PA, Electric Factory
4 November: Clifton Park, NY, Upstate Concert Hall
5 November: Worcester, MA, The Palladium
Format:
UK English