Barry Gibb, Yola, Allison Russell Win At UK Americana Awards 2022
Other winners at the ceremony included Lucinda Williams, Yola, Allison Russell, and Brandi Carlile.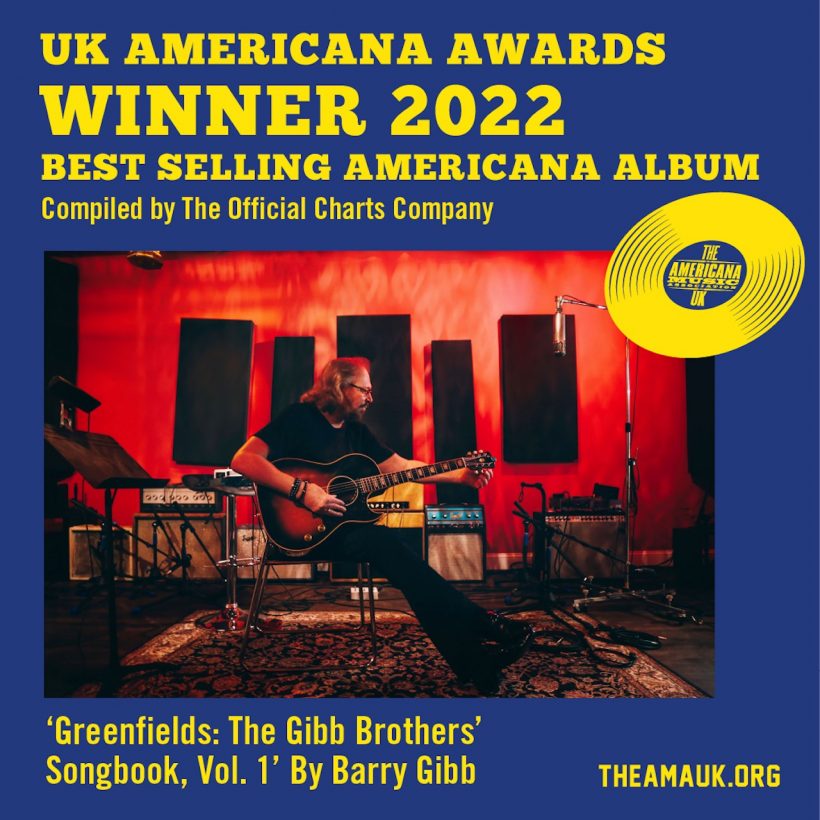 Barry Gibb's Greenfields: The Gibb Brothers' Songbook Vol.1 has been named Best Selling Americana Album by a UK artist, at the UK Americana Awards 2022.
The show was hosted by broadcasters Baylen Leonard and Bob Harris from independent grassroots venue the Sound Lounge in south London and streamed on the AMA-UK's official YouTube channel. Other winners included Lucinda Williams, Yola, Allison Russell, and Brandi Carlile.
UK Americana Awards 2022 Live Stream
"This is a wonderful thing!" said Gibb in a video message. "I would really like to thank the UK Americana Awards for recognizing this album. It's amazing that this can happen to me at this point in my life. I really am grateful to a lot of people. Firstly, my son Stephen who brought this wonderful idea to my attention. He played me a Chris Stapleton record which blew my socks off and inspired this album.
"I would also like to thank Dave Cobb for his passion, his patience, and his wonderful team. I'd like to give a heartfelt thank you to all of the legendary artists that took part. Making an album like this is a labour of love. Once again, thank you very much!"
Among the seven member-voted awards, Allison Russell and Yola were both double winners. Russell was International Artist of the Year and won International Album of the Year for the hugely acclaimed Outside Child, while Yola won UK Artist of the Year and UK Album of the Year for Stand For Myself. Lady Nade won UK Song of the Year with "Willing," Carlile took International Song of the Year with "Right On Time," and Michele Stodart, best-known as a member of the Magic Numbers, was UK Instrumentalist of the Year.
Commitment to diversity
The Americana Music Association UK notes that the all-female line-up of winners, including three women of colour, is especially gratifying, and reflects its commitment to diversity since signing up to the Keychange pledge in 2018.
Among previously announced awards conferred by the AMA-UK Board, Lucinda Williams won the International Lifetime Achievement Award, and Beth Orton the Trailblazer Award. The Long Ryders won the International Trailblazer Award and British singer-songwriter Lauren Housley the Bob Harris Emerging Artist Award. Tom Bridgewater, co-founder of Loose Music, was the recipient of the Grass Roots Award.
The awards show featured performances from Russell, Kiefer Sutherland, Sierra Ferrell, Amythyst Kiah, and Aaron Lee Tasjan, and from the ceremony itself, Housley, Lady Nade, Elles Bailey, Memorial, the Wandering Hearts, and Sid Griffin of the Long Ryders, all supported by the house band led by Stodart.
Buy or stream Greenfields: The Gibb Brothers Songbook, Vol. 1.