Carrie Underwood Rocks Out With Axl Rose In Unique Duet At Stagecoach
On social media, she later thanked Rose 'for making this lifelong dream come true.'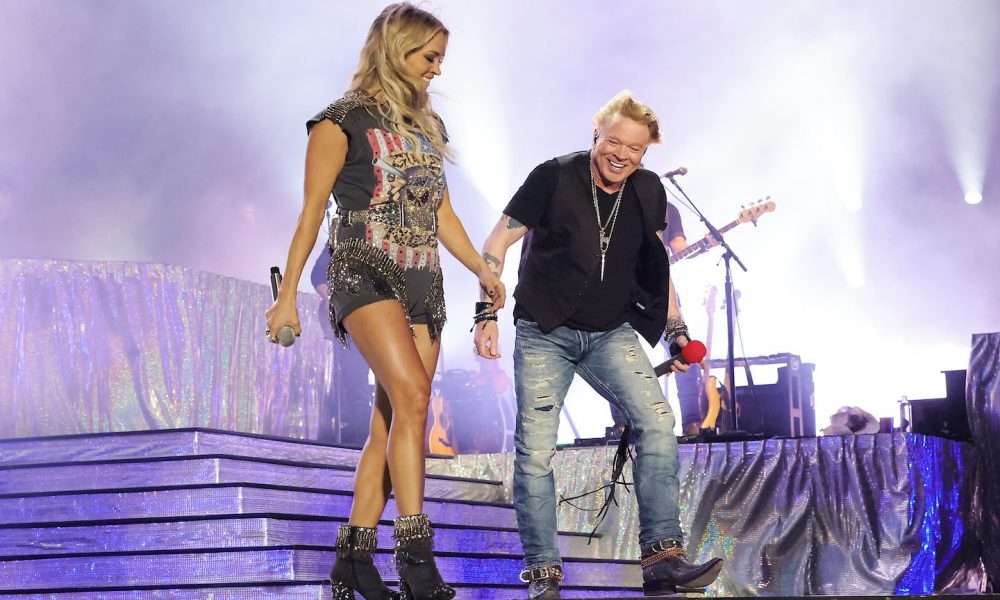 Carrie Underwood performed a surprise duet with Axl Rose during her headlining set at Stagecoach on Saturday (May 1). The stars from the country and rock worlds respectively joined forces on a version of Guns N' Roses' "Sweet Child O' Mine."
Underwood has covered the rock classic in the past and included it in her set when she headlined previously at Stagecoach in 2008. On Sunday, she thanked the G N' R frontman, writing on social media: "Best. Night. Of. My. Life!!! I am still freaking out!!! Thank you, @axlrose, for making this lifelong dream come true!!! You rocked that @Stagecoach stage harder than anyone has ever rocked it before." Yesterday (Monday) she added: "I'm still on a high from Stagecoach. So many fun moments!"
She was also quick to pay tribute to Naomi Judd, of prolific country hitmakers the Judds, whose death at 76 was announced the same day. Underwood called her a "true legend" and added: "Let's light up this place in memory of all those that we miss. I know all of country music will be lighting something up for Ms. Naomi Judd."
Carrie Underwood - Crazy Angels (Official Lyric Video)
The ninth studio album by the CMA entertainer of the year, Denim & Rhinestones, is due for release by Capitol Nashville on June 10. Its lead track "Ghost Story" climbs 33-29 on Billboard's Country Airplay chart, dated May 7, but falls 24-27 on Hot Country Songs. Another new song that will feature on the album, "Crazy Angels," arrives at No.14 on the magazine's Country Digital Song Sales chart.
The country superstar plays at the iHeart Country Festival 2022 in Austin, Texas on May 7, then her residency in Las Vegas with her Reflection show comes to a conclusion with six more shows this month, from May 11-21. Underwood is also booked for the CMA Music Fest in Nashville on June 11.
Pre-order Denim & Rhinestones, which is released on June 10.