Carrie Underwood Shares Cinematic Video For 'Ghost Story'
The track will feature on the country megastar's upcoming album, 'Denim & Rhinestones'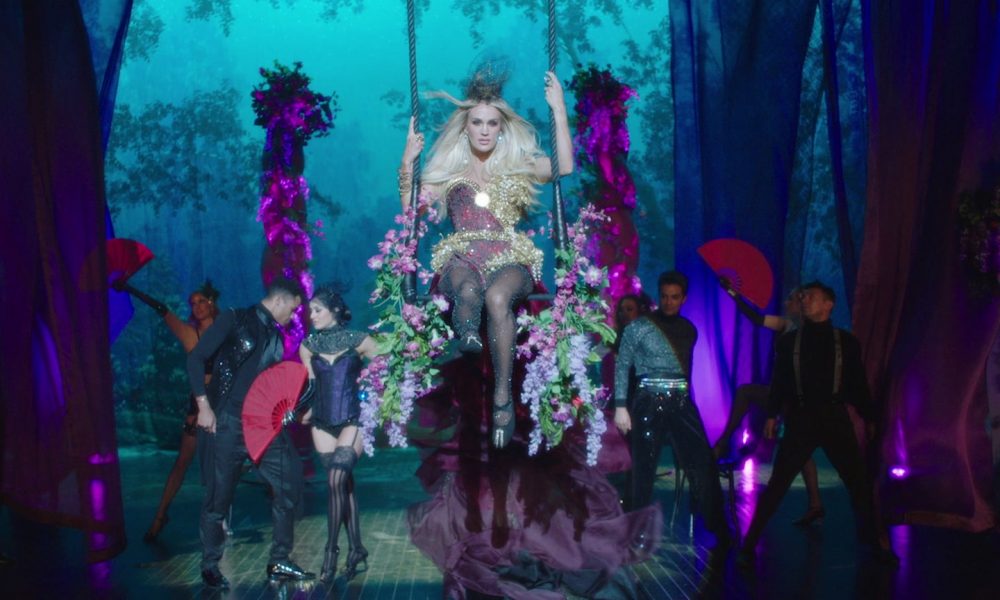 Carrie Underwood has shared a cinematic new music video for her single "Ghost Story," with the memory of the country icon haunting an ex.
In the Randee St. Nicholas-directed visuals, the eight-time Grammy Award winner portrays someone who has moved on from a relationship and is living her best life, while her former partner is reminded of her presence at every turn. Filmed in the 1931 movie palace The Los Angeles Theatre in downtown LA, the clip sets an opulent, elegant tone with crystal chandeliers, marble and more.
"Randee St. Nicholas has an incredible eye and always knows how to film everything in the most unique and beautiful way," Underwood said in a press release. "I am very visually oriented and from the first time I heard 'Ghost Story,' I had a vision for how I wanted to bring this song to life in performance and Randee always takes everything to a whole other artistic level beyond my own imagination."
Carrie Underwood - Ghost Story (Official Music Video)
The track was the first preview Underwood gave us of her next album Denim & Rhinestones and has been climbing up the charts since its release in March. It was followed by the release of the album's title track and "Crazy Angels."
The new record, meanwhile, will find Underwood working with David Garcia once more – her co-producer on her 2018 album Cry Pretty and on 2021's Grammy Award-winning album of gospel hymns, My Savior. Denim & Rhinestones will be available on June 10 via Capitol Records Nashville.
This weekend (April 30), the star will headline the legendary Mane Sage at Stagecoach Festival, with her set streaming online from 10pm PT. Beforehand, she will host an exclusive Stagecoach Pre-Party with YouTube, which will only be available to YouTube Premium members. Visit here for more information.
Following Stagecoach, Underwood will return to Las Vegas to continue her ongoing Reflection: The Las Vegas Residency at the Resorts World Theatre in May. She opened the new 5,000-capacity, world-class theatre with sold-out shows in December 2021 and March 2022, becoming the first artist to grace the largest and tallest stage in the city.