Carrie Underwood Celebrates Platinum Status For 'Cry Pretty' Album
The country superstar was presented with discs for the platinum album and four certified singles from it.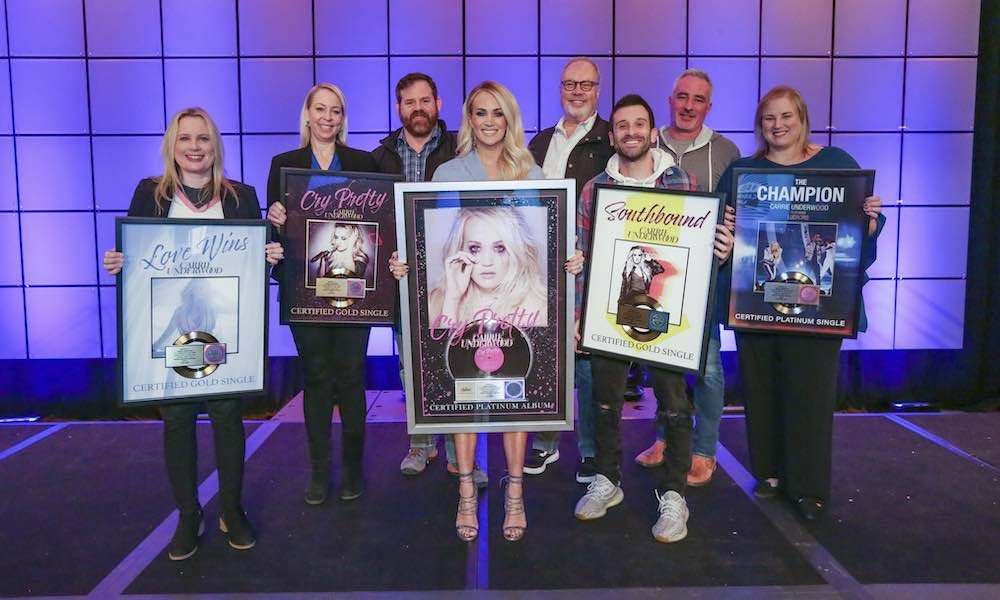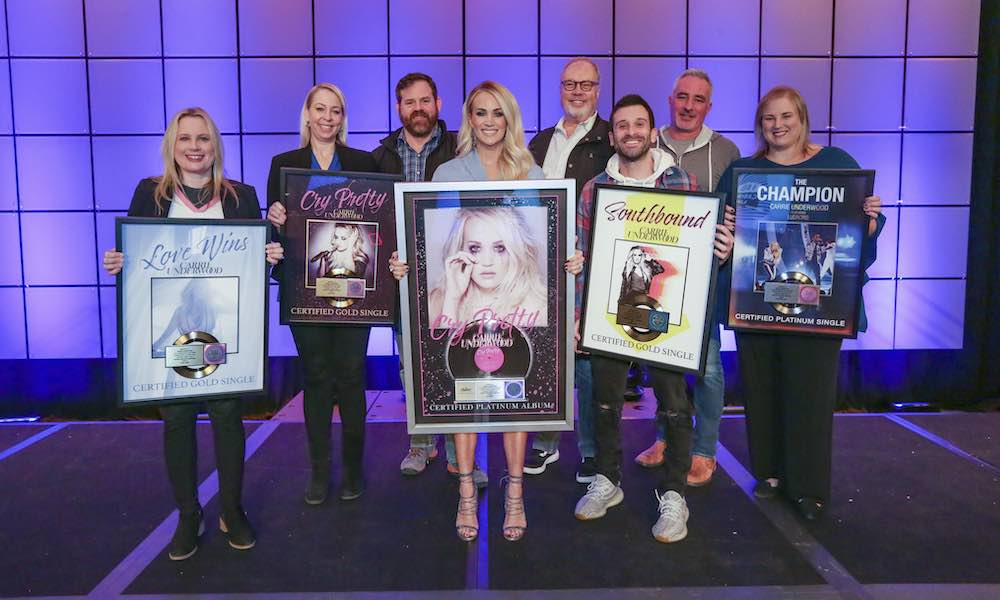 Carrie Underwood celebrated the platinum certification of her latest album Cry Pretty by the RIAA with a ceremony on stage last Friday (21). The surprise presentation took place after her CRS (Country Radio Seminar) interview at the Omni Hotel in Nashville. UMG Nashville CEO & chairman Mike Dungan and label president Cindy Mabe presented the country superstar with discs for the platinum album and four certified singles from it.
Cry Pretty, released in September 2018, was Underwood's sixth studio album and her first as a co-producer, alongside David Garcia. Mabe described it as "an album of risk and boundary pushing. Carrie put her whole heart, raw emotion and personal story into writing, producing and releasing the music from this album for the world to see behind the curtains.
"Carrie's artistic evolution"
"Cry Pretty is Carrie's artistic evolution," continues Mabe, "and provides a chance for fans to see her at her most vulnerable and raw, so celebrating platinum status is such an incredible gift that proves big risk gives way to big reward."
At the presentation, Underwood said: "This means a lot, because I feel like this is the project that I've done, and the album that I've done, that is the most 'me.' I'm honoured and I'm humbled, and God is good."
Carrie Underwood - The Champion ft. Ludacris (Official Music Video)
The album's No. 1 debut on the Billboard 200 made the artist the only woman to score four chart-topping country albums on the all-genre chart. It was the bestselling female debut of 2018 on that chart, and Underwood remains the female artist most certified for digital singles by the RIAA. Four from Cry Pretty have RIAA certifications: 'The Champion' is platinum while 'Cry Pretty,' 'Love Wins and 'Southbound' are all gold.
In other Underwood news, HarperCollins/Dey Street Books will publish her first book, Find Your Path: Honour Your Body, Fuel Your Soul, and Get Strong with the Fit52 Life on 3 March. In the fitness lifestyle book, she offers a common-sense approach to staying active and eating well all year round.
The Cry Pretty album can be bought here.
Format:
UK English