Charles Lloyd To Release 'Trio Of Trios': Three New Collaborative Albums On Blue Note
The new titles see the legendary saxophonist playing in different trio settings with stars such as Bill Frisell, Gerald Clayton and Julian Lage.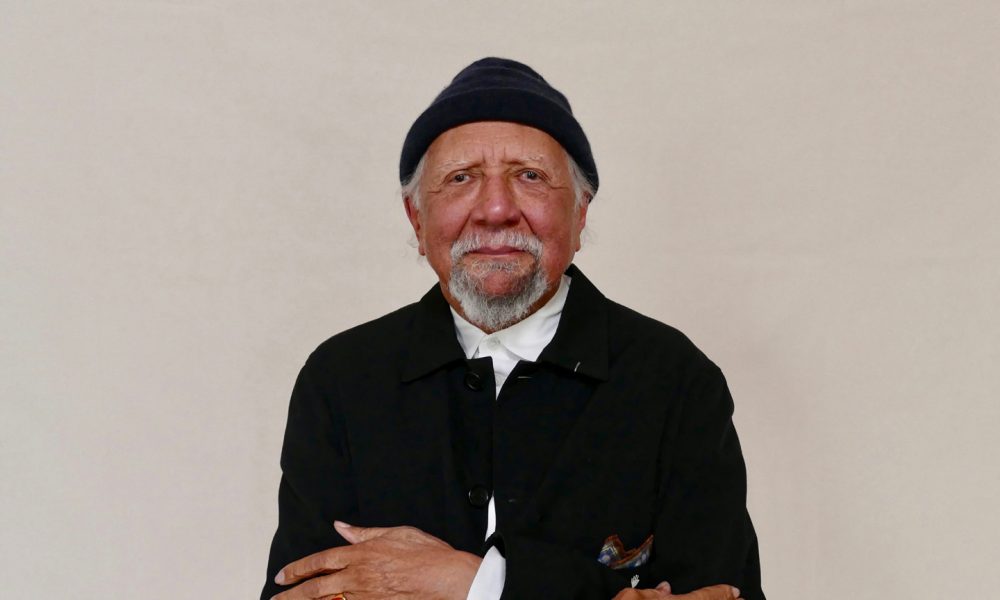 Blue Note Records has announced Trio of Trios, an expansive new project by the legendary saxophonist and NEA Jazz Master Charles Lloyd. As a sound seeker, Lloyd's restless creativity has perhaps found no greater manifestation than on his latest masterwork which encompasses three albums each presenting him in a different trio setting.
The first album in the series, Trios: Chapel, will be released June 24 and features guitarist Bill Frisell and bassist Thomas Morgan. The second, Trios: Ocean, arrives August 26 featuring pianist Gerald Clayton and guitarist Anthony Wilson. The third, Trios: Sacred Thread, comes out October 28 and features guitarist Julian Lage and percussionist Zakir Hussain. You can listen below to the single "Blood Count," a heartfelt rendition of Billy Strayhorn's composition performed by the Chapel Trio which is available now.
The three albums will be released individually on vinyl and CD and can also be pre-ordered as a 3-LP vinyl boxset exclusively on the Blue Note Store. The Trio of Trios vinyl boxset comes in a hardcover slipcase with four lithographic prints featuring the striking cover art by Dorothy Darr. Fans who pre-order will receive the slipcase, lithographs, and Trios: Chapel vinyl on June 24 with the subsequent albums delivered upon their release.
Charles Lloyd - Blood Count (Visualizer)
Lloyd has long been a free spirit, master musician, and visionary. For more than 6 decades the legendary saxophonist and composer has loomed large over the music world, and at 84 years old he remains at the height of his powers and as prolific as ever. Early on Lloyd saw how placing the improvised solo in interesting and original contexts could provoke greater freedom of expression and inspire creativity, and throughout his remarkable career he has searched for alternative ways to frame his improvisational skills.
It should come as no surprise that each of the configurations that feature in the the three albums set involve a deft change of musical context. The Chapel Trio was named after the group's inaugural performance in December 2018 at Coates Chapel in San Antonio. Frisell had already cemented his relationship with Lloyd as a charter member of The Marvels when he was invited by Lloyd to join him in a special concert at Coates Chapel on the Southwest School of Arts campus in San Antonio.
Lloyd was already familiar with the acoustic properties of the chapel and knew it would not support drums or percussion. He was also aware that Frisell had recorded in a duo context with Morgan, with whom he had developed a close musical rapport, and suggested they might all come together as a trio. The Coates concert left an indelible impression on Lloyd, who later said, "Our first performance has always had a magical place in my memory bank."
Charles Lloyd plays the following 2022 tour dates:
June 4 – Tulsa's Wine, Jazz & World Fete – Tulsa, OK
June 25 – TD Ottawa Jazz Festival – Ottawa, ONT
June 26 – Blue Note Jazz Festival, SONY Hall – New York, NY
July 2 – Love Supreme Festival – East Sussex, UK
July 5 – Wytwornia – Lodz, Poland
July 7 – Garana Jazz Festival – Garana, Romania
July 9 – Ghent Jazz Festival – Gent, Belgium
July 10 – North Sea Jazz Festival – Rotterdam, Netherlands
July 12 – Jazz à Juan – Juan-les-Pins, France
July 14 – Umbria Jazz Festival – Perugia, Italy
July 16 – Pori Jazz Festival – Pori, Finland
July 19 – Molde Jazz Festival – Molde, Norway
July 21 – Fasching In Bloom – Stockholm, Sweden
July 23 – Armonie d'Arte Festival – Borgia, Italy
Sept. 29 – SFJAZZ – San Francisco, CA
Sept. 30 – SFJAZZ – San Francisco, CA
Oct. 1 – SFJAZZ – San Francisco, CA
Oct. 2 – SFJAZZ – San Francisco, CA
Nov. 4 – GPAC – Memphis, TN
Nov. 6 – Earshot Jazz – Seattle, WA
Nov. 8 – Boulder Theater – Boulder, CO
Nov. 12 – Lensic Theater – Santa Fe, NM