Chris Lake And Cloonee Partner For First Collaboration, 'Nightmares'
The producers embark on separate tours this month, with a show together in Phoenix on May 29.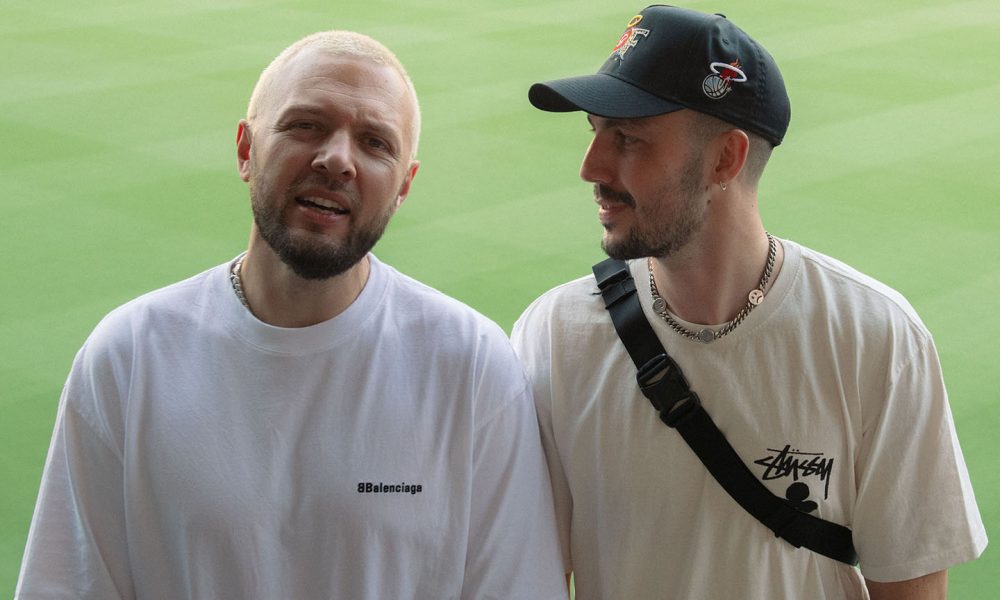 Two electronic powerhouses – Grammy-nominated producer and Black Book Records founder Chris Lake and leading UK Tech House producer Cloonee – have joined forces on their first collaboration, "Nightmares," via Black Book Records/Astralwerks. The track arrives after Cloonee's 2020 signing to Black Book, followed by a handful of shows together in 2021.
While the song innocently starts off with a child's voice, it eventually breaks through into audio that's reminiscent of a horror film soundtrack. With a steady, sizzling beat and big brassy tones, "Nightmares" immediately draws listeners in.
Chris Lake & Cloonee - Nightmares
"Working with Chris was an absolute honor and a huge milestone in my career that I will look back on fondly," Cloonee shared in a statement. "It took us a few attempts to land on this record, but I'm incredibly happy that we did as the final result is amazing. It was also nice for Chris to see how a real producer works in the studio."
"I liked working with Cloonee because he has fantastic taste in British chocolate," added Lake. "He's also not a bad producer."
Later this month, Cloonee will open for Lake at the Under Construction festival at Arizona's Phoenix Raceway on May 29. The lineup also includes such acts as Fisher, LOCO DICE, Hot Since 82, ANNA, Eli & Fur, Joshwa, Miane, and Sosa.
Both producers have built an impressive roster of credits over the years. Most recently, Lake dropped "400," the lead single from Chapter 3 of the Black Book ID's series, while last year, he remixed The Weeknd and Swedish House Mafia's smash hit, "Moth To A Flame." Cloonee, who is best known for hits like "Love You Like That" and "Sun Goes Down," made his Black Blook debut in 2020 with "Let's Rave" and the hypnotizing "What Ya Want."
Both artists, meanwhile, are gearing up for individual US tours. A full list of dates for each artist is below.
Chris Lake – Tour Dates
May 20 – Las Vegas, NV – EDC Las Vegas
May 21 – Las Vegas, NV – Marquee Day Club
May 28 & 29 – Avondale, AZ – Phoenix Raceway – Chris Lake B2B FISHER – "Under Construction"
May 29 – Las Vegas, NV – Marquee Day Club
June 3 – Brooklyn, NY – Brooklyn Mirage
June 4 – Brooklyn, NY – Brooklyn Mirage
June 10 – Cleveland, OH – FWD Day + NightClub
June 11 – Boston, MA – Big Night Live
June 26 – Las Vegas, NV – Marquee Day Club
July 10 – Las Vegas, NV – Marquee Day Club
July 24 – Las Vegas, NV – Marquee Day Club
July 29 – Toronto, ON – Veld Music Festival 2022
August 14 – Las Vegas, NV – Marquee Day Club
September 4 – Las Vegas, NV – Marquee Day Club
September 18 – Las Vegas, NV – Marquee Day Club
Cloonee – A Different Breed Spring Tour
May 13 – San Diego, CA – Spin Nightclub
May 18 – Las Vegas, NV – Low-Key at Marquee
May 20 – Las Vegas, NV – EDC Las Vegas
May 27 – New York, NY – Somewhere Nowhere
May 28 – Orlando, FL – Skyline Orlando
May 29 – Avondale, AZ – Phoenix Raceway – "Under Construction"
June 16 – Manchester, TN – Bonnaroo Music Festival