The Cranberries Announce 25th Anniversary Edition Of 'Everybody Else Is Doing It, So Why Can't We?'
Originally released on 12 March 1993, the album hit the No.1 spot in both the UK and Ireland and sold over 6 million copies worldwide.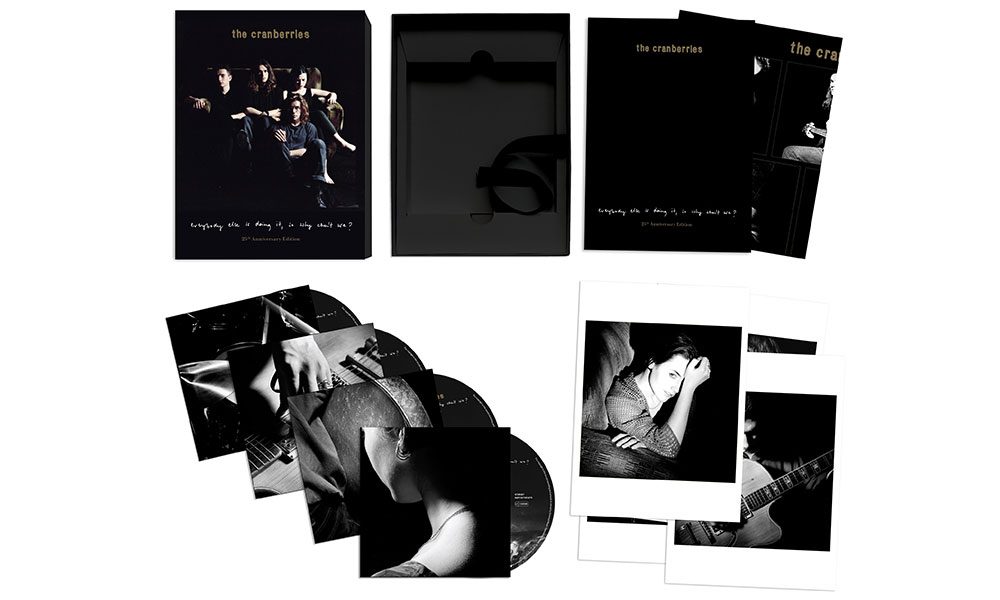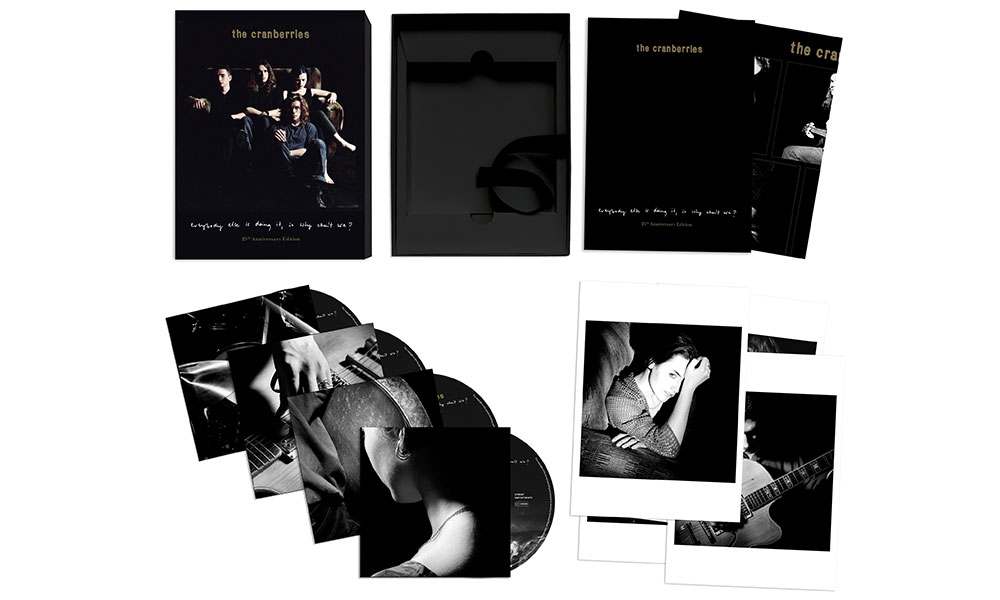 The Cranberries have announced a 25th anniversary edition box set edition of their landmark debut album Everybody Else Is Doing It, So Why Can't We? Originally released on 12th March 1993, the album hit the No.1 spot in both the UK and Ireland and sold over 6 million copies worldwide.
Last year, the four members of the Cranberries – Dolores O'Riordan, Noel Hogan, Mike Hogan and Fergal Lawler – came together to plan this 25th-anniversary release. Everything was put on hold following O'Riordan's untimely death in January this year, but now the remaining band members have decided to go ahead with the 25th-anniversary edition, which is released on 19 October on UMG, as a 4CD super deluxe box set and also a limited clear vinyl edition, among other formats.
The origins of Everybody Else Is Doing Is, So Why Can't We? can be traced back to the mid-1980s and the friendship between the Limerick band's three instrumentalists, drummer Fergal Lawlor and guitarist and bassist brothers Mike and Noel Hogan. The latter recalls that it was hearing The Cure's Staring At The Sea singles compilation that changed everything in his musical world. He shared his new found passion for the Cure with Mike and Fergal and this led them to discover other bands like Siouxsie and the Banshees, Echo and the Bunnymen, the Clash, New Order and Joy Division. Looking back on this musical journey, Hogan stresses that: "All these roads led to The Smiths, who became very big in our lives later on."
Keen to become a band themselves, the fledgling group met Niall Quinn, who became their singer in August 1989. They called themselves The Cranberry Saw Us. By March 1990, Quinn decided to leave the band to focus on his other band the Hitchers and his parting was entirely amicable. He played a pivotal role in introducing Dolores O'Riordan to the band and arranged an audition, which took place in Xeric Studios, an old industrial space in the middle of Limerick. Noel, Mike and Fergal were present with some of their friends when O'Riordan arrived. She carried a Casio keyboard under her arm and in stark contrast to the prevailing goth look (Doc Martens, black clothes, wild hair) which predominated in the small room, she wore a shiny pink tracksuit and had wet-look cropped hair.
O'Riordan later recalled their first meeting: "I went upstairs and there were about fourteen adolescent boys in the room. The hormones were just rampant in there, the tension was deadly. I said: 'Before anything happens can anyone who is not in the band please leave the room'." Noel describes Dolores as "being as quiet as a mouse" that evening. Mike remembers: "She was introverted back then…but she still got up and had the guts to do it." Everyone in the room was taken by her voice: "We were immediately blown away," said Mike. "Her voice was something special." Dolores recalls: "I really liked what I heard: I thought they were nice and tight. It was a lovely potential band but they needed a singer – and direction." One of the instrumentals played by the Cranberry Saw Us that evening would soon become 'Linger', a relatively simple song that within two years would catapult the band to global stardom.
1991 was a crucial year for The Cranberries. On 18 April the band played a hometown gig as part of the University of Limerick's Rag Week to 1,400 students – and 32 A&R men, most of who had flown in from London. In attendance was legendary record producer, the late Denny Cordell (1943-1995), who was then A&R for Island Records. Cordell didn't offer the Cranberries the largest amount of money, but instead promised to look after the band and allow them the space to develop at their own pace. He clearly had a strong belief in their potential to succeed. Around this time the band shortened their name to The Cranberries.
In 1992 the Cranberries took on a new manager in the form of the iconic Geoff Travis of Rough Trade and began recording their debut album with producer Stephen Street. Street brought with him a vast production resume as both engineer and producer (the Smiths, Morrissey, Blur) as well as expertise as a songwriter having co-written Morrissey's first solo album Viva Hate (1988). For the Cranberries to be working with the producer of Strangeways Here We Come was a dream come true.
As the band's wordsmith Dolores O'Riordan was the source of all of the band's album titles. Everybody Else Is Doing It, So Why Can't We? stemmed from her dogged determination to succeed. "Elvis wasn't always Elvis," she said. "He wasn't born Elvis Presley, he was a person who was born in a random place, he didn't particularly have a lot but he became Elvis. And Michael Jackson was born somewhere and he became Michael Jackson and so on and so forth. And I thought we were just born in a random place so why can't we be that successful as well? And I believed we could but the majority of people were saying, 'You're absolutely nuts, you're not going to make it, you can't make any money out of it, you should do cover versions!' A simple but clever title, it answers its own question by implying why not? Why shouldn't a band from a small city in the southwest of Ireland get signed, conquer the world and make a great record?"
By Christmas 1993, the band had toured extensively throughout Europe and the US and their return to Ireland was a triumphant affair. Their debut album had now clocked sales of over 800,000 copies in the United States and 'Linger' had reached number 8 in the Billboard Charts. It went on to achieve platinum sales status in the United States, Australia, New Zealand and the UK. It became a number one album in Ireland and the UK and peaked at eighteen in the US Billboard Charts.
The continued popularity of Everybody Else…' and its phenomenal success should not only be judged in terms of its total sales – 6 million copies worldwide, with 5 million sales in the US alone – but in terms of the quality of the repertoire. Although influenced by indie bands such as the Smiths, the Cure and New Order, the distinctive sound of The Cranberries first album is an example of how the best popular music often comes from cross-pollination and hybridization. Just as a young Johnny Marr was influenced by the music of Rory Gallagher and Thin Lizzy, the Cranberries were, in turn, influenced by the sound of the Smiths and made their own from what they heard. At the time, Dolores O'Riordan remarked that the universal appeal of The Cranberries' songs was based on her: "Own life and experiences as a human being, how human beings treat each other."
The 25th-anniversary box set edition of Everybody Else Is Doing It, So Why Can't We? is out on 19 October. Scroll down to read the full tracklist and pre-order it here.
Everybody Else Is Doing It, So Why Can't We?
Disc One:
Original album remastered
'I Still Do'
'Dreams'
'Sunday'
'Pretty'
'Waltzing Back'
'Not Sorry'
'Linger'
'Wanted'
'Still Can't…'
'I Will Always'
'How'
'Put Me Down'
Disc Two: Album outtakes
'Íosa'
'What You Were'(Demo)
'Linger' (Dave Bascombe mix)
'How' (Alternate version)
Single B-sides
'Liar'
'What You Were'
'Reason'
'How' (Radical mix)
'Them'
'Pretty' (Prêt-à-Porter movie remix)
Debut EP
'Uncertain'
'Nothing Left At All'
'Pathetic Senses'
'Them'
Early demos*
'Dreams' (Unmixed)
'Sunday'
'Linger'
'Chrome Paint'
'Fast One'
'Shine Down'
'Dreams' (Pop mix)
*recorded as The Cranberry Saw Us
Disc Three: Rarities:
'Put Me Down' (Live @ Cork Rock 1991)
'Dreams'
'Uncertain' – Live at Féile, Tipperary (July 31, 1994)
'Pretty'
'Wanted'
'Daffodil Lament'
'Linger'
'I Can't Be With You'
'How'
'Ode to My Family'
'Not Sorry'
'Waltzing Back'
'Dreams'
'Ridiculous Thoughts'
'Zombie'
'(They Long to Be) Close to You'
Disc Four: Radio Sessions
Dave Fanning, RTÉ radio session, 1991
'Dreams'
'Uncertain'
'Reason'
'Put Me Down'
John Peel, BBC Radio 1 session, 1992
'Waltzing Back'
'Linger'
'Wanted'
'I Will Always'
Dave Fanning, RTÉ radio session 1993
'The Icicle Melts'
'Wanted'
'Like You Used To'
'False'
Format:
UK English