Daddy Yankee Announces Details Of Farewell Album 'Legendaddy'
The global music icon will say goodbye to fans at one final tour later this year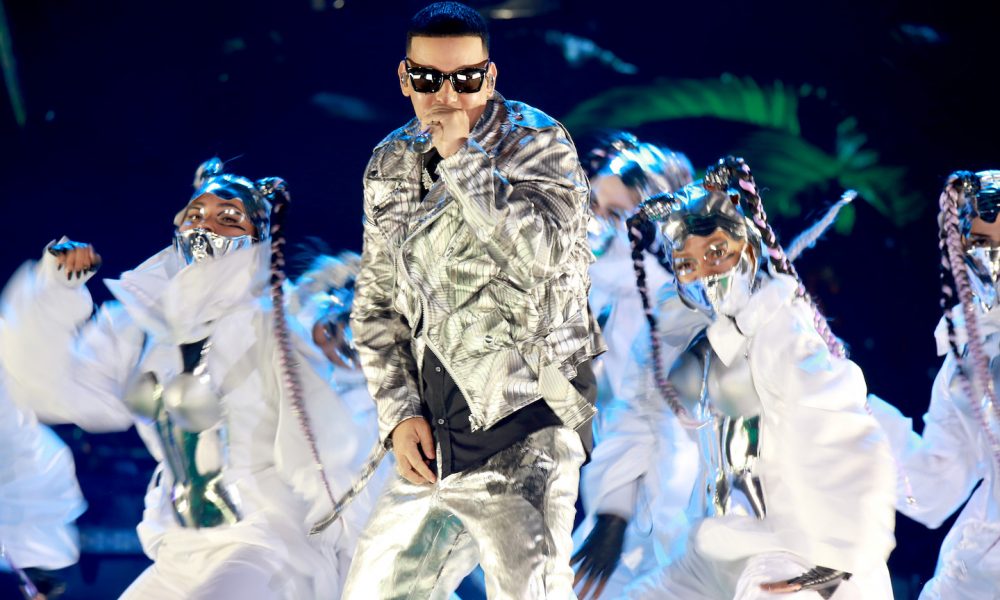 Daddy Yankee, the "King of Reggaetón," has announced his plans to retire from the music industry and shared details of a farewell album Legendaddy and last tour.
The record will be released on March 24 at 8pm EST and will mark his first album in 10 years, following 2012's chart-topping Prestige. In the intervening years, the Puerto Rican rapper and singer has released a slew of singles, including collaborations with Bad Bunny ("Vuelve"), Ozuna ("La Rompe Corazones"), and Pitbull ("No Lo Trates").
The tour, named "La Última Vuelta" ("The Last Round") will kick off in August in Portland, OR. It will then move across North America and Latin America, concluding in Mexico City on December 2. Pre-sale tickets will be available from Friday (March 25), with general access opening on March 30. Tickets will be available to purchase here. 
In a message to fans, Daddy Yankee said: "Today, I'm announcing my retirement from music by giving you my best production and concert tour. I will say goodbye celebrating these 32 years of experience with this new collector's item, my album Legendaddy. I'm going to give you all the styles that have defined me in one single album."
The long-reigning star is credited with introducing Reggaetón to a global audience and making the genre a worldwide phenomenon with his 2004 single "Gasolina." Since its release, Daddy Yankee has sold more than 30 million records, making him one of the best-selling Latin music artists, while his 2004 album Barrio Fino made history when it became the top-selling Latin Music Album of the Decade 2000–2009.
In 2017, he worked with Luis Fonsi on the global chart smash "Despacito," which became the first Spanish-language song to top the Billboard Hot 100 since 1996 and the most-watched video on YouTube and top-selling single of the decade 2010-2019. In 2020, it become the first video on YouTube to reach 7 billion views.
Pre-order Legendaddy here. View Daddy Yankee's tour itinerary below.
Aug 10 – Portland, OR
Aug 12 – San Jose, CA
Aug 13 – Los Angeles, CA
Aug 14 – Rosarito, MX
Aug 18 – Sacramento, CA
Aug 19 – Ontario, ON
Aug 20 – Las Vegas, NV
Aug 21 – Rosarito, MX
Aug 23 – Atlanta, GA
Aug 26 – Orlando, FL
Aug 28 – Fort Myers, FL
Sep 1 – Boston, MA
Sep 2 – Uncasville, CT
Sep 4 – Chicago, IL
Sep 7 – Washington, DC
Sep 10 – Montreal, QC
Sep 11 – Toronto, ON
Sep 15 – Houston, TX
Sep 16 – Hidalgo, TX
Sep 18 – Dallas, TX
Sep 20 – New York, NY
Sep 29 – Santiago, CL
Oct 1 – Buenos Aires, AR
Oct 4 – Guayaquil, EC
Oct 5 – Quito, EC
Oct 7 – Cali, CO
Oct 8 – Bogotá, CO
Oct 14 – Barranquilla, CO
Oct 14 – Medellín, CO
Oct 18 – Lima, PE
Oct 22 – San José, CR
Nov 3 – Guatemala City, GT
Nov 5 – San Salvador, SV
Nov 8 – San Pedro Sula, HN
Nov 9 – Tegucigalpa, HN
Nov 12 – Santo Domingo, DR
Nov 19 – Panama City, PA
Nov 24 – Monterrey, MX
Nov 26 – Guadalajara, MX
Dec 2 – Mexico City, MX