Deutsche Grammophon Launches DG120 Programme To Celebrate 120th Anniversary
DG120 will present a celebration of the cultural importance of classical music and the extraordinary artists who help bring it to life.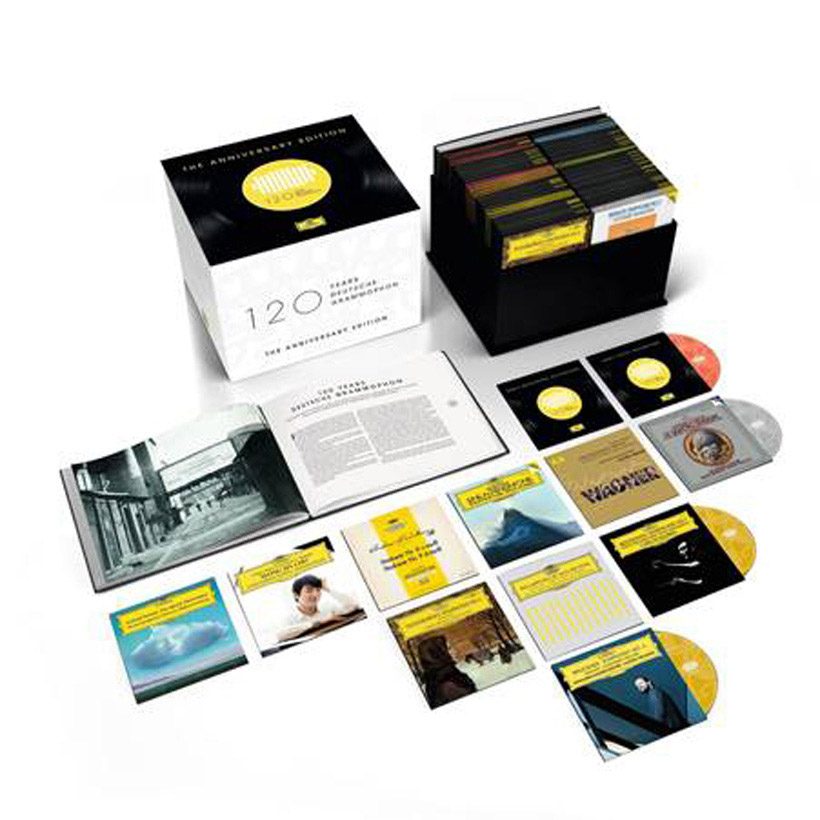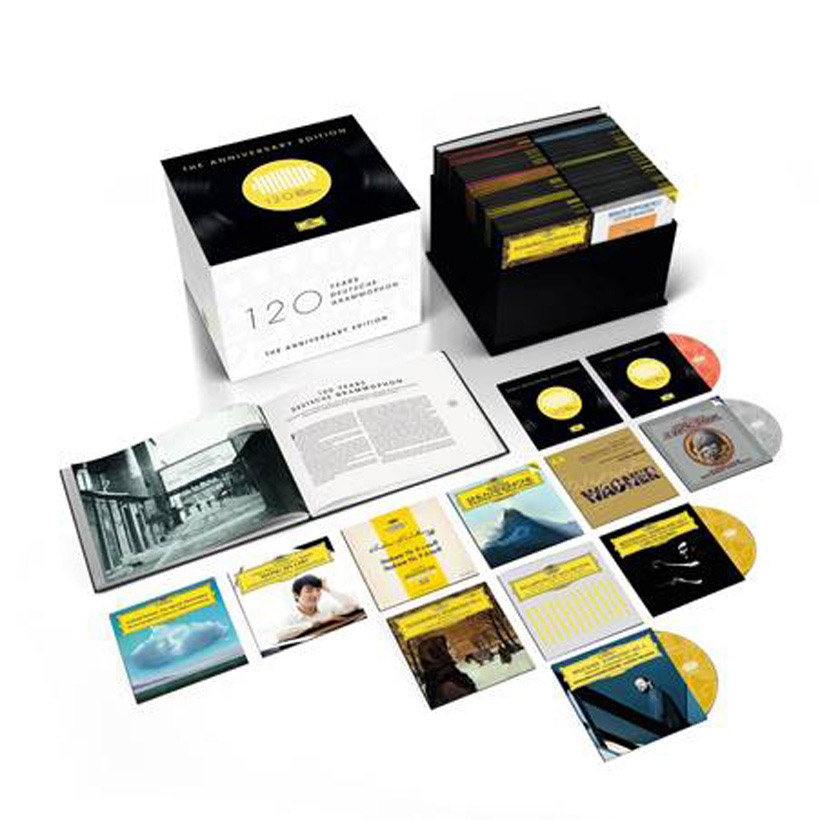 Deutsche Grammophon (DG), the world's oldest and most renowned classical music label, will celebrate its 120th anniversary this year with DG120: an unprecedented, wide-ranging and ambitious international programme of activities to celebrate the Yellow Label's illustrious past, dynamic present and prosperous future.
Throughout its unique history, Deutsche Grammophon has been a committed and long-term investor in culture, innovation, music and the arts, and during the 2018/2019 season DG120 will present a celebration of the cultural importance of classical music and the extraordinary artists who help bring it to life.
"These are exciting times for classical music," observes Dr. Clemens Trautmann, President Deutsche Grammophon: "Deutsche Grammophon's 120th anniversary is about sharing classical music's emotional force and expressive beauty with as many people as possible around the world.
The Yellow Label's founders used new technology to inspire millions and – together with our family of artists – we are determined to continue what they started as we engage established and future audiences with our DG120 campaign. We are delighted to welcome Google Arts & Culture, Volkswagen Group and our other international partners who are supporting this ambitious global initiative."
The carefully curated programme features multi-disciplinary activities, events, rare archival treasures and an exciting new product suite that will captivate music fans around the world.
One of the defining characteristics of DG is its long-lasting relationships with the world's greatest musicians. Today's community of DG artists will play a central role in the DG120 celebrations with a programme of worldwide concerts that will take place in Beijing, Berlin, Hamburg, Hannover, Hong Kong, London, Seoul, Shanghai, Taipei and Tokyo, with further events to be scheduled.
The DG120 live festivities will begin on October 10, 2018 with a spectacular launch concert at the site of Beijing's historic Imperial Ancestral Temple (Taimiao), which stands just outside the Forbidden City. The concert will feature the globally renowned Shanghai Symphony Orchestra and Maestro Long Yu, who will perform Orff's Carmina Burana with Aida Garifullina, Toby Spence and Ludovic Tézier, before being joined by Hélène Grimaud for Ravel's Piano Concerto in G major.
The Forbidden City, a UNESCO World Heritage Site, is an imperial palace complex that served as the home of emperors as well as the ceremonial and political centre of the Chinese government for almost 500 years, until the end of the Qing Dynasty. The Imperial Ancestral Temple, whose layout echoes that of the Forbidden City, was used by the imperial family on important occasions as a place in which to offer sacrifices to their ancestors. The DG120 concert will be a celebration of both Chinese classical music excellence and the global cultural resonance of Deutsche Grammophon. It will be the first classical music event to be held at the site since 1998, when it hosted a legendary performance of Turandot, directed by Zubin Mehta.
Other key DG120 events include performances at Beijing's National Centre for the Performing Arts by the Berlin Staatskapelle and the inimitable Maestro Barenboim, and further concerts throughout the anniversary year featuring performances from DG's unbeatable roster of artists: Anne-Sophie Mutter, considered one of the greatest violinists of all time; Lang Lang, pioneering pianist and global cultural icon; Seong-Jin Cho, winner of the XVII International Chopin Piano Competition; and Max Richter, influential ground-breaking post-minimalist composer.
Additionally, special DG120 editions of the label's highly successful Yellow Lounge classical club nights are planned to take place throughout the year in Beijing, Hong Kong, Seoul, Shanghai, Taipei and Tokyo. The innovative club nights will be live streamed to fans around the world. Yellow Lounge will also visit Wolfsburg, home to DG120 Yellow Lounge partner, Volkswagen Group.
"We share many values with Deutsche Grammophon," notes Benita von Maltzahn of the Volkswagen Group. "The yellow label's anniversary campaign is destined to boost the audience for classical music and raise the profile of the qualities of excellence and cultural exchange that the art form represents. We are thrilled to be part of the journey and look forward to partnering with DG and to bringing our expertise to the amazing range of DG120 events."
If all this wasn't enough, to coincide with the 120th anniversary, DG and Google Arts & Culture are creating digitized versions of rediscovered and previously unreleased tracks extracted from rare surviving Galvano metal masters, recorded in the early 1900s. These treasures, found within the deep vaults of the DG archive, include a reading from one of his novels by iconic Russian author Leo Tolstoy, early recordings by legendary American jazz trumpeter Louis Armstrong, leading Russian bass Feodor Chaliapin and Austrian-born violinist and composer Fritz Kreisler.
These unique and remarkable recordings are in the process of being restored in association with Google Arts & Culture as part of a digitization partnership, as DG adds them and details of their history to its parent company, Universal Music Group's already extensive global digitization program. Four hundred unique shellac records will be released over the next several months, beginning with 40 today, among them Louis Armstrong & his Orchestra with 'St. Louis Blues,' recorded in 1934 and a recording of Pietro Mascagni conducting members of the Berlin Staatskapelle in a 1927 performance of the famous Intermezzo from his opera Cavalleria rusticana  – which can be found here. In addition, tap dancer Andrew Nemr and Tilt Brush artist Atma created unique visualizations for some of these tracks.
"As inventor of the gramophone and founder of the world's oldest record labels, Emil Berliner brought music into everyday life," comments Philipp Justus, Google's Vice President For Central Europe. "We are excited about Deutsche Grammophon's collaboration with Google Arts & Culture to digitize hundreds of the world's oldest records, and to make this important chapter of music history more accessible to people everywhere."
Expanding on DG's legacy around the invention of the gramophone by the label's founder, Emil Berliner, DG will make cultural background material available: the result are 12 online exhibitions curated by DG opening on Google Arts & Culture's platform here as well as in their mobile app on June 11th. Users can learn about some of the legendary artists of classical music like Leonard Bernstein or Herbert von Karajan, how records are made, or how the invention of the gramophone brought music to our living rooms. The records will also be made available through DG's own channels and on partner platforms including Google Play Music, YouTube Music, Spotify, Apple Music and Amazon.
At the center of an extensive product suite for classical collectors will be DG120: The Anniversary Edition, a flagship 120-CD collection spanning 120 years of recorded music and presenting all the main genres of the label's unrivalled catalogue, which will be released globally on 21 September. The deluxe box set will also contain some of the new remastered tracks that have been extracted from historic metal masters and feature hidden gems of the DG archive.
Other unique products that will be released throughout the year include a vinyl edition of Herbert von Karajan's legendary 1963 cycle of Beethoven's nine symphonies. The Karajan-Beethoven LPs will be issued in a limited edition of 1,200 box sets, and in an additional super deluxe version of which only 120 copies will be available, each accompanied by unique artworks from artist Gregor Hildebrandt, who uses fragments of pre-recorded cassette tape as raw material in his creative process. His Karajan-inspired art will be presented at Berlin's new Deutsche Bank Forum for Art, Culture & Sports to launch the LP edition.
The DG120 initiative will also feature an exclusive range of merchandise created in partnership with leading global merchandise company Bravado; the publication by Verlhac Editions of a revised and updated version of State of the Art: Deutsche Grammophon – The Story in German/English, French and English/Mandarin editions; and a special mini-series documentary exploring the art of recording as invented by the Yellow Label. Further aspects of the campaign will be announced throughout 2018.
Supported by Universal Music Group, Deutsche Grammophon's DG120 anniversary campaign will shine a spotlight on classical music's vitality and extraordinary contribution to global culture. The Yellow Label is characterized by its commitment to its artists and their creative longevity, its drive to discover and support excellence in signing new composers and artists and its determination to ensure a lasting legacy for an unrivalled catalogue. Its work in all these areas is underpinned by a constant desire to innovate, experiment and retain leadership in its field.
The 120-CD collection DG120: The Anniversary Edition will be released on 21 September. Pre-order it here.
Format:
UK English