Dierks Bentley's 'Riser' Marks Fifth Anniversary With First Vinyl Release
The album will be available on both standard black vinyl and limited edition translucent orange vinyl.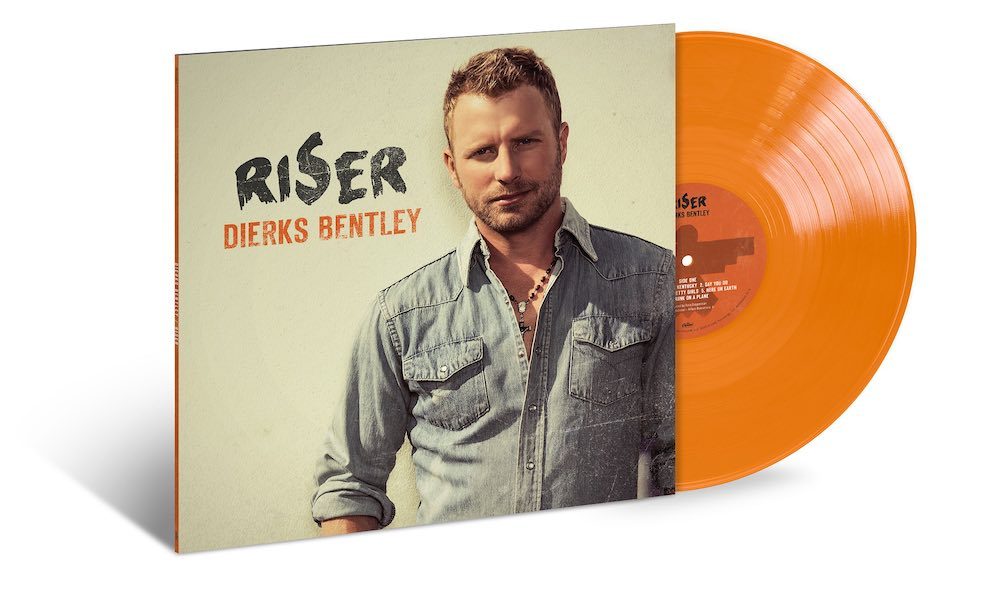 Marking the fifth anniversary of its original release, country star Dierks Bentley's seventh album Riser will make its first-ever appearance on vinyl via Capitol Nashville/UMe on 31 January 2020. It will be available on both standard black vinyl and limited edition translucent orange vinyl, exclusively via uDiscover Music and UMG Nashville's web stores.
The album was a crucial staging post in the career of the 14-time Grammy nominee, with a mixture of feelgood party songs and heartfelt ballads that took it to the top of the country charts and gold-selling status. Riser was Bentley's fifth country No. 1 album and his seventh in a row (including 2008's Every Mile A Memory compilation) to hit the top ten of Billboard's all-genre chart.
"I named the album 'Riser' because the lyrics in that song perfectly articulate who I want to be, who I try to be," Bentley said on the record's first release in February 2014. "There's a lot of really intense material on this record, but there's also a lighter side that is equally important in telling the story of the last two years of my life.
"When I first started writing for this album, I was in a place of grief over the loss of my dad, but over the course of the next 18 months, my wife and I had our son Knox, and I ended in a place of real joy and gratefulness. Both sides of that coin are what country music has always been about, and I hope that my fans can feel how much of myself I put into this project. It's all out on the table, for sure."
Dierks Bentley - I Hold On (Official Music Video)
Riser, produced by Ross Copperman and Arturo Buenahora, contained no fewer than three No. 1 country singles, 'I Hold On,' 'Say You Do' and the platinum-selling 'Drunk On A Plane,' the 18th top ten single of his career on the Hot Country Songs and Country Airplay charts.
Country Weekly remarked on the album's release that Bentley "revitalises country music on his greatest album yet," while USA Today wrote that he "bares his soul in meditations on love and loss, death and rebirth." Associated Press noted that its "chiming guitars and slow-boiling melodies" added "a simmering passion to Bentley's distinctive vocal and writing style."
Bentley now has over 6.4 billion overall digital streams to his name and, away from his multi-platinum recording career, has such ongoing projects as his Flag & Anthem partnership, creating the Desert Son lifestyle collection and the "Dierks Bentley's Whiskey Row" franchise, which hosts five locations.
Riser is released on standard black and limited edition translucent orange vinyl on 31 January 2020. Scroll down for the tracklisting, and pre-order it here.
Listen to the best of Dierks Bentley on Apple Music and Spotify. 
Format:
UK English