The Music of Mystical Gods – Do Not Sell At Any Price (Book Review)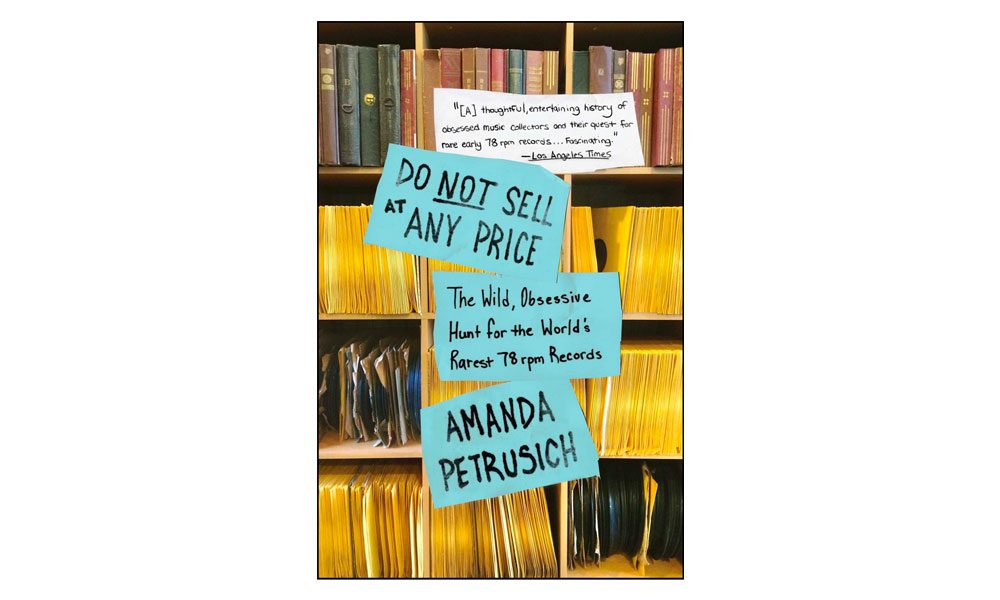 Do Not Sell at Any Price, as the promotional blurb for this book says is for people interested in recorded music from, "Before MP3s, CDs, and cassette tapes, even before LPs or 45…" This is about collectors obsessed with 78 rpm shellac records, and obsessed maybe just be slightly downplaying the fervour of these guys; yes they are mostly men who collect like this, yet, the book is written by Amanda Petrusich, who contributes regularly to Pitchfork, The Oxford American, and The New York Times.
The book is part treasure hunt, part psychoanalysis, part a travelogue through America's back roads, but it is 100% about musical history and the world of collectors like Joe Bussard, Chris King, John Tefteller, Pete Whelan, and others who inhabit this backwoods world of recorded music.
Petrusich's book is not about the recent revival of interest in vinyl, it is all about the interest in those brittle shellac records on labels like Paramount, Black Patti, Vocalion, and many other long-gone record companies that sold Race Records, obscure European folk roots music that had made its way to America, and even preachers giving sermons. Do Not Sell at Any Price is also about how important it is to preserve this music, for in some cases there are less than a handful of some recordings that survive.
The book talks of Geeshie Wiley, Blind Uncle Gaspard, Willie Brown and Skip James (above) – among others – some of these you may have heard of because thanks to these collectors and reissue companies like Document Records who have made these available on CDs as well as them being distributed on MP3 (so there is some use for all this new-fangled technology after all!). But as Amanda eloquently describes – there is nothing quite as exciting as listening to one of these rare precious and beautiful gems on an original 78 from the collections of one of these obsessives.
Do Not Sell at Any Price talks of one man who is largely forgotten these days but played a pivotal part in the whole business of collecting 78s as well as introducing many of the 1960s artists who discovered the blues and other nearly forgotten music from the 1930s and earlier. His name is Harry Smith.
In 1952 the long-playing album was still a very new concept, one that the young Smith, a discographer, artist and historian, decided he could usefully exploit. He convinced Moses Asch the owner of the Folkways label to allow him to compile an 'Anthology of American Folk Music'; it ran to 84 songs concentrated onto 6 LP's.
For many, this became the Holy Grail of America's music. It contains many of the best of the pre-war Blues artists, as well as country, hillbilly music, old-time songs and sermons. Carefully annotated by Harry Smith, the anthology became the first stop for early music historians.
The anthology introduced men like Dick Justice, a white coal miner from West Virginia, who had come under the influence of the Blues, as well as better-known performers like The Carter Family and the Rev. J.M. Gates. Amongst the Blues artists that are included in the Anthology are, Blind Lemon Jefferson, Sleepy John Estes and Yank Rachell, The Memphis Jug Band, Henry Thomas, Charley Patton (on the record as The Masked Marvel, Smith was unaware that it was really Patton), Furry Lewis and Mississippi John Hurt.
In its own way, it is as important as the work undertaken by the Lomaxes. At a time when America was at the dawning of the modern day, consumer-driven, age, Harry Smith put down a marker as to the value of the nation's musical heritage.
For many, it became their passport to a lost world of rare and unusual recordings. It helped some to rediscover pre-war Blues and helped spawn the Folk Blues revival of the 1960s. John Cohen of the New Lost City Ramblers said that the Anthology introduced him and many others to performers " who became like mystical Gods to us". Dave Van Ronk said the anthology became "our Bible", "we all knew the words to every song on it, even the ones we hated."
In 2000 The Anthology of American Folk Music was reissued on a boxed set of 3 CDs by Smithsonian Folkways Recordings…every (American) home should have one.
And while they are about it get a copy of Amanda Petrusich's book, Do Not Sell at Any Price. It is one of the best books we've read for a while and a reminder that music was, and still should be, valued by us all.
Amanda Petrusich's web site and where to buy her book
Format:
UK English