Watch Easy Life's Dizzying Video For 'Daydreams'
The lush track comes ahead of the UK band's highly-anticipated debut album.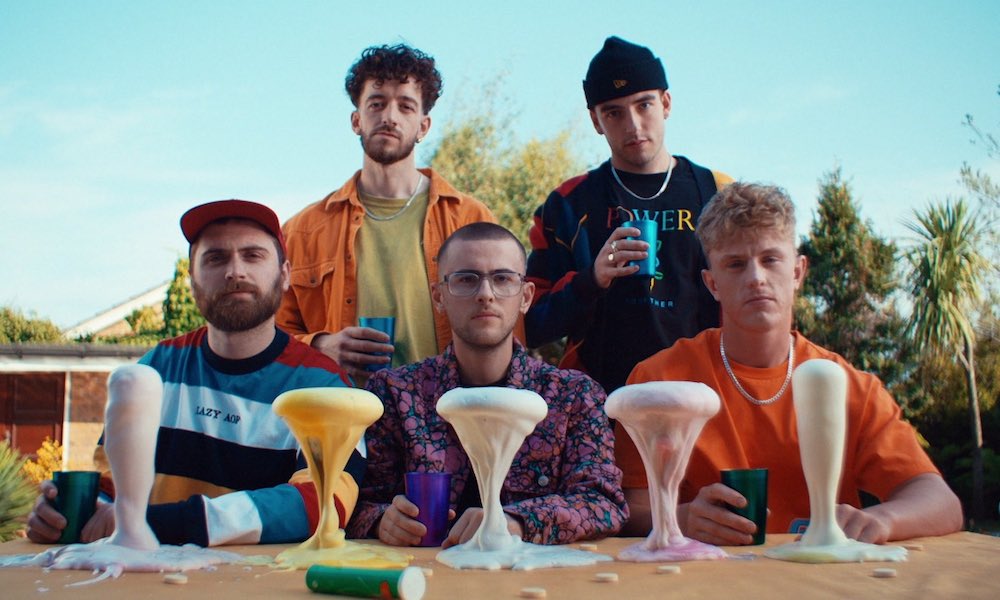 Rising British group Easy Life has shared a hyperactive visual for their latest single, "Daydreams." The song, which follows the band's widely-acclaimed mixtape Junk Food, offers a first taste of their highly anticipated debut full-length.
The dizzying video for "Daydreams" was directed by Max Siedentopf, who described the clip as an "homage to careless nostalgic summer days and the classic battle between daydreaming and the actual mundane reality."
He elaborated, "Throughout the video we follow [frontman Murray Matravers] as he dreams up beautiful and idyllic scenes in sunflowers fields together with his dream girl which in the next moment are turned into an anticlimactic opposite; the mundane reality where Murray is alone [and] has nothing better to do than to sit around and day-drink. The entire video was shot with an experimental camera which is meant to help create a dissociating feeling similar to a daydream or while day drinking."
"Daydreams," which reimagines Aretha Franklin's classic 1972 track "Day Dreaming," premiered as Annie Mac's Hottest Record in the World on BBC Radio earlier this month.
"Like most of us, I've spent the whole year sat at home daydreaming about a possible alternate reality," said Matravers in an earlier statement. "Born out of boredom and idleness, 'Daydreams' is as much about getting drunk as it is about falling in and out of love."
Named the "Best New British Act" at this year's NME Awards, Easy Life was formed in 2017 as an antidote to the hardships of the present day. Since then, the five-piece has released three mixtapes, including their best-selling Junk Food, which landed in the UK's Top Ten at the top of 2020.
The band gained further traction over the summer when their 2018 single, "Nightmares," went viral after being featured in Michaela Coel's hit BBC/HBO drama, I May Destroy You.
The members of Easy Life, meanwhile, have remained busy over the past few months – whether protesting in their local Leicester neighborhood, Zooming with fans, connecting with students locked-down in university, or letting band member Sam loose on a series of saxophone covers (ranging from the "Mario Kart" theme to "Game of Thrones").
Listen to the best of Easy Life on Apple Music and Spotify.