Eddie Vedder Shares Debut Live Performance Of 'Long Way' From Ohana Festival
The song was shared as the first track to Vedder's upcoming album 'Earthling.'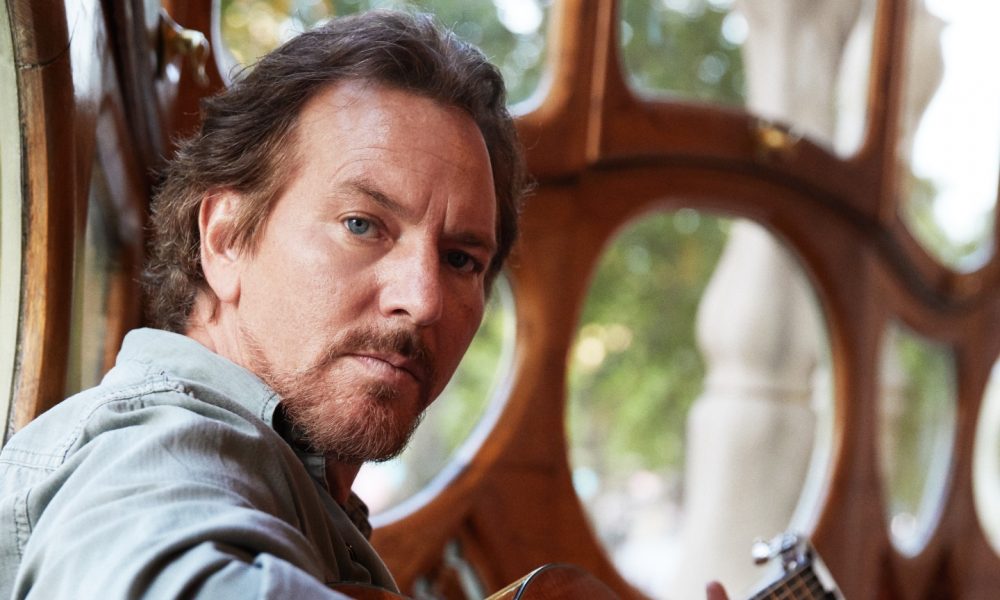 Eddie Vedder has shared the debut live performance of his latest single "Long Way" performed for the first time this past weekend at Ohana Festival. The performance was recorded and edited by Blue Leach, Pearl Jam's video director.
Vedder performed at Ohana Festival with Chad Smith, Pino Palladino, Josh Klinghoffer, Andrew Watt and Glen Hansard making up his backing band.
Eddie Vedder - Long Way (Live At Ohana / 2021)
"His eyes appear vacant / He'd taken more than his share / Trying hard not to awaken / The voice of regret in his ear / He can't escape the timeline / So much worse than he had feared / Lived every moment / Wishing the past would disappear," Vedder sings in the opening verse.
"Long Way" was shared back in September as the lead song from Vedder's upcoming solo album Earthling. Though the project has yet to receive an official release date, it will arrive via Vedder's Seattle Surf imprint through Republic Records. It was created with Watt, who also produced the song, earlier this year.
"We just started messing around," Watt told Variety. "There was something there right away that I wanted to chase and finish. It was just the right place and the right time and it all happened very organically. It sounds like people playing together in a room, which is what a good rock song should be."
Earthling will mark Vedder's first solo album since he shared Ukelele Songs in 2011. The song debuted at No.4 on the Billboard 200 albums chart and featured the notable songs "Without You" and "Tonight You Belong To Me" with Cat Power.
Vedder and Power recently collaborated via the Flag Day Original Motion Picture Soundtrack to which the Pearl Jam musician contributed to eight new compositions. Power appeared on three new original songs while Olivia Vedder made a debut on two of the album's thirteen tracks.