Elton John's 'Farewell Yellow Brick Road' Tour Adds BST Hyde Park 2022 London Date
Elton's show in the British Summer Time series will take place as his final London tour date on Friday June 24.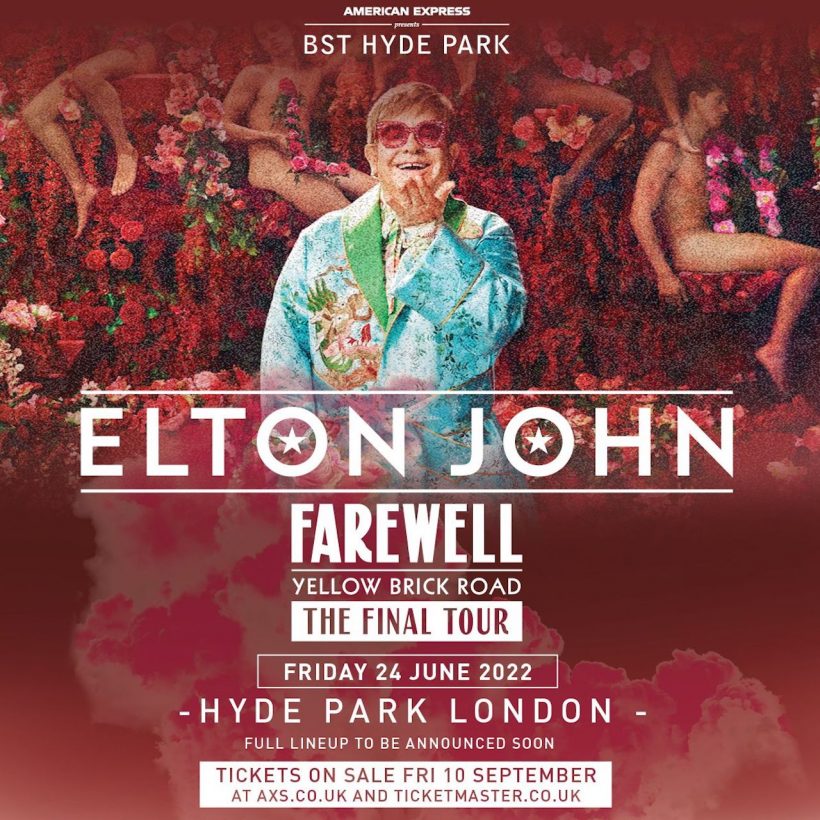 Elton John's 2022 London date on his Farewell Yellow Brick Road – The Final Tour will take place as part of American Express presents BST Hyde Park. Today's news follows Elton's announcement of his forthcoming album of collaborations, The Lockdown Sessions. His show in the British Summer Time series will take place as his final London tour date on Friday June 24.
BST Hyde Park, which has been a focal point of London's summer music calendar since its debut in 2013, will return after two years away with a new line-up of blockbuster artists over consecutive weekends next summer. A host of free activities and entertainment will take place during its midweek programme, Open House, including free live music and entertainment, open-air cinema nights, live sport showings, street food, pop up bars, and family events including the Chickenshed Children's theatre.
Fans pre-ordering The Lockdown Sessions before midnight on Sunday (September 5) will receive access to pre-sale tickets for BST from September 6-8, and will have access to guaranteed tickets for the show during this pre-sale window.
Elton joins a list of already-announced stars for BST 2022 that includes consecutive shows, an event first, by Pearl Jam on July 8 and 9, as first scheduled for this year. Pixies will guest at the first of those dates, with another major guest to be announced for the second as well as many other artists on the bill. Duran Duran will play their show on July 10 with guests Nile Rodgers & Chic and Grace Jones.
Jim King, CEO of European Festivals at AEG Presents, says: "BST Hyde Park has always stood for the world's biggest and most loved artists bringing not just a performance but a truly one-off and memorable event. Elton John has provided the soundtrack to the lives of so many of us and to know that his last tour is coming to Hyde Park, possibly the last time many of us will ever see him play, is one of the most important and 'must see' nights of BST Hyde Park ever."
Another feature of British Summer Time next year will be the launch of the Hard Rock Stage and entertainment area, to mark Hard Rock's 50th anniversary and the rich history of Hard Rock Calling festival in Hyde Park. Features will include a pop-up Hard Rock Cafe experience, Hard Rock Stage viewing areas, a showcase of Hard Rock's music memorabilia collection, a retail location, and other unique experiences for visitors to the festival site. More information about BST Hyde Park 2022 is at the official website.
Listen to the best of Elton John on Apple Music and Spotify.