Eric Clapton Salutes Peter Green In 'The Lady In The Balcony' Preview Clip
The track is part of the new, mainly acoustic set, due in multiple formats on November 12.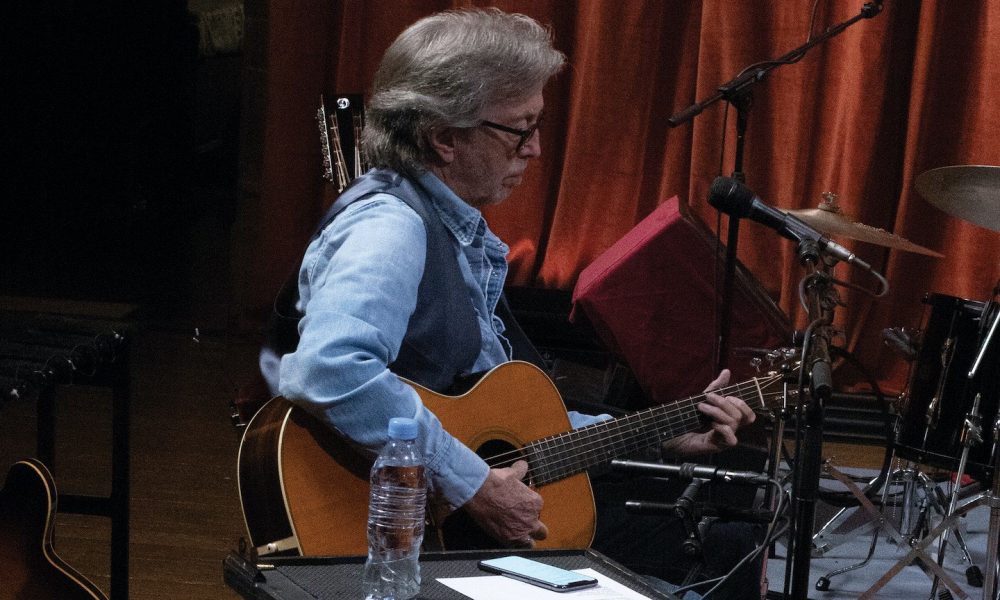 Eric Clapton has shared an excerpt from his upcoming lockdown performance release The Lady In The Balcony. "Black Magic Woman" is his tribute to one of his contemporaries among guitar heroes of the 1960s, the late co-founder of Fleetwood Mac, Peter Green.
The track is part of the new, mainly acoustic set, due on November 12 on CD, DVD, Blu-ray, digital video and audio. It features Clapton and longtime collaborators Nathan East on bass and vocals, Steve Gadd (drums), and Chris Stainton (keyboards). The performance was captured amid strict social distancing at at Cowdray House in West Sussex, England, after the unavoidable cancellation of the guitar figurehead's shows at London's Royal Albert Hall, which were scheduled for May this year.
The Mercury Studios release will feature a wide range of Clapton's signature songs, including "After Midnight," the Derek and the Dominos songs "Layla" and "Bell Bottom Blues," and "Tears In Heaven." Also in the set list are some of his favorite blues staples such as "Nobody Knows You When You're Down And Out" (written by Jimmie Cox and first popularized in 1929 by Bessie Smith) and "Got My Mojo Working," written by Preston "Red" Foster and best known in Muddy Waters' 1957 version.
But The Lady In The Balcony also features not one but two tributes to Green. On the album, Clapton introduces "Black Magic Woman" by namechecking "Peter," and follows it with a version of "Man Of The World," another of Fleetwood Mac's biggest songs, and Green compositions, from the era. The first of them was Mac's first UK Top 40 single, later notably covered by Santana, while the second was a No.2 UK hit.
The Lady In The Balcony is produced by distinguished American record man Russ Titelman, whose relationship with Clapton goes back to his production of 1991's 24 Nights live set, the Unplugged album of 1992, and 1994's From The Cradle.
Pre-order The Lady in the Balcony: Lockdown Sessions, which is released on November 12.