Fourth Annual Ride For Ronnie Event Honours Rock Hero Ronnie James Dio
Artists taking part include the son of Slash and the daughter of Alice Cooper.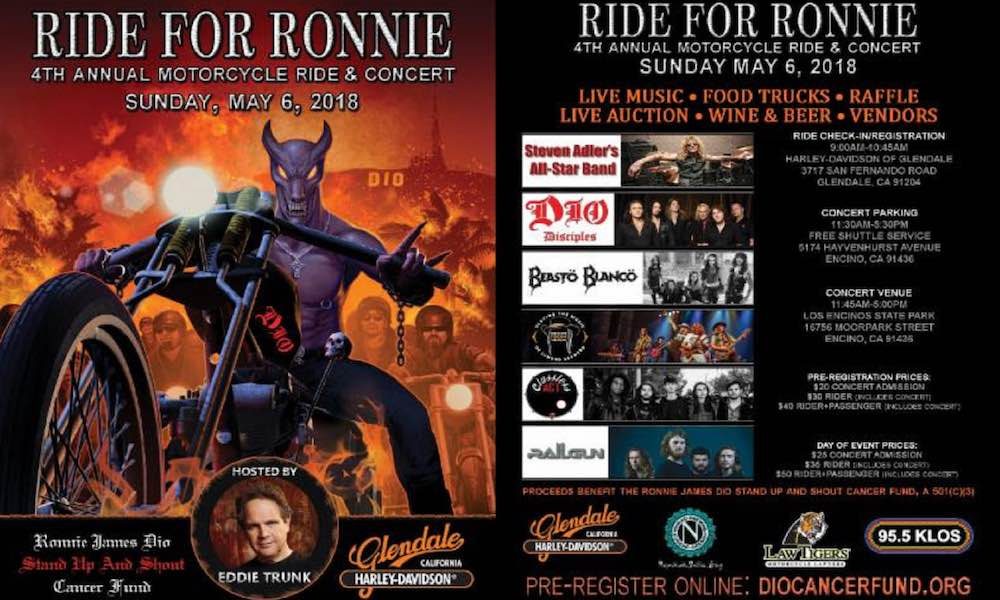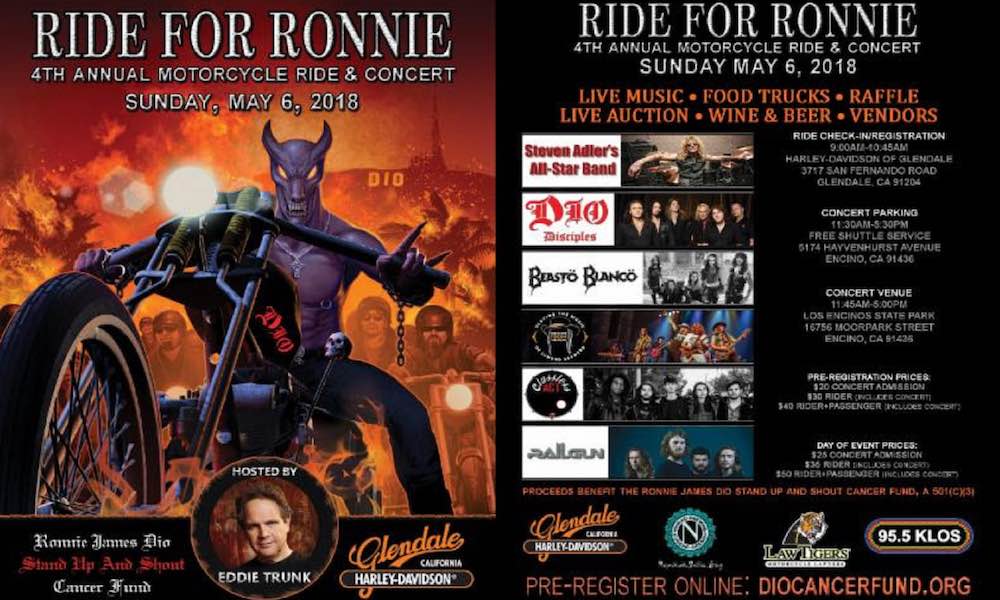 The fourth annual Ride For Ronnie Motorcycle Ride and Concert, raising funds for cancer research in memory of the late rock frontman Ronnie James Dio, will take place on 6 May. Staged by the Ronnie James Dio Stand Up and Shout Cancer Fund, the concert will feature such notables as Steven Adler's All Star Band, featuring the former Guns N' Roses, and another act with G N' R connections, Classless Act, featuring Slash's son London Hudson.
Also on the bill is another band featuring a next-generation rock prospect, Beastö Blancö, who feature Chuck Garric and Calico Cooper, the daughter of Alice Cooper. Dio tribute band Dio Disciples and Lynyrd Skynyrd tribute outfit One More From The Road are also in the line-up.
The Californian ride itself will see participating motorcyclists ride from the Harley-Davidson of Glendale dealership to Los Encinos Park in Encino. That's followed by the afternoon concert, hosted by radio and TV personality Eddie Trunk. Last year's ride raised more than $40,000 for the Dio Cancer Fund.
"We all loved Ronnie dearly," says Calico Cooper, "and his legacy has inspired everyone you will see performing at Ride For Ronnie, especially Beastö Blancö. He was a brilliant singer and a legendary showman, and we are privileged to follow the trail he blazed and melt faces in his honor. We rock for Ronnie, we ride for Ronnie."
Her father Alice Cooper adds: "Ronnie is a metal icon synonymous with power and hope. Bikers, rockers, and survivors all over the world gravitate towards his music. One of the many ways his legacy lives on is through his wife Wendy and her involvement in cancer research. We will always support Wendy, Ronnie James Dio, and his charity."
London Hudson comments: "We are really excited and grateful as a band to be performing at the Ride For Ronnie Motorcycle Ride and Concert. We believe it is an amazing cause to support cancer prevention, research and awareness while honouring the memory of the great Ronnie James Dio!"
His father Slash, for his part, says: "The annual Ride For Ronnie event is a great collective effort for a great cause supporting cancer research and prevention, and with great live music and motorcycles, you can't go wrong. It's especially cool this year as my son's band, Classless Act are performing. Stand up and shout!"
More information on the Ride For Ronnie Motorcycle Ride and Concert is available here.
Explore our Dio Artist Page.
Format:
UK English