Dio
Dio was one of the great heavy metal acts of all time, renowned for amazing explosive live shows when the cranked-to-eleven amplification supercharged events as much as the pyrotechnics.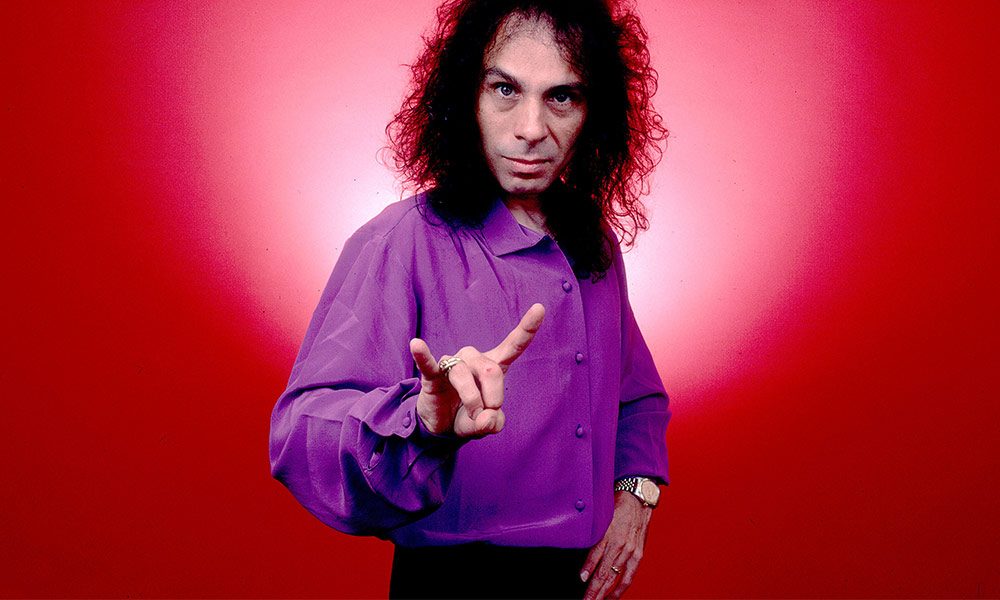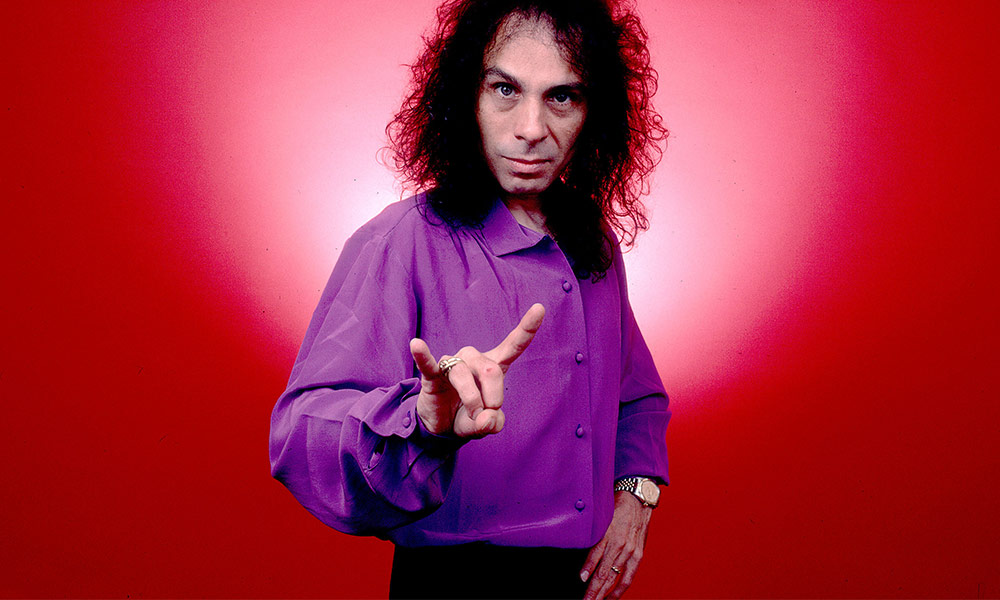 Dio was one of the great heavy metal acts of all time, renowned for amazing explosive live shows when the cranked-to-eleven amplification supercharged events as much as the pyrotechnics. Dio the band was the personality of Dio the man writ large. Ronnie James Dio (1942-2010) was possessed by one of the most powerful and expressive voices in rock. His platinum-selling fantasy-themed band followed his impressive stints as the leather larynx for mighty trailblazers Rainbow and Black Sabbath — almost impossible acts to follow, but Dio pulled it off with charismatic gusto. He dominated every stage he chose to stalk, and he drew admiration and deep respect from fans and fellow musicians alike. It's no surprise that he grew up listening to another marvellously over-the-top musical form, opera and that he was a fan of the great tenor Mario Lanza, with whom he shared an American-Italian background. Dio was indeed one of the great dark overlords of heavy metal, with album sales topping 47 million, but his greatest legacy may not be something that's audible at all.
For Dio is rightly credited with bringing into popular use the metal gesture, the Sign of the Horns, i.e. a raised hand with only the index and little finger extended. While never claiming to have created the sign — "that's like saying I invented the wheel" — he did admit to popularizing it. He explained: "It's not the devil's sign like we're here with the devil. It's an Italian thing I got from my grandmother called the malocchio. It's to ward off the Evil Eye or to give the Evil Eye, depending on which way you do it. It's just a symbol but it had magical incantations and attitudes to it." The gesture is now integral to heavy rock, and indeed to the late, great Ronnie James Dio. It's engraved onto ornamental urns at each end of his marble tomb. Dio was the very essence of metal. Death has nothing on him.
Dio was born Ronald James Padavona in New Hampshire, USA, in 1942. His stage name was inspired either by that influential grandmother, who thought he had a gift from God — Dio in Italian — or else by notorious Fifties Mafioso Johnny Dio, depending on the story. Childhood training on the trumpet, which Dio played into his university years, gifted him the breathing techniques that ensured his singing voice could always outshine his peers.
He learned the bass too, and formed his first band, Ronnie Dio and the Redcaps, in 1957. These be-quiffed teenagers were doo-whoppers to a boy before rock'n'roll gained precedence. In 1958 they began releasing singles, some of which featured Ronnie's love-struck vocals. Even at this early stage, his voice stood out as particularly expressive. Various 45s followed throughout the Sixties, and in 1963 the renamed Dio and the Prophets issued a live LP, Dio At Domino's.
As musical trends developed so did the band, and by 1967 they'd become the Electric Elves, issuing a clutch of psychedelic pop singles on Decca and MGM. A year later they shortened their name to the Elves, and again in the early Seventies to simply Elf. By now purveyors of granite-edged rock, Elf issued three albums, Elf (1972), LA59, retitled Carolina County Ball in the UK (1974), and Trying To Burn The Sun (1975). They came to the attention of Deep Purple's rhythm section, Roger Glover and Ian Paice, who produced their first album and booked Elf to open for them on tour. When guitarist Ritchie Blackmore eventually left Purple to form a new band, he took Elf with him and renamed the new act Rainbow.
Ronnie James Dio's position as one of the great rock vocalist of the Seventies was secure, and he remained with Rainbow until 1979 when he left to join Black Sabbath, who'd just fired Ozzy Osbourne. Few men were able to walk in Ozzy's footsteps, even less take his place but Dio stepped up to the plate with aplomb. He introduced his malocchio on stage to appeal to fans ruing Ozzy's departure; Ozzy had been famous for his own on-stage gesture, the two-finger V-shaped peace sign.
Just as tensions within Sabbath had led to Ozzy's exit, by 1982 Dio too felt disgruntled and quit, taking drummer Vinny Appice with him. The duo assembled a new group and the monster Dio was born.
Their debut album, Holy Diver (1983), was a pure, unalloyed metal classic. The rock press loved it. While its UK chart peak of No.13 obliterated its modest No.56 placing in the States, over a million US fans, bought a copy earning the album a platinum disc.
Given Dio's track record, hopes had been high, and no one was left disappointed. Dio himself was a known, renowned, quantity, as were force-of-nature drummer Appice and bassist Jimmy Bain, latterly of Rainbow too and of his own band, Wild Horses. The unexpected prize was guitarist Vivian Campbell. He'd made a previous impact in Sweet Savage, pioneers in the New Wave of British Heavy Metal (NWOBHM) and now his stylish young shredding became a thrilling facet of Dio.
There's the frenzied opening belter 'Stand Up And Shout', the supreme Sabbath sludge of the title track — check out the video in which warlord Dio wields his broad sword in some trademark medieval ruins. There's the rabid AC/DC stomp of 'Gypsy', vamping anthems 'Invisible' and 'Straight Through The Heart', the pop-metal of 'Caught In The Middle' and the hit 'Rainbow In The Dark'. The original vinyl LP crescendos twice, once with each side closer, 'Don't Talk To Strangers' and 'Shame On The Night', to create an exemplary Eighties album of full metal glory.
Dio devotees were left wanting more, and with 1984's The Last In Line they got it. The follow-up was Holy Diver II in all but name. Keyboardist Claude Schnell joined the line up of Dio, Campbell, Bain and Appice and together they delivered another kickass consignment of top-notch metallic goods. The chart stats improved too. No.24 US, No.4 UK. Another platinum disc.
'Mystery' and 'The Last In Line' pushed Dio's commercial agenda without mercy, just as the machine-tooled riffing of 'We Rock' stated the obvious to no ill or clichéd effect. Similarly, the pummeling 'I Speed At Night'. 'One Night In The City' and 'Eat Your Heart Out' threw predatory dark shadows into the mix, and the heavy'n'hard 'Evil Eyes' and 'Breathless' nailed down the band's roots. The seven-minute doom finale 'Egypt (The Chains Are On)' sealed the album's fate as another precious metal artefact.
Sacred Heart, released in 1985, was the last album by the original line-up and a watershed for Dio. A distinct bull-charge at the MTV centre-ground it worked wonders in Germanic and Scandinavian markets and scored another No.4 in the UK. Its US reception was strong if slightly down on Holy Diver and The Last In Line. It became their best-known work, as new fans arrived en masse even while disaffected die-hards shrugged away.
Standout tracks 'Rock 'n' Roll Children', 'Hungry For Heaven' and 'The King Of Rock And Roll' were heavy if a little less metal, but the videos for the singles were slicker and further removed from the band than ever. And what was with the fake live applause on 'The King Of Rock And Roll'? Lovers of speed revelled in 'Just Another Day', and there was little to complain about the title track or the tours-de-force of 'Another Lie' and 'Like A Beat Of A Heart'. The energy was high, the musicianship inspiring as ever (although those synths were getting rather syrupy), and RJD's emblematic rainbows and dragons kept the lyrical content consistent. Ultimately, however, Sacred Heart was too much filler versus not enough killer —'Fallen Angels' and the final track, 'Shoot Shoot', often singled out as being particularly below par.
The core line-up began to now disintegrate and there was a Dio diaspora. Vivian Campbell was the first to leave and by 1990 both Jimmy Bain and Vinny Appice were gone too. 1987's Dream Evil, featuring the first of the new members — Craig Goldy on guitar — is a valid addition to the Dio discography but it's by no means essential. The title track and 'Sunset Superman' have survived as band highlights, but in general, melody supplanted rock riffage and 'All The Fool Sailed Away' veered far too deep into power ballad territory and just simply wasn't metal. Sales were still healthy though, and the album reached No.8 in the UK, but a disappointing No.43 in the States.
Lock Up The Wolves, issued in 1990, was the last album Dio recorded for their original label, Vertigo, and so it marked the end of an era. Remarkably, the new band sounded like the classic line-up, despite Dio himself being the only original member (although Bain and Appice received writing credits). New whizz-kid guitarist Rowan Robertson, then just 18 years old, got the job through sheer damn persistence after he repeatedly badgered Dio's people for an audition. Teddy Cook took over on bass and the nimble-fingered Jens Johansson joined on keyboards. The drum stool was filled by former AC/DC man Simon Wright.
Musically, the album was a grower and a return to form, and the band bowed out of major-label status on a high, even if sales were now certainly on the slide (No.28 UK and No.61 US). Melodies abounded and the slower tempos and blues influences ('Evil On Queen Street') were notable, as were a few fillers such as 'Walk On Water', 'Twisted', and perhaps 'Why Are They Watching Me' and 'Night Music'. But there was plenty to get excited about too. 'Wild One' rips open the album at a relentless pace, and 'Born On The Sun' and 'Hey Angel' sounded as if Campbell, Bain and Appice had never gone away. 'Between Two Hearts' and 'My Eyes' are heavy ballads, but darkest of all is the monumental eight-and-a-half minute 'Lock Up The Wolves'.
And then, something totally unexpected happened when Ronnie put his band on hold and rejoined Black Sabbath for the 1992 album Dehumanizer. It was a difficult reunion, however, and Dio the band reconvened for 1993's Strange Highways and another decade's worth of essential heavy metal — Angry Machines (1996), Magica (2000), Killing The Dragon (2002), and Master Of The Moon (2004) — before Ronnie's untimely death in 2010. But that's another story.
Format:
UK English