Exclusive Exhibition Celebrating 'The French Dispatch' To Open In London
In cinemas on October 22., Wes Anderson's new film features an all-star cast including Timothée Chalamet, Tilda Swinton, Benicio del Toro and Bill Murray.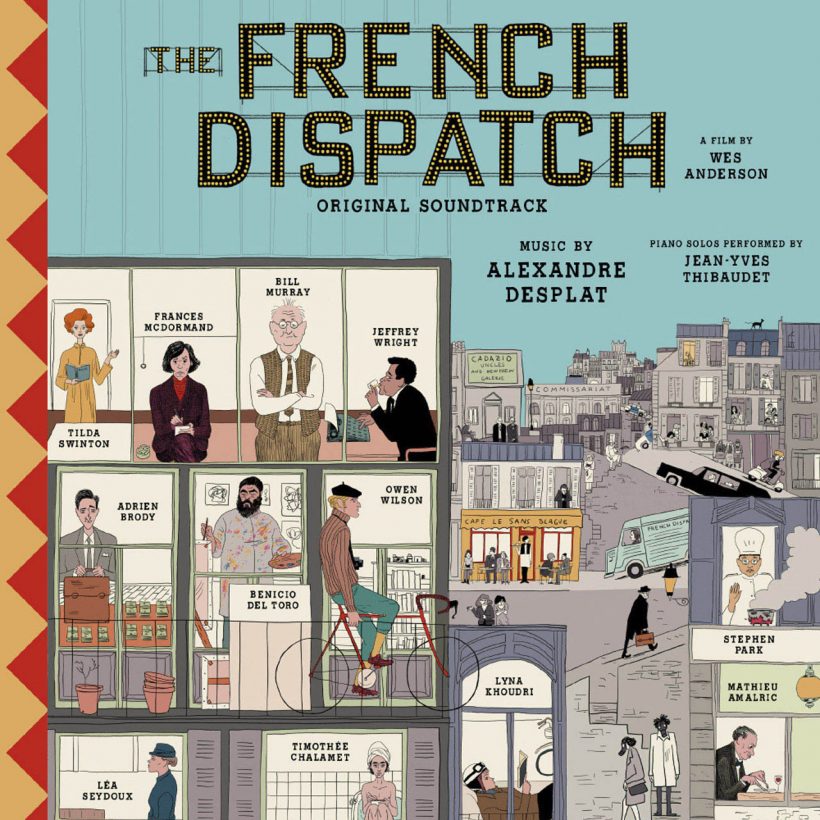 Set at the French outpost of an American newspaper in the late 1960s, director Wes Anderson's new film The French Dispatch promises to bring together the classic Andersonian tropes of fictional European villages, nostalgic institutions and deadpan humour with an all-star cast including Timothée Chalamet, Tilda Swinton, Benicio del Toro and Bill Murray (and an equally starry list of cameos). And to celebrate the long-awaited dispatch of the Dispatch, London is getting an entire exhibition dedicated to the film.
The exhibition is landing at the gallery space at 180 Studios on the Strand (where a similar pop-up was also held for Isle of Dogs a few years ago). Details on what they're actually going to display are being kept tightly under wraps, but they're promising a pretty impressive range of movie paraphernalia, from props, costumes and original sets to artwork and graphic design created especially for the film.
Once fans have drunk in all the exhibits, they will be able to take a load off in a life-size recreation of the film's café, "Le Sans Blague", where they can score quintessentially French drinks and snacks and leaf through a own souvenir copy of The French Dispatch magazine.
The French Dispatch exhibition runs at 180 The Studios from October 15 to November 14 2021. Tickets cost £10. For further information, visit 180's official website.
With an original score by Academy Award-winning composer Alexandre Desplat, the film's original soundtrack will be released on CD and all digital platforms in conjunction with the Searchlight Pictures theatrical release of the film on October 22, 2021. The 2xLP vinyl edition will follow in early 2022.
Jarvis Cocker is gearing up to release Chansons D'Ennui, an album of Francophone pop covers set to be a supplement to Wes Anderson's The French Dispatch. Ahead of the album, he has released a cover of Dalida & Alain Delon's 1973 single "Paroles, Paroles" with Laetitia Sadier.
Cocker recorded Chansons D'Ennui with the JARV IS… band and it includes the Dalida and Delon single, which went to No.1 in France and was a Top 10 hit in Mexico and Japan. Chansons d'Ennui Tip-Top is a tribute to French pop music and a musical extension of The French Dispatch that includes rendering of songs made known by a gallery of great French pop stars, including Dutronc ("Les Gens Sont Fous, Les Temps Sont Flous"), Francois Hardy ("Mon Ami La Rose"), Serge Gainsbourg ("Requiem Pour Un Con") Brigitte Bardot ("Contact") as well as songs by Dalida & Alain Delon, Marie LaFôret, Nino Ferrer & Radiah, Brigitte Fontaine & Areski Belkacem, Claude Channes and Max Berlin.
The French Dispatch revolves around a fictitious expatriate magazine that tells three stories published in this legendary journal. It celebrates writers and the thrill of great storytelling. Music plays a key and distinct role in each of the "chapters" of the film. Renowned pianist Jean-Yves Thibaudet is featured in the film's score and contributes a series of stunning solos on the recordings.