Gibson Gives To Auction Guitars Signed By Darius Rucker, AC/DC'S Angus Young & More
The high-profile, limited-edition guitars from Gibson artists are now up for auction via Charity Buzz through July 6.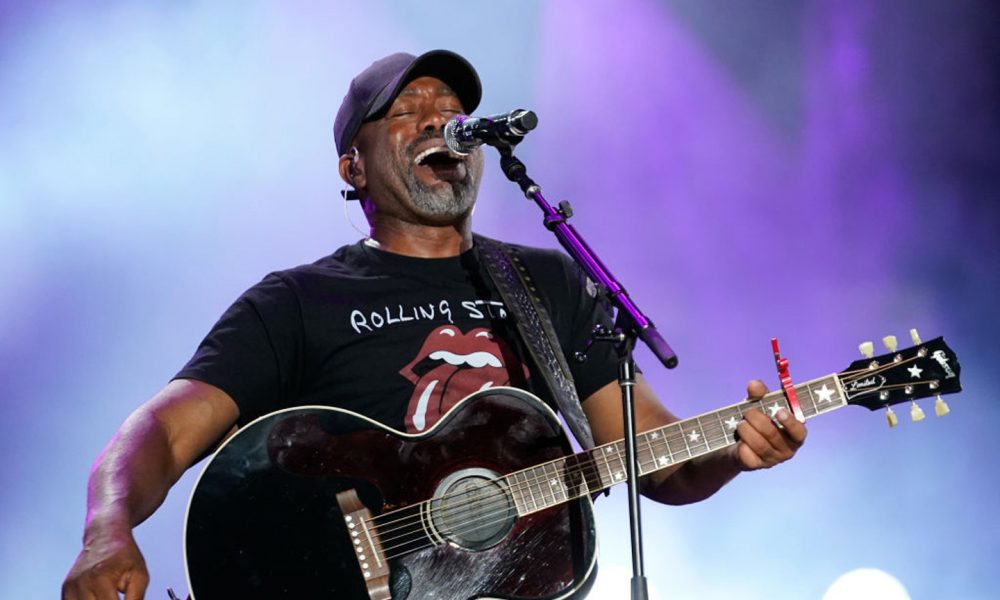 Gibson, the iconic American instrument brand's purpose-driven philanthropic arm Gibson Gives has announced a rare lot of six autographed, high-profile, limited-edition guitars from Gibson artists are now up for auction via Charity Buzz through July 6.
The Gibson Gives auction only features rare and collectible limited-edition guitars that are autographed by the artists including Angus Young (AC/DC), Joe Perry and all of Aerosmith, Darius Rucker, Lzzy Hale (Halestorm), Elliot Easton (The Cars), Robin Zander and Rick Nielsen (Cheap Trick), Don Felder (Eagles), Slash, Billy Gibbons (ZZ Top), Richie Faulkner (Judas Priest) and more. Each guitar in the Gibson Gives auction includes a certificate of authenticity, and comes straight from the source, Gibson.
Gibson has a strong focus giving back and supporting the global music community through Gibson Gives. The mission of Gibson Gives is to create, develop and support non-profit organizations in their efforts to advance musicians, youth-focused education, music, and wellness initiatives. In the last three years, Gibson Gives has raised over $3.5 million dollars worldwide through its mission.
The Gibson Gives auction gives music fans the once-in-a-lifetime chance to own a rare and collectible piece of music history. All donations raised will go to Gibson Gives, in addition to the National Museum of African American Music's music education fund. Bidding on the Gibson Gives auction has started now, and will officially close on Wednesday, July 6 at 3:00pm ET. You can bid now.
Bid now to own a piece of the storied Gibson family of acoustic guitars with this Epiphone DR-100. This guitar features the Gibson Gives emblem alongside the Darius Rucker's autograph. All funds raised from the sale of this Epiphone DR-100 acoustic guitar with Darius's signature will go to the National Museum of African American Music (NMAAM).
Darius Rucker believes in the power of music and its ability impact lives for the better and through his work Darius and Friends and more, Darius has raised millions of dollars for underserved communities in need. Throughout his career, Darius keeps his favorite Gibson Acoustic guitars close stating "When I plugged my Hummingbird in, I'd never heard any guitar sound like that; It's just what an acoustic guitar is supposed to sound like to me."
Between his Hummingbirds, J-45s, a Gibson Flying V, or his J-180 Everly Brothers/Billie Joe Armstrong guitars, Darius Rucker finds inspiration in Gibson guitars.
Elsewhere, fans can bid now to win the Gibson SG Standard autographed by rock legend, Angus Young of AC/DC. Only a few Rock and Roll pioneers break the Top 25 guitarists of the all-time list, and fewer do so by using only one model of guitar. The hard rock titan, Angus Young is synonymous for his high-voltage energetic performances, schoolboy uniforms, and his trusty Gibson SG Standard guitar.
Angus has kept his Gibson SG in hand for his entire career. Angus has been constant with his dedication to the original Gibson solid guitar design. Much like Angus's beloved SGs, this SG features a solid mahogany body set with two humbucking pickups. The mahogany neck has a slim taper profile with a rosewood fretboard and trapezoid inlays, is ready to shred some rock and roll. With Angus Young's signature on the pickguard of this amazing Gibson SG, place a bid to take home a piece of rock and roll history.