'Groove Juice' Set Honours The Unique Slim Gaillard
The collection features the thrilling and witty work of a unique groove master, multi-instrumentalist and multilingual artist.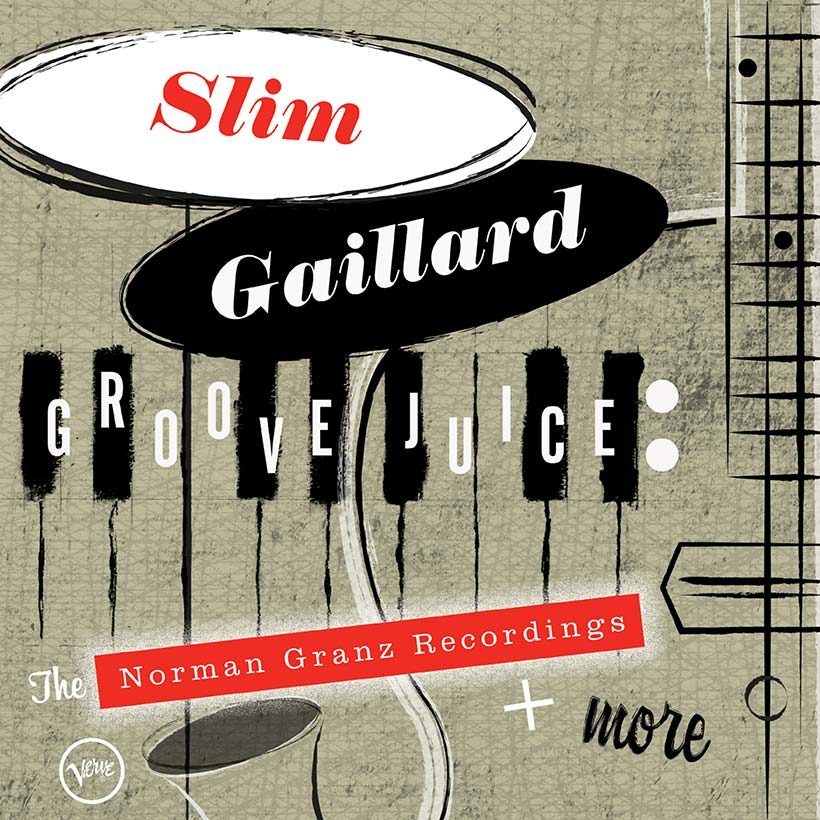 A new 2CD and digital set collecting the thrilling and witty work of groove master, multi-instrumentalist and multilingual singer, songwriter and comedian Bulee 'Slim' Gaillard is released today (31 August) by Verve/UMe.
Groove Juice: The Norman Granz Recordings + More was produced by Verve Records founder Granz and celebrates the work of a unique artist whose work captured the zeitgeist across many decades and still reverberates today. The set also includes nine previously unreleased alternate takes. 
Gaillard's presence was keenly felt across many eras and genres, including the swing era in which he was much loved as one half of the duo Slim and Slam, whose hits included 'The Flat Foot Floogie' and 'Tutti Frutti.' He was also an imposing figure in the bop and modern jazz idiom and beloved of the beat generation, immortalised in Jack Kerouac's classic On The Road as the mysterious bongo-playing figure to whom "the whole world was one big orooni," a reference to his customised vocalese singing style.
More recently, Gaillard's songs have featured extensively in the soundtrack of Pamela Adlon's FX series Better Things, while audiences of all ages know his original of 'Down By The Station,' much heard in Thomas The Tank Engine, and 'Potato Chips.'
"If you're looking for a succinct history of all the different musical trends flooding the airwaves in the decade before rock 'n' roll took shape, look no further than this compilation," writes Ricky Riccardi, the co-producer of Groove Juice, in his essay in the liner notes for the new collection. "Swing, bop, calypsos, R&B, proto-rock, strings, Latin rhythms, ballads, country and western, mambos, standards, novelties, bongos, Billy Eckstine, Yma Sumac, children's singalongs…it's all here, it's hilarious, and it swings."
Groove Juice: The Norman Granz Recordings + More is out now and can be bought here. Scroll down to read the full tracklist.
CD ONE
Jazz at the Philharmonic
1.   Opera in Vout (Groove Juice Symphony) 11:51
      In Four Parts:
       Part 1 – Introduzione – Pianissimo (softly, most softly)
       Part 2 – Recitative e Finale (of much scat)
       (Parts 1 & 2 based on "Hit That Jive, Jack," written by Skeets Tolbert-Johnnie Aiston)
       Part 3 – Andante Contabile in Modo de Blues (C Jam?) (Edward Kennedy Ellington)
       Part 4 – Preston Con Stomp (with a floy floy) (Slim Gaillard-Slam Stewart-Bud Green)
'Slim Gaillard and Bam Brown,' originally issued across four sides on 78-rpm, 2-single album, Disc 6022-6023, September 1946, and reissued on Mercury 11033-11034. All four parts later issued as two Mercury 45-rpm seven-inch singles, and the A-side of 10" EP Mercury/Clef MG C-506. ("Boogie Woogie at the Philharmonic" by Meade Lux Lewis was the EP's B-side).
The MGM Singles
2.   Tip Light (Slim Gaillard)
3.   Arabian Boogie (Slim Gaillard)
Tracks 2 & 3: 'Slim Gaillard and his Trio,' originally issued on single MGM 10017, May 1947
4.   Boip! Boip! (Leonard Sues-Sammy Davis Jr.-Larry Greenwood)
5.   The Bartender's Just Like a Mother (Lee Ricks-Otis Spencer-Alan Clarke)
Tracks 4 & 5: 'Slim Gaillard and his Trio,' originally issued on single MGM 10111, December 1947
6.   The Hogan Song (Jim Hawthorne-Slim Coates)
7.   Money, Money, Money (Roy Brodsky-Sid Tepper)
Tracks 6 & 7: 'Slim Gaillard and his Trio,' originally issued on single MGM 10164
8.   Puerto-Vootie (Slim Gaillard)
9.   Momma's in the Kitchen But We've Got "Pop" on Ice (Buddy Kaye-Dick Manning)
Tracks 8 & 9: 'The Slim Gaillard Trio,' originally issued on single MGM 10231
10. Down By the Station (Slim Gaillard)
11. I Don't Stand a Ghost of a Chance With You (Victor Young-Bing Crosby-Ned Washington)
Tracks 10 & 11: 'Slim Gaillard and his Trio,' originally issued on single MGM 10309, November 1948
12. Serenade to a Poodle (Lee Ricks-Slim Gaillard)
13. Communications (Lee Ricks-Slim Gaillard)
Tracks 12 & 13: 'The Slim Gaillard Trio,' originally issued on single MGM 10442
14. Organ-Oreenee (Slim Gaillard)
15. Little Red Riding Woods (Dick Manning-Buddy Kaye-Slim Gaillard)
Tracks 14 & 15: 'Slim Gaillard and his Trio,' originally issued on single MGM 10599
16.  When Banana Skins Are Falling (I'll Come Sliding Back To You) (Abraham Frazzini-Paul DeFrank-Irving Mills
17. Bongo Cito (Slim Gaillard)
Tracks 16 & 17: 'Slim Gaillard and his Sextet,' originally issued on single MGM 10938
The Mercury, Clef, and Norgran Releases
18. Soony Roony (Song of Yxabat) (Slim Gaillard)
19. Laughing in Rhythm (Slim Gaillard)
Tracks 18 & 19: 'Slim Gaillard and His Peruvians,' originally issued on single Mercury 5606
20. Sabroso (Slim Gaillard)
21. Babalu (Orooney) (Margarita Lecuona-Sydney King Russell)
Tracks 20 & 21: 'Slim Gaillard and his Internationally Famous Orchestra,' originally issued on single Mercury 8950
22. Genius (Ride, Slim, Ride) (Slim Gaillard)
23. Federation Blues (Slim Gaillard)
Tracks 22 & 23: 'Slim Gaillard,' originally issued only on 7" EP, Here He Is, Norgran EPN-56
24. Oh, Lady Be Good (George Gershwin-Ira Gershwin)
25. For You (Joe Burke-Al Dubin)
Tracks 24 & 25: 'Slim Gaillard and His Olympic Trackmen,' originally issued on single Mercury 89013, circa 1953
CD TWO
1.   Yo Yo Yo (Slim Gaillard)
2.   Chicken Rhythm (Slim Gaillard)
Tracks 1 & 2: 'Slim Gaillard and His Orchestra,' originally issued on single Mercury 89075, September 1953
3.   Yip Rock Heresy (Slim Gaillard)
4.   The Hip Cowboy (Slim Gaillard)
Track 3, by 'Slim Gaillard and His Middle Europeans,' and track 4, by 'Slim Gaillard and His Atomic Engineers,' originally issued on single Mercury 8956, August 1951
5.   I Only Have Eyes for You (Harry Warren-Al Dubin)
6.   As You Are (Billy Friedman-Herbert L. Miller)
Tracks 5 & 6: 'Slim Gaillard,' originally issued on single Mercury 5792, March 1952
7.   Taxpayers' Blues (Slim Gaillard-Caroll)
8.   Eatin' with the Boogie (Slim Gaillard)
Tracks 7 & 8: 'Bulee Gaillard and his Southern Fried Orchestra,' originally issued on single Clef 8970
9.   St. Louis Blues (W. C. Handy)
10. I Know What to Do (Slim Gaillard)
Tracks 9 & 10: 'Bulee Gaillard and his Southern Fried Orchestra,' originally issued on single Clef 8998
11. I Can't Give You Anything But Love (Dorothy Fields-Jimmy McHugh)
12. You Goofed (Slim Gaillard)
13. Make It Do (Raymond Bloch-William Friedman-Mal West)
14. This is My Love (Slim Gaillard)
Tracks 11-14: 'Slim Gaillard and His Musical Aggregations,' originally issued on the 10" LP, Wherever He May Be, Norgran MGN-13
15. Gomen Nasai (Forgive Me) (Ryoichi Hattori-Benedict Mayers)
16. Potato Chips (Bundora)
Tracks 15, by 'Slim Gaillard and His Shintoists," and track 16, by 'Slim Gaillard and His Bakers Dozen,' originally issued on single Mercury 89031, March 1953
17. Mishugana Mambo (Slim Gaillard)
18. Go, Man, Go (Sy Oliver) (from United Artists Motion Picture 'Go, Man, Go')
Tracks 17 & 18: 'Slim Gaillard and His Orchestra,' originally issued on single Clef 89103
19. I'm in the Mood for Love (Dorothy Fields-Jimmy McHugh)
Track 19: 'Slim Gaillard and His Musical Aggregations,' originally issued on the 10" LP, Wherever He May Be, Norgran MGN-13
The Alternate Takes
20. Gomen Nasai alternate take (10)
21. Potato Chips alternate take (1)
22. Potato Chips alternate take (2)
23. Make It Do alternate take (1)
24. You Goofed alternate take (7)
25. You Goofed alternate take (10)
26. I'm in the Mood For Love alternate take (4) & studio chatter
27. Mishugana Mambo breakdown & alternate take (3)
28. Go Man Go alternate take (3)
Music by Slim Gaillard and…
Bam Brown / His Trio / His Sextet / His Peruvians / His Internationally Famous Orchestra / His Olympic Trackmen / His Middle Europeans / His Atomic Engineers / His Southern Fried Orchestra / His Musical Aggregations / His Shintoists / His Bakers Dozen
Format:
UK English