Herbie Hancock To Open Summer Series From EFG London Jazz Fest Organizers
The festival itself is in its 30th birthday year, and will follow in November.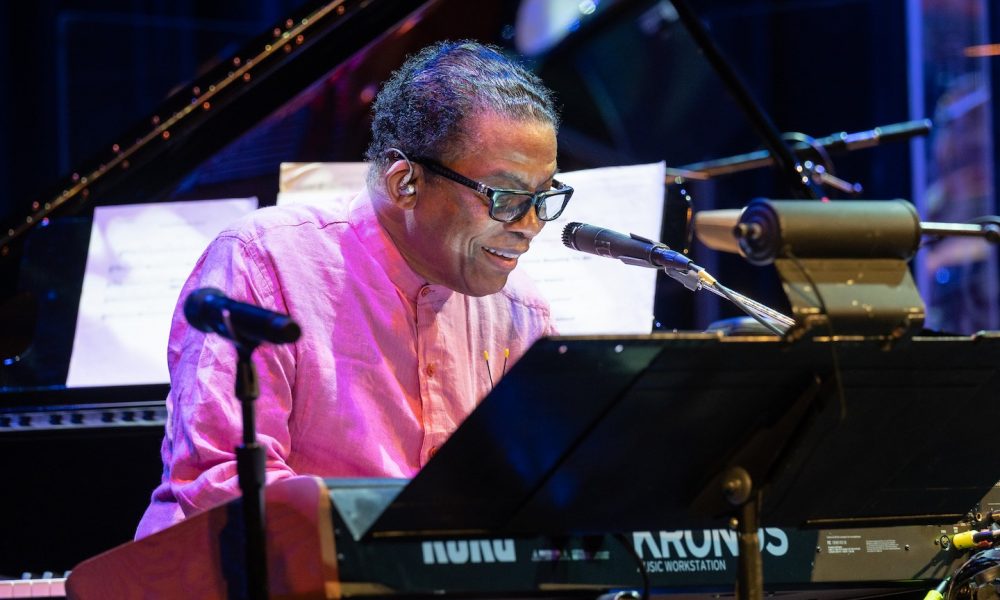 Herbie Hancock will play London's Barbican in June as part of a Summer Series organized by the EFG London Jazz Festival. The event is in its 30th birthday year, and the main festival will take place in November.
At the summer event, jazz admirers will be able to see Hancock, who will by then be 82, headlining on the opening night, June 22. That will be the first of four special concerts featuring worldwide stars of jazz. Subsequent shows will feature award-winning Brazilian singer Marisa Monte (June 23); much-admired pianist Brad Mehldau and his Trio (24); and SFJAZZ Collective featuring Gretchen Parlato and Chris Potter (25), also featuring Kendrick AD Scott on drums. The collective was founded in 2004 as both an ensemble of musicians and a democratic composer's workshop. Mehldau's show has been rescheduled from November 21 last year; all tickets purchased for that date remain valid.
Tickets for Hancock's show go on sale tomorrow (4), priced between £49.50 and £69.50. The keyboard master is currently working on a new album, as he marks the 60th anniversary of the release of his first in his own name, the Blue Note LP Takin' Off. His extraordinary career achievements include a total of 14 Grammy Awards, including the Grammy Lifetime Achievement Award in 2016.
Hancock is also creative chair for jazz for the Los Angeles Philharmonic Association and institute chairman of the Herbie Hancock Institute of Jazz. He was named a UNESCO Goodwill Ambassador in 2011 and received a Kennedy Center Honor in December 2013.
Tickets for the shows by Marisa Monte, the Brad Mehldau Trio, and SFJAZZ Collective are already on sale. More information about the Summer Series in June 2022 is available at the serious.org.uk event page.
The EFG London Jazz Festival itself will be from November 11-20, and this year's line-up of international artists, collaborations, themed strands, and special creations is due to be unveiled from mid-April onwards.