Jonas Brothers Announce Five Nights On Broadway
The shows are set for Marquis Theatre in New York City from March 14 through March 18.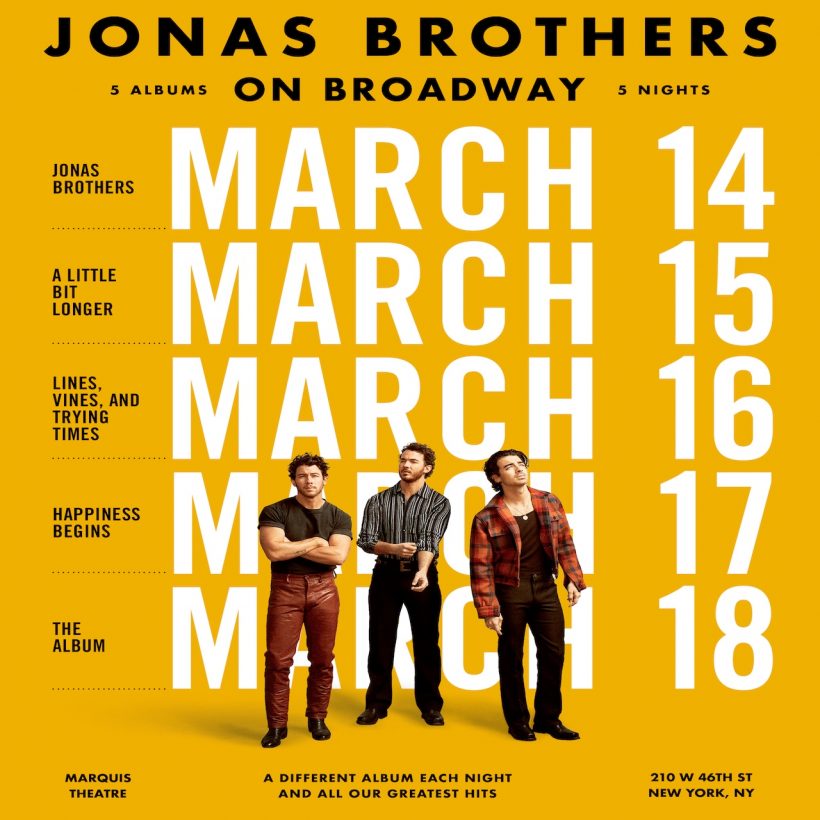 Global pop icons Jonas Brothers have announced a five-show, limited engagement at the Marquis Theatre in New York City from March 14 through March 18. To celebrate the news, they have shared a new single, "Wings," out now via Republic Records.
Shop the best of The Jonas Brothers' discography for more information.
The track launches a new era for the band and is the first single off their sixth full-length record, The Album, executive produced by Jon Bellion [Justin Bieber, Maroon 5, Halsey]. The Album is set for release on May 12.
Jonas Brothers - Wings (Official Lyric Video)
On each night of these very special performances, the band will focus on one of their albums in order of release, beginning with their 2007 self-titled album Jonas Brothers, in addition to other chart-topping hits from their discography and the first single, "Wings" off their forthcoming project, The Album. The fifth and final show, the Jonas Brothers will treat fans to the first-ever live performance of The Album.
Fans can register now for the Verified Fan Onsale. Registration for all dates will close Sunday, February 26 at 11:59 p.m. The Verified Fan Onsale will be the only way for fans to access tickets to the intimate run of shows. Fans who are selected to receive an access code will be able to access the Verified Fan Onsale starting March 1.
The Jonas Brothers announced the upcoming record last month (January 30) during its Hollywood Walk Of Fame ceremony. The band was the recipient of a new star on the iconic LA landmark in recognition of its years in the music business.
The Album will be the Jonas Brothers' sixth studio album and will serve as the follow-up to its 2019 comeback record, Happiness Begins.
The band discussed the upcoming album in an interview with Variety, revealing that singer-songwriter Jon Bellion had been recruited to work on the record. "In a lot of ways, he has become another brother on this album, given what he brought to the table musically and creatively," Nick explained. "The key to Jon's initial pitch was bringing in influences from the 70s, but with a really modern edge to it. We wanted to find a way to tell stories that are universal but also ultra-personal."
Visit Jonas Brothers' official Ticketmaster page for more information.