Lady Gaga And Ariana Grande Hit No.1 With 'Rain On Me'
Their triumphant duet, off Gaga's 'Chromatica', debuted at No.1 on the 'Billboard' Hot 100.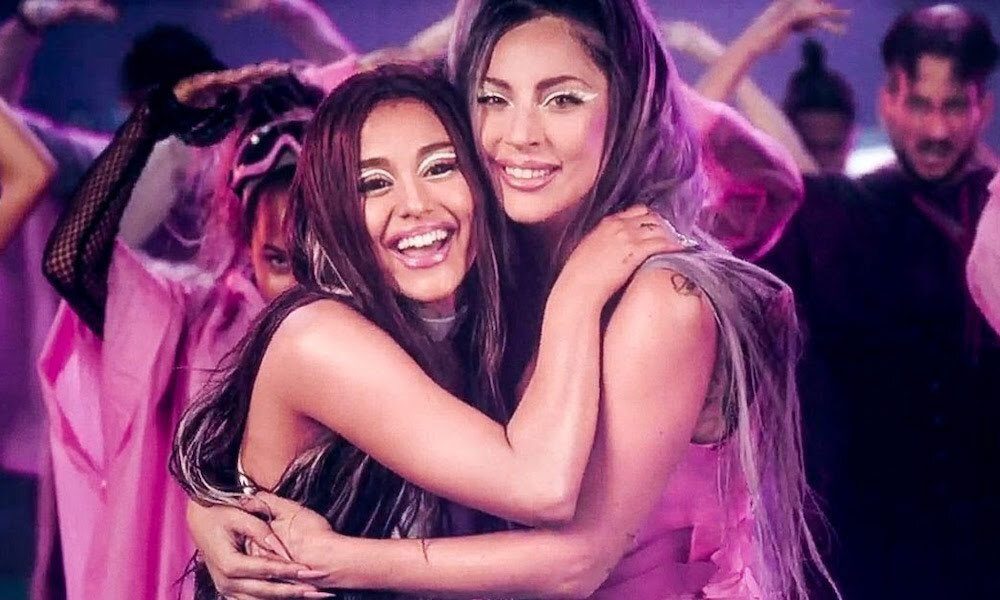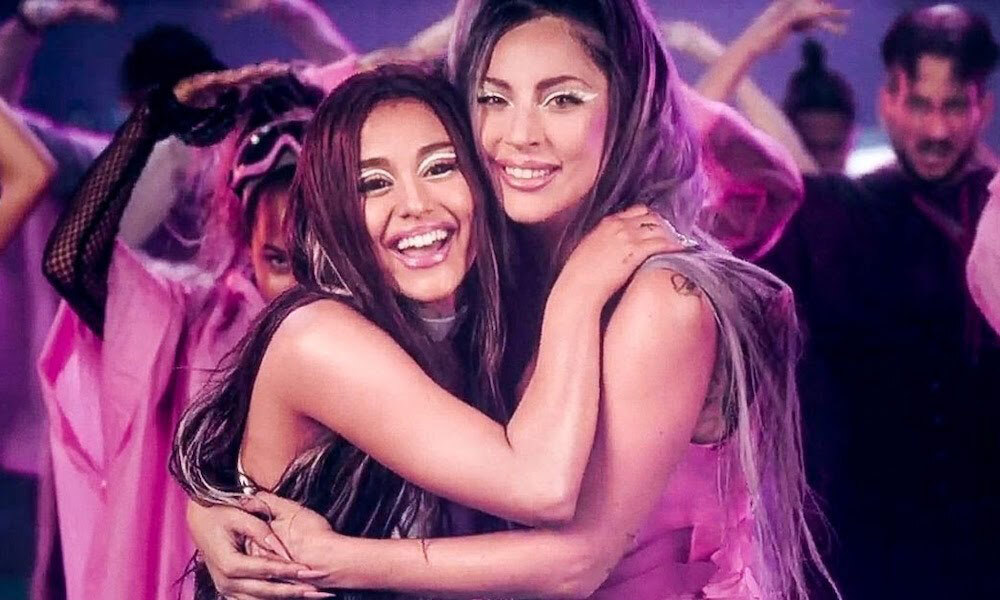 'Rain On Me', the jubilant new club anthem from Lady Gaga and Ariana Grande, has officially debuted at No.1 on the Billboard Hot 100. The song marks the second official single off Gaga's anticipated new album, Chromatica.
Lady Gaga, Ariana Grande - Rain On Me (Official Music Video)
'Rain On Me', which became Gaga's fifth No.1 on the Hot 100 and the fourth for Grande, finds the two pop powerhouses sounding triumphant as they proclaim, "I'd rather be dry, but at least I'm alive/Rain on me".
In separate interviews with Apple Music Beats 1's Zane Lowe, both artists discussed what a positive experience it was working together.
"It feels so fun to be part of something so upbeat and straight pop again, because I do feel like it's been a minute since I've done something that poppy, really", said Grande. "And that's funny because I am a pop person, but it's just, everyone knows that my heart is kind of rooted in the R&B influence music that I make, and that's where my heart is". She continued, "When an artist like Lady Gaga, who has such magnificent point of view, and such an articulate message to send, [invites you onto a project] you kind of are completely giving yourself over to her".
Gaga told Lowe that she and Grande "Connected right away and she was so wonderful…. I remember I said to her, 'Okay, now everything that you care about while you sing, I want you to forget it and just sing. And by the way, while you're doing that, I'm going to dance in front of you'…. And then I did it and she sang, and she started to do things with her voice that [were] different. And it was the joy of two artists going, 'I see you'".
Earlier today, it was announced that 'Sour Candy' – another Chromatica collaboration, with K-pop stars BLACKPINK – broke streaming records on Spotify and YouTube during its debut last Thursday, 28 May. The song debuted at No.6 on the global Spotify chart with over 3.67 million streams and No.12 in the United States with over 757,000 streams. The first-day sum granted BLACKPINK the biggest debut for a song by a girl group in Spotify history, according to Chart Data. As of Thursday afternoon, the single had also reached No. 1 on iTunes in 52 countries, another record for a girl group, while, as of today, 'Sour Candy' has had over 40 million views on YouTube.
Chromatica – Gaga's first studio full-length since 2016's Joanne – marks the artist's triumphant return to the dancefloor. Released on Friday, 29 May, the 16-track album, which also includes a collaboration with Sir Elton John, has been embraced by fans and critics alike. Rolling Stone praised that, "Between her hopeful choruses and floorboard-thumping beats, [Gaga] has captured the longing for togetherness that people are now feeling", adding that, "Her pop renaissance couldn't come at a better time". Pitchfork, meanwhile, called the album 'Ambitious', declaring that, "With incomparable flair, the pop diva returns to her dance-pop days with a fabulously fun and deeply personal album".
Chromatica is available now and can be bought here.
Format:
UK English