Neil Diamond Announces '50th Anniversary Collector's Edition' Retrospective
The six-CD set celebrates a unique half-century of music-making by one of the most outstanding singer-songwriters.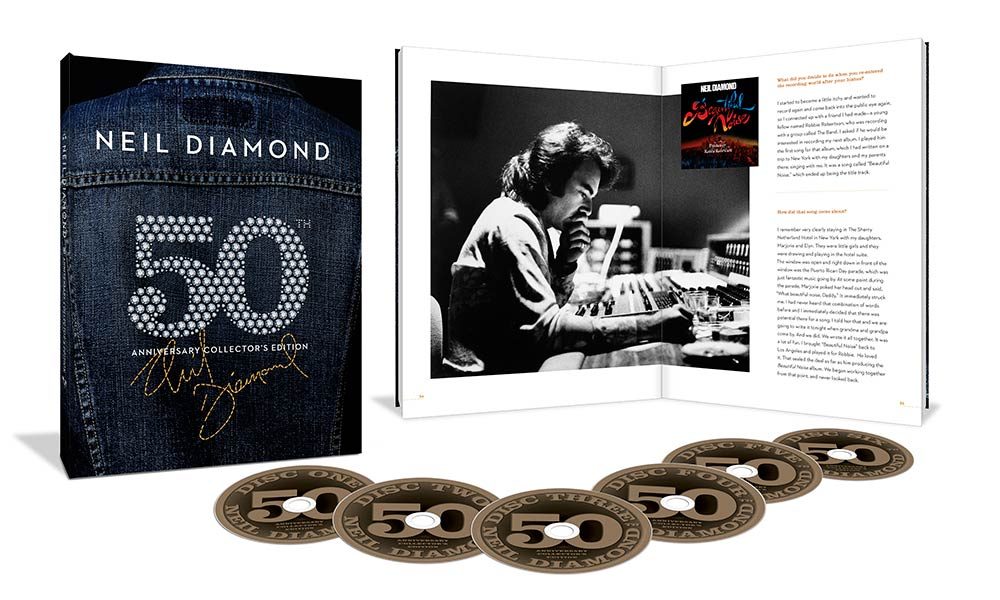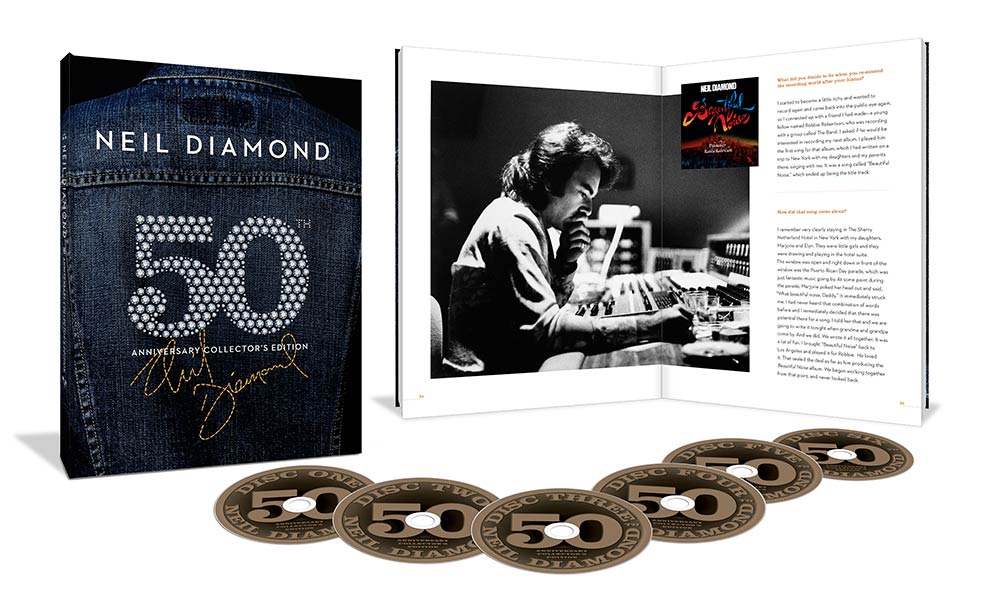 A unique half-century of music-making by one of the most outstanding singer-songwriters will be marked by Capitol/UMe's 30 November release of Neil Diamond's 6CD 50th Anniversary Collector's Edition. It covers Diamond's entire storied career and features 115 tracks set in a hardcover book, with his most celebrated hits sitting alongside demos, rarities and a total of 15 previously unreleased tracks.
As well as dozens of signature Diamond recordings such as 'Sweet Caroline,' 'Forever In Blue Jeans,' 'I Am…I Said,' 'Solitary Man,' 'Cherry Cherry' and his duet wiith Barbra Streisand, 'You Don't Bring Me Flowers.' the set has a full disc of 12 unreleased songs. These include the recently-unearthed 'Sunflower,' which was written and recently updated by Diamond and originally recorded by Glen Campbell.
Other newly-discovered material includes 'Before I Had a Dime' and  'C'est La Vie,' which he wrote with his friend and accomplished fellow writer-artist Gilbert Bécaud. Also in the collection are the original demos of Diamond's anthemic 'I Am…I Said' and 'America.'
The unrivalled career of the Grammy-winning Rock and Roll Hall of Fame inductee has seen him sell more than 130 million albums worldwide. His scorecard includes 38 US top 40 singles, 16 top ten albums, 40 gold-certified albums, 21 platinum and 11 multi-platinum. He is also a member of the Songwriters Hall Of Fame and recently received three more of the greatest honours that a composer can receive, the Johnny Mercer Award, the Grammy Lifetime Achievement Award and the Sammy Cahn Lifetime Achievement Award.
Diamond has also been the recipient of a Golden Globe Award, 13 Grammy nominations, the ASCAP Film and Television Award, Billboard Icon Award, American Music Award and 2009's NARAS's MusiCares Person of the Year Award. He received the prestigious Kennedy Center Honour in 2011 for his lifetime of contributions to American culture.
Neil Diamond's 6CD 50th Anniversary Collector's Edition is released on 30 November. Scroll down to read the full tracklisting and buy it here.
DISC ONE
• SOLITARY MAN – Mono
• CHERRY, CHERRY – Mono
• I GOT THE FEELIN' (Oh No No) – Mono
• DO IT – Mono
• THE BOAT THAT I ROW – Mono
• YOU GOT TO ME – Mono
• GIRL, YOU'LL BE A WOMAN SOON – Mono
• I'M A BELIEVER – Mono
• THANK THE LORD FOR THE NIGHT TIME – Mono
• KENTUCKY WOMAN – Mono
• RED, RED WINE – Mono
• BROOKLYN ROADS
• GLORY ROAD
• HOLLY HOLY
• AND THE GRASS WON'T PAY NO MIND
• SHILO
• SUNDAY SUN
• BROTHER LOVE'S TRAVELLING SALVATION SHOW
• DIG IN
• SWEET CAROLINE
• CRACKLIN' ROSIE
• SOOLAIMON
• CRUNCHY GRANOLA SUITE
• LORDY (Live)
DISC TWO


I AM…I SAID* – Original Demo



I AM…I SAID



DONE TOO SOON



STONES



MORNINGSIDE



PLAY ME



WALK ON WATER



LONELY LOOKING SKY



SKYBIRD



BE



I'VE BEEN THIS WAY BEFORE



THE LAST PICASSO



ROSEMARY'S WINE



SONG SUNG BLUE



LONGFELLOW SERENADE



THE GIFT OF SONG



BEAUTIFUL NOISE



JUNGLETIME



LADY-OH



STREET LIFE



SIGNS



SURVIVING THE LIFE



STARGAZER



IF YOU KNOW WHAT I MEAN
DISC THREE


DRY YOUR EYES



DESIRÉE



ONCE IN A WHILE



I'M GLAD YOU'RE HERE WITH ME TONIGHT



AMERICA* – Original Demo



AMERICA



HELLO AGAIN



LOVE ON THE ROCKS



AMAZED AND CONFUSED



SONGS OF LIFE



YESTERDAY'S SONGS



I'M ALIVE



HEARTLIGHT



ON THE WAY TO THE SKY



HEADED FOR THE FUTURE



YOU DON'T BRING ME FLOWERS – Duet with Barbra Streisand



FOREVER IN BLUE JEANS



SEPTEMBER MORN
DISC FOUR


THE STORY OF MY LIFE



IT'S A TRIP (Go For The Moon)



HOOKED ON THE MEMORY OF YOU



BABY CAN I HOLD YOU* – Live in Dublin R.D.S. 1989



HARD TIME FOR LOVERS



ALL I REALLY NEED IS YOU



IF THERE WERE NO DREAMS



SOMEONE WHO BELIEVES IN YOU



THE WAY



ONE GOOD LOVE – Duet with Waylon Jennings



BLUE HIGHWAY – Featuring Chet Atkins



OPEN WIDE THESE PRISON DOORS



EVERYBODY



NO LIMIT



I HAVEN'T PLAYED THIS SONG IN YEARS



YOU ARE THE BEST PART OF ME



DELIRIOUS LOVE



I BELIEVE IN HAPPY ENDINGS



MAN OF GOD



WE
DISC FIVE
5. I'M ON TO YOU
6. WHAT'S IT GONNA BE
7. SAVE ME A SATURDAY NIGHT
8. CAPTAIN OF A SHIPWRECK
9. ANOTHER DAY (THAT TIME FORGOT) – Duet with Natalie Maines
10. DON'T GO THERE
11. HOME BEFORE DARK
12. FORGOTTEN
13. PRETTY AMAZING GRACE
14. MELODY ROAD
15. NOTHING BUT A HEARTACHE
16. SOMETHING BLUE
17. IN BETTER DAYS
18. SEONGAH AND JIMMY
19. SUNNY DISPOSITION
20. THE ART OF LOVE
21. HELL YEAH
DISC SIX


SUNFLOWER*



C'EST LA VIE*



GIRLS GO FISHIN'*



MAYBE*



CARIBBEAN CRUISE*



YOU ARE*



EASY (TO BE IN LOVE)*



BEFORE I HAD A DIME*



THE BALLAD OF SAVING SILVERMAN*



IT DON'T SEEM LIKELY*



LONG NIGHTS, HOLD ON*



MOONLIGHT RIDER*
*Previously Unreleased
Explore our Neil Diamond Artist Page.
Format:
UK English