N*E*R*D'S Pioneering Debut 'In Search Of' Gets Deluxe Box Set Reissue
For the first time, both electronic and rock versions of N*E*R*D's debut album In Search Of… have come together for a deluxe 4LP reissue on 25 October.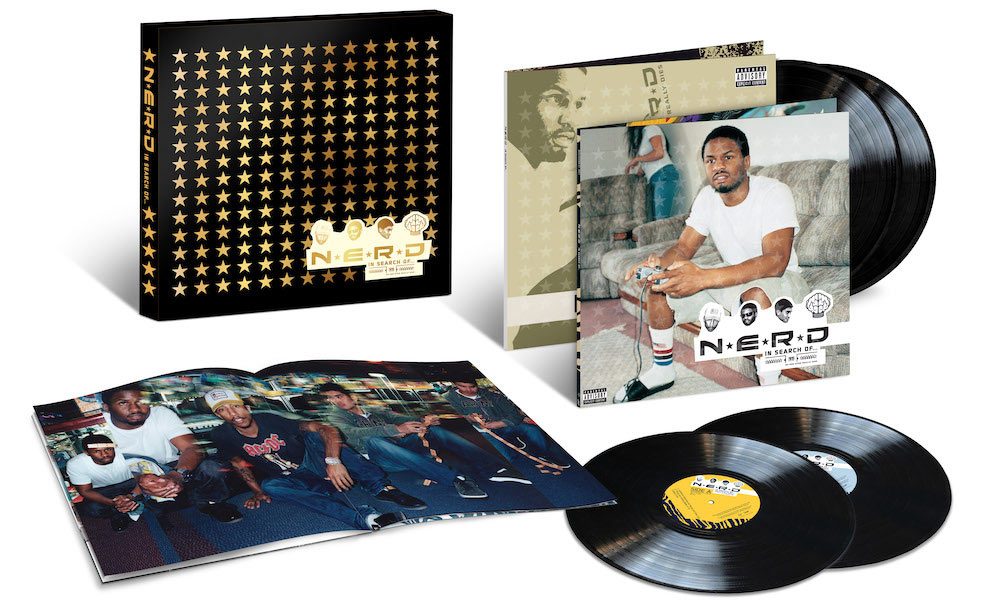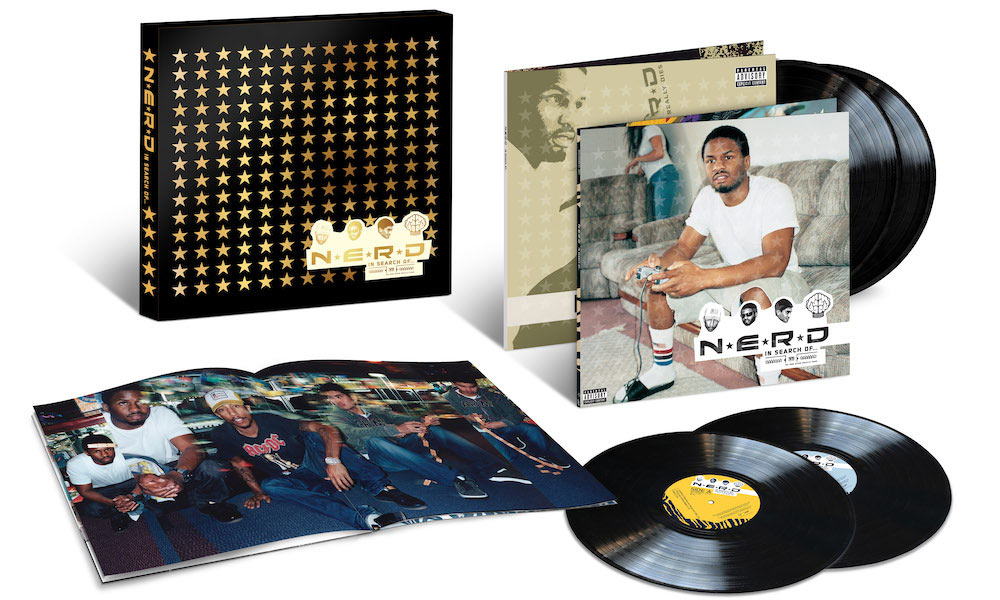 For the first time, both electronic and rock versions of N*E*R*D's debut album In Search Of… have come together for a new deluxe 4LP reissue on 25 October via Virgin/Urban Legends/UMe.
On the same day the box is released, the band is also releasing an expanded deluxe digital edition of the album's "electronic version", featuring seven rare and previously unissued remixes and live tracks to the album, all of which are making their digital release debuts.
In Search Of… was first released in August 2001, boasting the same experimental fusion of hip-hop and electronica that N*E*R*D duo Pharrell Williams and Chad Hugo had explored as the production duo, the Neptunes. The album's first edition also features an 'Intro' track and three interstitial skits with the tracks 'Things Are Getting Better', 'Stay Together' and 'Tape You'.
Less than a year later, N*E*R*D reworked the production to set it apart from their Neptunes' projects and re-released a "rock version" of the album in March 2002, swapping out the electronic-heavy production for live guitars and drums provided by the band Spymob.
The rock version features different sequencing and doesn't include the 'Intro' track or skits, but it went on to become a rap-rock landmark, paving the way for other hybrid releases like Jay-Z and Linkin Park's Collision Course in 2004 and Lil Wayne's Rebirth, years later.
Following the release of the rock version, Williams talked about how some people weren't initially receptive to the project in an interview with Vibe in 2002, but it was clear he was onto something.
"The album sounds like the mixtape hip-hop listens to when the rest of hip-hop isn't looking – a bizarre, compelling combination of dreamy beach-pop, dark country and classic rock," writes Vibe in 2002.
This kind of genre-hopping and fusing of styles is now par for the course in both hip-hop, pop and dance music and as usual, Williams was ahead of his time.
The new deluxe edition of In Search Of… features the rock version in one 2LP gatefold jacket while its European electronic version in its own 2LP gatefold jacket, packaged together with a 24-page booklet in a rigid slipcase. The new edition's LP lacquers were cut by Alex Abrash at AA Mastering.
The seven rare bonus tracks featured on the new In Search Of… "electronic version" deluxe digital edition will all make their digital debuts with the new release. Three of the tracks have never been commercially released in the US in any format.
This includes a remix version of 'Provider' by UK downtempo favourites Zero 7, a remix of the album's breakout hit 'Lapdance' by none other than Trent Reznor of Nine Inch Nails ( a promo that was never commercially released) and 'RockStar (Nevins Classic Club Blaster)'.
In Search Of… deluxe edition is out on 25 October and can be pre-ordered here. View the full tracklisting below.
In Search Of… "Rock Version"
SIDE A
1.Lapdance
2.Things Are Getting Better
3.Brain
SIDE B
1.Provider
2.Truth Or Dare
3.Tape You
SIDE C
1.Run To The Sun
2.Baby Doll
3.Am I High
SIDE D
1.Rock Star
2.Bobby James
3.Stay Together
In Search Of… "Electronic Version"
SIDE A
1.Lapdance
2.Intro
3.Things Are Getting Better
4.Brain
SIDE B
1.Provider
2.Truth Or Dare
3.Run To The Sun
SIDE C
1.Stay Together
2.Baby Doll
3.Tape You
SIDE D
1. Am I High
2. Rock Star – Poser
3. Bobby James
In Search Of… "Electronic Version" [DELUXE DIGITAL]
1. Lapdance
2. Intro
3. Things Are Getting Better
4. Brain
5. Provider
6. Truth Or Dare
7. Run To The Sun
8. Stay Together
9. Baby Doll
10. Tape You
11. Am I High
12. Rock Star – Poser
13. Bobby James
BONUS TRACKS
14. Lapdance (Trent Reznor Remix)
15. Lapdance (Freeform Reform) Re-edit
16. Lapdance (Live In Paradiso)
17. Provider (Zero 7 Remix)
18. Provider (Live In Paradiso)
19. Rock Star (Nevins Classic Blaster)
20. Rock Star (Live In Paradiso)
Format:
UK English