'In Search Of…': N*E*R*D's 21st-Century Hip-Hop Mission Statement
On their 2001 debut album, 'In Search Of…', hip-hop hitmakers N*E*R*D subverted the genre's clichés to create a new sound – becoming rock stars in the process.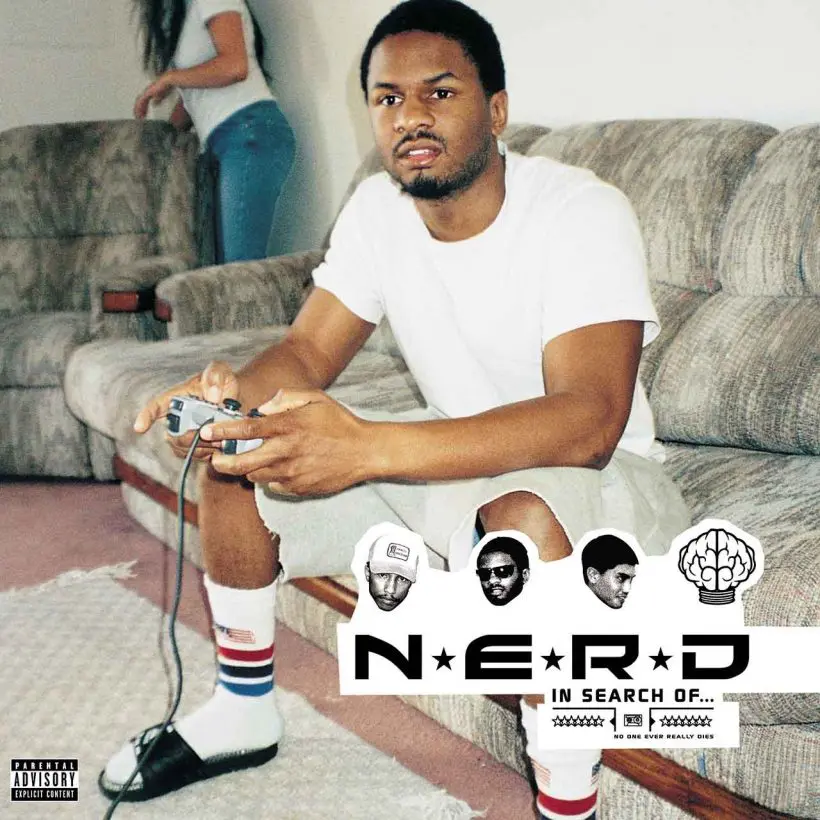 Since N*E*R*D released their debut album, In Search Of…, on August 6, 2001, rappers (and plenty of non-rappers) have chased after their own rap-rock classic. An earnest, funkadelic hybrid that bounces rapidly from songs about sex acts and strip clubs to classic evocations of red roses and high-school loves, In Search Of… is emblematic of hip-hop's power to encompass all genres. It's a singular album not only because it captures N*E*R*D before they became stars on the world's stage, but also because it remains the standard-bearer for elusive, genre-hybrid hip-hop albums.
Even with their outsized influence on hip-hop, N*E*R*D didn't make Pharrell Williams a household name. Along with his solo career, Pharrell is famous for being one half of the prolific production duo The Neptunes, along with Chad Hugo, who prefers a lower-key approach to public life. When the duo decided to start a side-project, in 1991, they recruited childhood friend Sheldon "Shay" Haley to join their futuristic collective, N*E*R*D (No-One Ever Really Dies).
Pharrell is the public face of the group, but it's Haley that appears on In Search Of…'s original cover. It's 2001: Shay's casually hanging on a couch playing a PlayStation, and no one involved in the album, not even Kelis or Clipse, could imagine how big things would get. In Search Of… remains a time capsule of that first wave of talent Pharrell and The Neptunes would be associated with.
Moving the needle
In Search Of… came at a time when The Neptunes were still cutting their teeth as career-making producers for other artists. It was first released in Europe, where Kelis' Neptunes-produced 2001 album, Wanderland, had seen the kind of success they wouldn't experience stateside for almost 20 years.
When it came to the album's worldwide release, less than a year later, N*E*R*D reworked the production to distinguish it from Pharrell and Hugo's work as The Neptunes. On March 12, 2002, the "rock version" of the album hit the shelves, swapping out the original electronic-heavy production for live guitars and drums provided by funk-rock band Spymob. The group not only served as the backing band for the album, but joined N*E*R*D on their subsequent tour.
In Search Of… didn't enjoy the same level of commercial success as some of the big-name artists The Neptunes had produced, but both "Rock Star" and "Lapdance" made the UK singles chart, at No.15 and No.20, respectively. Even if they weren't moving records on a mass scale, they were moving the needle, culturally speaking.
N.E.R.D. - Lapdance ft. Lee Harvey, Vita
A rap-rock landmark
Hip-hop's fixation with rock cannot solely be attributed to of In Search Of…, but the album was certainly one of the initial driving forces behind the trend's resurgence in the early 00s – both sonically and aesthetically.
Jay Z and Linkin Park chased after the same sound on Collision Course, in 2004, but that project ended up being more representative of the mash-up trend at the time, rather than true genre-hopping experimentation. After Tha Carter III made Lil Wayne one of the biggest figurative rock stars in the country, he took a very literal approach to rap-rock on Rebirth. Keep in mind: all this is happening as N*E*R*D are releasing their follow-up albums and Pharrell is becoming a superstar. The Neptunes' work with Gwen Stefani was closer to the rap-rock sound than most other rappers achieved on their own. In Search Of…'s legacy was radioactive.
Making everything else possible
Even if another rap-rock album never generates as much acclaim, In Search Of… is one of the records that paved the way for rappers to be rock stars – not only in their sound, but in the way they assumed a cultural significance usually reserved for traditional rock, from one-hit wonders like Shop Boyz's "Party Like A Rockstar" to the most influential pioneers of the future, like Tyler, The Creator's highly influential Cherry Bomb. Even when each of N*E*R*D's subsequent releases felt like an event, it was In Search Of… that made it all possible.
Both forward-thinking in terms of style and substance, In Search Of…'s title seems all that more prescient two decades later, considering everyone would be looking to replicate the album's sound for years to come.