'Kill At Will': Ice Cube's Powerful EP
Designed to build on the buzz of Ice Cube's solo debut, the EP balanced attitude with more conceptual songwriting.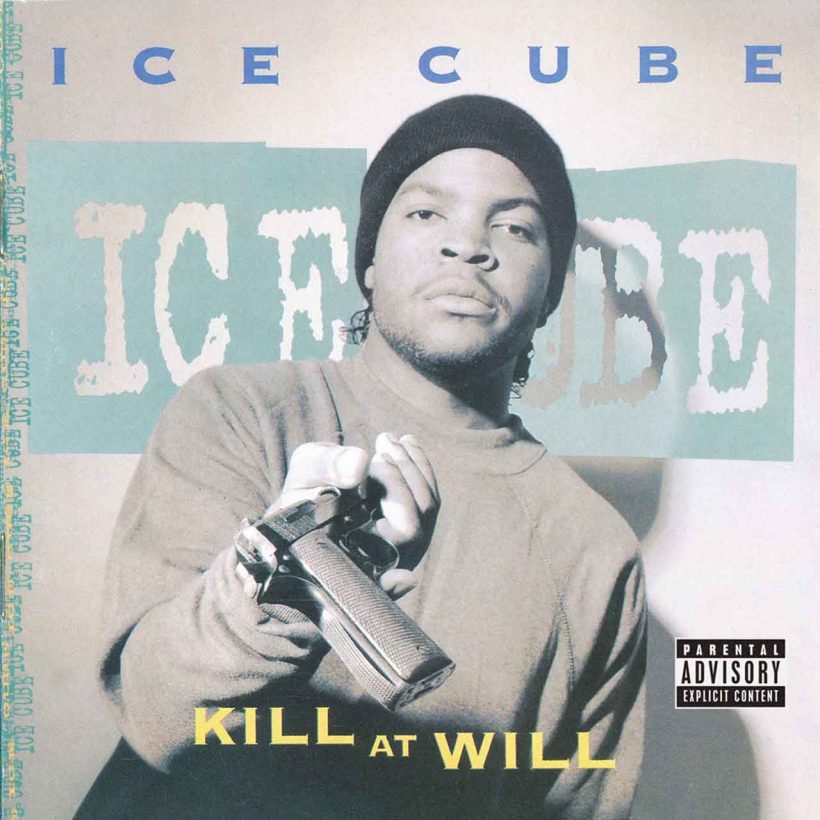 When Ice Cube left N.W.A. in a storm cloud of controversy, the firebrand Los Angeles rapper asserted his solo clout with 1990's AmeriKKKa's Most Wanted. That album was a heaving slab of Cube's prickly rap vitriol bolstered by a selection of raucous funk-fortified backdrops crafted by Public Enemy's East Coast production unit The Bomb Squad. Designed to build on the buzz of Cube's solo debut, the Kill At Will EP arrived in December of the same year and managed to balance the attitude and anger of AmeriKKKa's Most Wanted with the more conceptual-focused songwriting the MC would explore in earnest on the following year's classic Death Certificate project.
Fronted by a photograph of Cube offering a firearm to the listener, the seven-song Kill At Will is a compact and forceful listen. Lyrical themes and musical tones are bookended together in a stylistically abrupt way: A remix of "Endangered Species (Tales From The Dark Side)" from AmeriKKKa's Most Wanted weaves extra wails of electric guitar into the mix as Cube and guest Chuck D build on the sentiments of the song's opening sampled news report: "At the bottom of our news tonight, there's been a new animal aimed in the direction of falling off the face of the Earth. Yes, young black teenagers are reported to be the oldest, and the newest, creatures added to the endangered species list."
Listen to Ice Cube's Kill at Will now.
The socio-political reportage that fires "Endangered Species" is immediately followed by the audacious Chilly Chill-crafted "Jackin' For Beats." Rapping over a constantly shifting backdrop of original sampled sources and instrumentals associated with tracks by contemporaries including Public Enemy, Digital Underground, and LL Cool J, Cube asserts his right to take and repurpose beats at a whim. "And even if you're down with my crew, I'll jack them too," the MC brags as a snatch of Public Enemy's "Welcome To The Terrordome" is punched in, before proceeding to embrace Digital Underground's "The Humpy Dance" with a curmudgeonly quip: "But I don't party and shake my butt/ I leave that to the brothers with the funny haircuts."
Ice Cube - Jackin' For Beats (Official Music Video)
Deeper into Kill At Will, the powerful back-to-back run of "The Product" and "Dead Homiez" spotlight Cube's conceptual prowess. Fueled by a frantic melange of funk samples, "The Product" presents Cube in angry sociology professor mode, as he tells a whirlwind life story that moves from conception to inevitable incarceration. "My life is f***ed but it ain't my fault 'cause I'm the motherf***ing product," slams Cube during the song's closing lines.
04. Ice Cube - The Product
Then comes "Dead Homiez," a plaintive lament on friends murdered in gang-related shootings that features a somber Cube. "I remember we painted our names on the wall for fun/ Now it's rest in peace after every one/ Except me, but I ain't the one to front/ Seems like I'm viewing a body every other month," raps Cube, before conjuring an emotive scene: "When it's a tragedy, that's the only time that the family's tight/ Loving each other in a caring mood/ There's lots of people and lots of food/ They say be strong and you're trying/ But how strong can you be when you see your pops crying?"