Nile Rodgers, Sir Rod Stewart Lead Nordoff Robbins' Christmas Fundraiser
The live show, which marks the return of the the Nordoff Robbins Carol Service, will star Stewart, Imelda May, and Jess Gillam.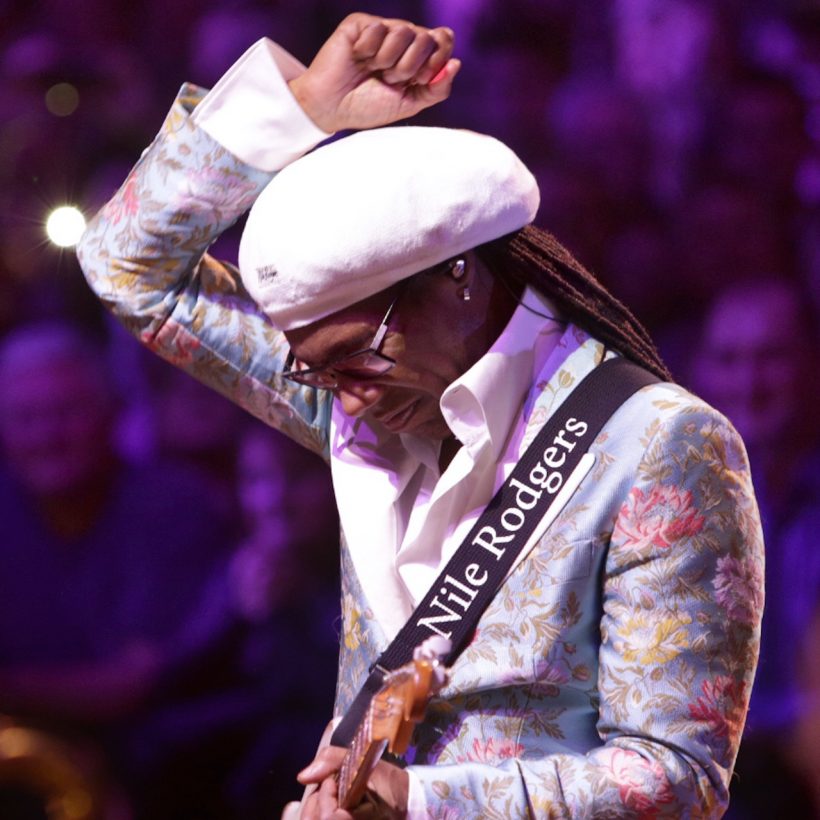 Nile Rodgers will host an online event as part of music therapy charity Nordoff Robbins' annual Christmas concert. The live show, which marks the return of the the Nordoff Robbins Carol Service, takes place in London on December 14, starring Sir Rod Stewart, Imelda May, and saxophonist-presenter Jess Gillam.
The events will raise vital funds for Nordoff Robbins, the UK's largest music therapy charity, to help it continue to use the power of music to enrich the lives of people in the UK affected by life-limiting physical and mental illness, disabilities, or feelings of isolation.
The carol service will take place at St Luke's Church in Chelsea, south-west London, featuring Christmas carols sung by some of the most celebrated artists in music, both new and established, as well as festive readings by celebrities. Tickets are available here priced at £50 ($67).
The live event will be complemented by the free-to-view stream The Stars Come Out To Sing At Christmas 2021, hosted by Rodgers and featuring the St. Luke's Church concert as well as exclusive additional star performances. It will be available from 7pm GMT on December 19. Donations are encouraged throughout the evening.
Even during the pandemic, Nordoff Robbins' trained music therapists have continued and stepped up their heroic work with children and adults affected by such life-limiting illnesses as dementia, learning disabilities including Autism, physical disability, and mental health issues. In 2020, the charity helped the lives of 5,782 individuals.
'Sharing the seasonal joy'
Says Sir Rod Stewart: "Christmas is a special time and I'm thrilled to be sharing the seasonal joy in person at this year's Nordoff Robbins Carol Service. Everyone can thrive through the power of music and that's why Nordoff Robbins' work is so important to me.
"Every music therapy session at Nordoff Robbins is unique because every person is unique," he continues. "The charity's trained music therapists understand that music evokes different reactions and responses in people who may not otherwise be able to connect with the world – and for many, can simply be life changing. I'm looking forward to treating fans to a festive night like no other – and asking you to give what you can to ensure this important work continues."
Nile Rodgers adds: "Nordoff Robbins believes in the value of music for all people in our society – which is why it's so close to my heart. I understand the power of music and have witnessed how music therapy can connect people who may otherwise feel isolated or disconnected from the world.
"It's the universal values that we can all express through music that brings us together in a unique way. I'm honoured to be hosting this special online concert for the second year running, bringing together some of my friends from the music world, including one of my favourites, Sir Rod Stewart, who feel just as passionately as I do about the important work of Nordoff Robbins.
"Get together with family and friends and settle down for a musical treat on Sunday 19th December at 7pm from the comfort of your own sofa for Christmas carols with a difference as The Stars Come Out To Sing At Christmas 2021. The concert will help to raise vital funds for a whole range of people who need it most, including children with autism who rely on music therapy for a sense of connection and those affected by life-limiting illnesses or disability."
Hipgnosis Songs Fund is a funding partner of Nordoff Robbins Music Therapy for a second year, and the online concert will be supported by London Stock Exchange through streaming on its Issuer Services Spark.
'Quite simply life-changing'
Sandra Schembri, CEO of Nordoff Robbins said: "According to our recent UK survey 90% of those questioned agree that music has the power to make a positive impact on people's lives and is a great way to bring people together. That's what we see first-hand day in, day out: the incredible impact that music has for the people that we work with – it is quite simply life-changing."
Schembri goes on: "We believe that all people in our society – including those who may feel isolated through physical or mental illness – have unlimited potential to be empowered through music. What a wonderful event this year's carol service is going to be – whether guests are experiencing it in person or online.
"We are beyond thankful to everyone who is making this event happen – to our funding partner, Merck Mercuriadis and his Hipgnosis Songs Fund, as well as to all the artists involved who are helping us to celebrate Christmas with a unique opportunity to join such a wonderful line up of stars.
"With the support of everybody attending our carol service and joining in by donating online we'll be able to make a real difference to the people we work with. This year's event is a true celebration of the power of music for all members of society."