'Real To Reel: Garech Browne And Claddagh Records' Book, Boxset Due Soon
Out on September 29, The book is accompanied by 'Masters of Their Craft, the Claddagh Collection' LP, presenting 17 tracks from the label's rich catalog.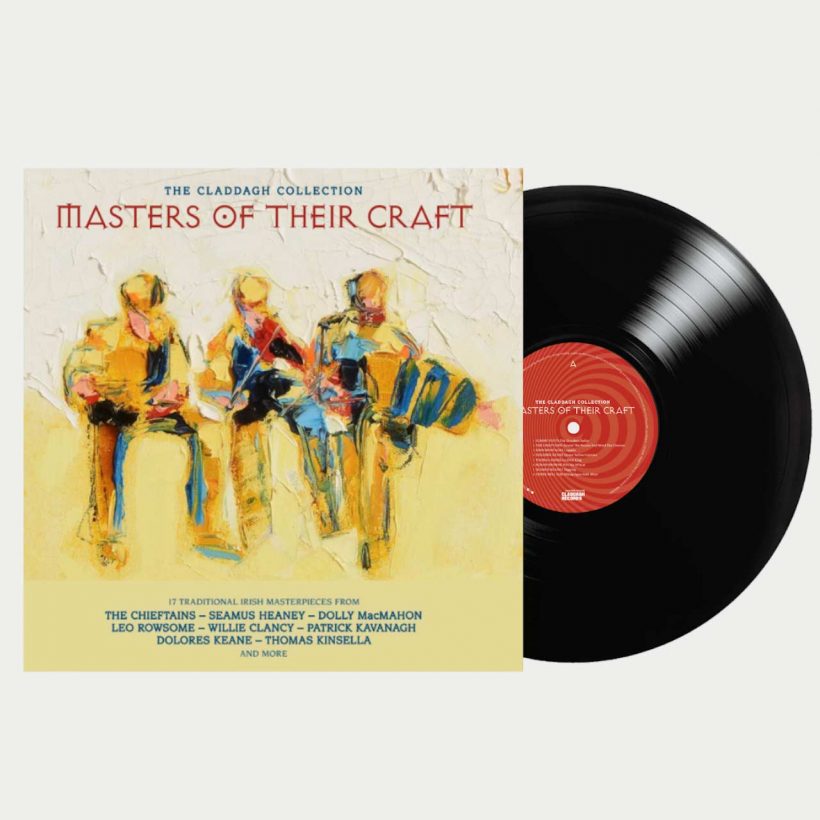 On 29th September 2023, Claddagh Records will publish Real to Reel: Garech Browne & Claddagh Records by James Morrissey – a new
large-format hardback book together with a vinyl box set celebrating the life of Guinness heir Garech Browne and his quest to preserve Ireland's musical and spoken-word heritage with Claddagh Records.
With contributions from Irish President Michael D. Higgins, U2 frontman Bono, Garech's housekeeper Margaret Traynor, his librarian Mary Hayes, friends Anthony Palliser, Tara MacGowran and Mary Finnegan, among others, this incredible book provides unprecedented insight into the life of one of Ireland's most intriguing figures.
Garech Browne had many persona; there are many tales of eccentricity, wealth, lavish parties and countless famous friends – Mick Jagger, Brendan Behan, Kofi Annan, Brian Jones, Sean Connery, Pierce Brosnan, Seamus Ennis, Picasso, Samuel Beckett, Anita Pallenberg and Lucian Freud, to name just a few. At his Luggala country estate in County Wicklow, gifted to him by his mother Oonagh Guinness – one of the famous 'Golden Guinness Girls' – he hosted parties that became legendary.
But for those who knew him best, Garech Browne was, first and foremost, one of the greatest archivists of Irish culture of all time. In establishing Claddagh Records in 1959, he made it his life's work to preserve Ireland's musical and spoken-word culture against the
backdrop of an emerging pop-culture scene in the UK and further afield.
Author James Morrissey writes: "Garech Browne knew what he wanted to achieve with Claddagh, namely, the preservation of Irish traditional music, song and spoken word. He wanted the recordings to be simple and made in a manner that was sympathetic to the roots of the Irish tradition. It was a goal that was perceived as audacious by some and a folly by others, but what others thought bothered Garech little."
Though Garech Browne has long been the subject of media attention, never before has such a personal account of the man's life and life's work been told. Through the unique insights it provides, this extraordinary book, which began as a collaboration between Garech Browne and James Morrissey, has now been finished by the latter to a standard worthy of his late friend.
"He was aware that his relentless pursuit of the highest standards in the quality of the sleeve design and in the writing of sleeve notes, caused headaches for others through frequent delays to the finished product. However, he felt that these elements were just as important as the quality of the recorded material itself," writes Morrissey of Browne's attitude towards the output of Claddagh Records.
"Garech's life was a journey of discovery and learning, far from the mundanity of the daily grind of most peoples' lives. He thrived on a combination of chaos, conflict, and creativity. He could be as erratic as he was eccentric. Claddagh Records was a precarious project
which defied business norms. And Garech loved it all the more for that."
The 228-page book is accompanied by Masters of Their Craft, the Claddagh Collection LP, presenting 17 remastered tracks from Claddagh's immensely rich catalog, including a never-before-released poem from Pulitzer Prize For Poetry and T.S. Eliot Prize-winning poet, Paul Muldoon.
This hardcover book, 12" vinyl and poster presented in a rigid slipcase together chronicle the stories of both the world-renowned Claddagh Records record label and the extraordinary life of its founder Garech Browne. Real To Reel: Garech Browne & Claddagh Records is an extraordinary tale that weaves stories of rugged Connemara sean-nós singers such as Vail O Flaherta and rock 'n' roll icons such as Brian Jones into one captivating narrative, accompanied by previously unpublished photographs that give the reader a glimpse into this extraordinary world.
The relaunch of Claddagh Records, in 2021, followed the signing of a worldwide licensing agreement with Universal Music Ireland. Led by Nick Younger, the newly re-formed Claddagh Records Label, within Universal Music Ireland, has been embarking on an ambitious re-mastering and digitizing programme of the Claddagh Records archive and is in the process of making over 60 recordings newly remastered, on all Digital Service Providers (DSPs) for the very first time.