10 Things We Learned From 'Bono & The Edge: A Sort Of Homecoming'
The film has been described as 'an unfussy tribute to U2 and a valentine to the Dublin that created them.'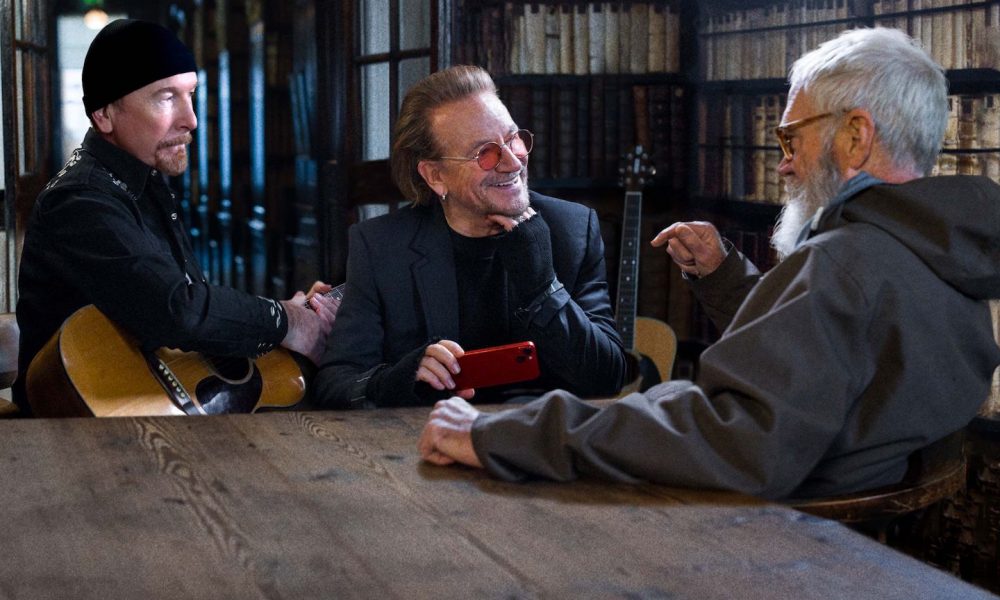 The documentary Bono & The Edge: A Sort Of Homecoming With Dave Letterman, now streaming on Disney+, features the U2 bandmates candidly and revealingly reflecting on their life, times, and friendship, at home in Dublin with the US television personality.
The film, directed by Morgan Neville, has been described by the Telegraph as "likably breezy" and "an unfussy tribute to U2 and a valentine to the Dublin that created them" by the Irish Times. It was released on St. Patrick's Day to coincide with the appearance of U2's Songs of Surrender album on which they revisit key songs in their catalog. Here are ten takeaways from an entertaining and fresh take on one of rock's most enduring bands and the music, culture, and social history that shaped them.
'Thanks for letting us go rogue'
Bono and The Edge took the decision to invite Letterman to make his first visit to Dublin to make the film while U2 were in between tours, while Larry was injured – he will miss U2's Las Vegas residency later this year as he undergoes and recuperate from surgery – and Adam Clayton was making "an art film," the documentary Francis Bacon: The Outsider. In the end credits, they thank Mullen and Clayton for "letting us go rogue on this one"
Bono & The Edge: A Sort of Homecoming with Dave Letterman | Official Trailer | Disney+
The 'social experiment' where U2 were born
We see Bono pointing out St. Patrick's Cathedral Grammar School, which he attended aged 11 for a year, and was then asked to leave. If he hadn't been, as he says, he would not have met his future bandmates at Mount Temple Comprehensive School, a non-denominational "social experiment" attended by both boys and girls
Bono Vox, The Edge, The Jamjar, and Mrs. Burns
Bono and The Edge discuss the culture they and their friends invented there under the groupo name Lypton Village. This was where David Evans first became The Edge, Paul Hewson was Bono Vox of O'Connell Street, Mullen was "The Jamjar" and Clayton was "Mrs. Burns." "We had no aspirations beyond something fun to do on a Saturday afternoon," says Edge
When U2 opened for The Police
Longtime friend and collaborator Glen Hansard recalls that when he was ten years old, his uncle took him to a gig by The Police where U2 were supporting. "They were from the same town I'm from, so we all became obsessed," he says
'That's why I'm with this dude'
Bono says that the group's struggle to reconcile a Christian mindset with rock'n'roll found its answer in their early landmark song "Sunday Bloody Sunday," which was also key to his relationship with Edge. "This was alchemy," he reflects. "The transformation of internal rage to external – 'That's why I'm in a band, that's why I'm with this dude'"
Back to Bono's birthplace
The concert by the pair staged for the film at Ambassador's Theater has special relevance to Bono, as the building was previously the Rotunda Hospital, where he was born
A 'strange brew of a song'
Edge plays the distinctive guitar introduction of "Where The Streets Have No Name," for which he wrote the music after setting himself "the thought exercise of what would blow me away sitting in the audience." Adds Bono: "It's a strange brew of a song. The lyric is not very fleshed out but the suggestion contained in the lyric is gigantic. What it seems to suggest is: 'There's a transcendent place we can go to together. Do you want to come?'"
Bono embarrasses his bandmates
Asked by Letterman if he embarrasses the band, Bono says that he does. "My activism is fairly unhip work," he says, recalling the tension caused by his work with right-wing US senator Jesse Helms. Edge told him: "Don't bring [Helms], who personally dismantled the National Endowment for the Arts, to a U2 show.' And I brought him to a U2 show. They support me, but I do know I test their patience"
Edge's 6,000 voice notes
Edge reveals that he has 6,000 voice notes on his phone, and sometimes has to get up at 3 o'clock in the morning to get a musical idea down on the device. From one such recording, he and Bono riff on a new song dedicated to Letterman, "Forty Foot Man," named for his visit to the south Dublin bathing spot The Forty Foot; the film concludes with Letterman taking to its waters for a dip
Why they don't walk away
Musing on the band's remarkable longevity, Bono says: "I certainly thought about walking away from U2, and every member has. The right instinct is to question whether this should be a going concern, and what it demands of all four members of U2. The reason I want to go forward is because something is stirring in my voice and in my singing, and [there's] this desire to write the song that we haven't got yet. We're chasing the dragon of the song we can't get"
Stream Bono & The Edge: A Sort Of Homecoming With Dave Letterman on Disney+.