Disney Plus Unveils Trailer For 'Bono & The Edge: A Sort of Homecoming with Dave Letterman' Docu-Special
The documentary will be released on St. Patrick's Day, March 17, alongside U2's 'Songs of Surrender' album.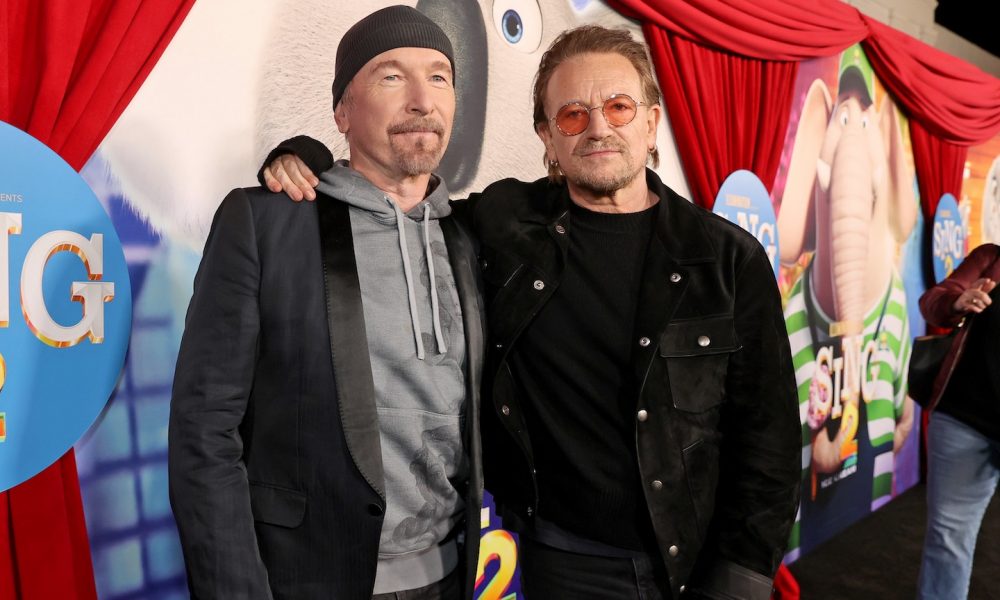 A trailer for the new "docu-special" Bono & The Edge: A Sort of Homecoming with Dave Letterman, coming next month from Disney+, is now available to watch. The documentary will be released on St. Patrick's Day, March 17, alongside U2's Songs of Surrender album.
Shop the best of U2's discography on vinyl and more.
Out in time for St. Patrick's Day, the film charts the Irish rock giants' quest for a new sound, the 45-year relationship between the two central characters and, in turn, their relationship with their home city of Dublin. It's been made by Academy Award-winning filmmaker Morgan Neville, and follows the erstwhile, storied late-night TV host David Letterman on his first visit to the city, to visit Bono and The Edge.
The film is described as equal parts travel film and concert movie, in a performance unlike any given by Bono and The Edge before. The trailer gives the full flavor of Dublin's vitality, as described in voiceover by Bono. It depicts the way in which both music and storytelling are central to the city's identity. The documentary been made by Brian Grazer and Ron Howard's Imagine Documentaries, Neville's Tremolo Productions, and Dave Letterman's Worldwide Pants.
Bono & The Edge: A Sort of Homecoming with Dave Letterman | Official Trailer | Disney+
The enduring relationship between U2's frontman and the band's lead guitarist is tracked across 45-plus years of close personal and creative friendship. It also documents Dublin through Letterman's eyes as he experiences the artists' home city for the first time. In their 25-year relationship, Letterman had previously only met with Bono and The Edge in the US.
Disney Branded Television president Ayo Davis, announcing the film, said: "Bono and The Edge are the force behind one of the most prolific and influential acts in the history of rock and roll, and we are honored to bring this truly intimate look at their beginnings, friendship, and creative process to a global audience on Disney+".
Joked Letterman: "Recently, I won a radio contest. Winner gets to visit Dublin with Bono and The Edge (radio contest part not true, but I feel like a winner). They showed me around, introduced me to their musician friends, and performed some of their greatest songs in a small theater. It's a great tour. Get in touch with them – I'm told there are still availabilities. I'm the luckiest man on the planet. (There are no availabilities)."
Publicity for the film describes that as well as being "their honored guest at an intimate concert performance at a local landmark, the former Ambassador Cinema building at the top of O'Connell Street on Dublin's Northside," Letterman "visits the legendary Forty Foot swimming spot on a freezing cold morning and rides the DART commuter train north from Co. Wicklow.
"[He] also inspires a brand new U2 song written by The Edge and Bono and narrowly escapes having to perform at a sing-song at the legendary McDaid's pub off Grafton Street with an equally legendary bunch of artists and musicians, including Bono, The Edge, Glen Hansard, Markéta Irglová, Imelda May, Loah, Saint Sister, Grian Chatten of Fontaines DC, and Dermot Kennedy, whose voice Bono describes as a 'sonic boom.'"
Pre-order Songs of Surrender.