Rolling Stones' 'Forty Licks' Arrives On Vinyl After Digital, Dolby Atmos Debuts
The collection is a comprehensive retrospective up to and including the Stones' 40th anniversary in 2002.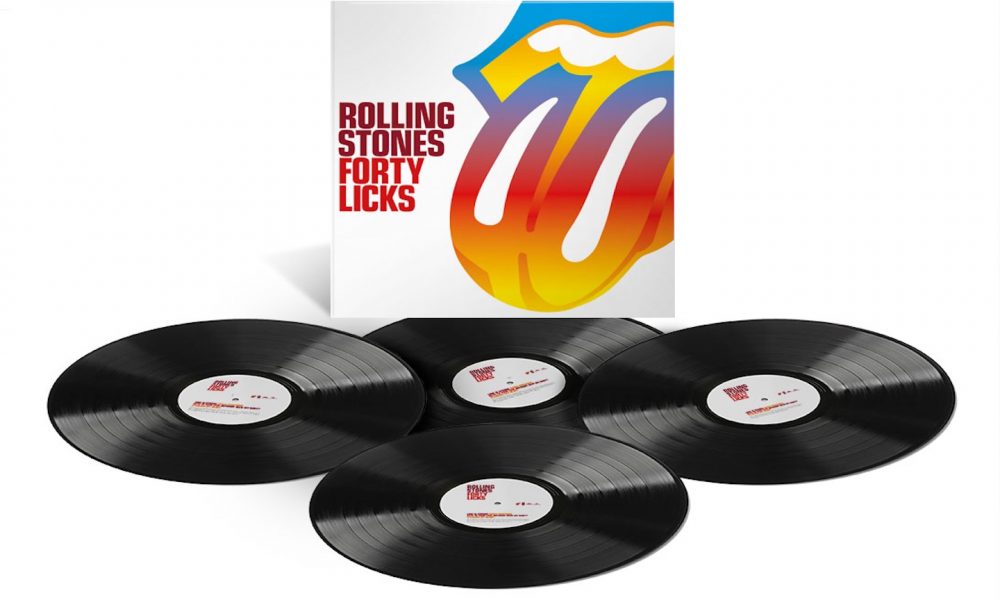 The Rolling Stones' definitive Forty Licks compilation has made its official debut as a vinyl release, after arriving on streaming services for the first time on Wednesday (26), including for the first time in Dolby Atmos mixes.
The record set is available in a limited edition four-disc, 180 gram black vinyl version, housed in a wide spined gatefold sleeve. The inside of the gatefold includes photography from the original release as well as full band line-ups from the various eras represented on the collection, which forms a comprehensive, non-chronological retrospective up to and including the Stones' 40th anniversary in 2002, when it was first released.
Forty Licks was the first anthology to feature recordings from all stages of the band's peerless career, from early tracks via Decca Records in the UK UK and London/ABKCO, through to the launch of their own Rolling Stones Records in 1971. The album also includes detailed credits for the countless contributors and collaborators on these timeless classics, such as Merry Clayton on "Gimme Shelter" and regular sidemen such as Nicky Hopkins, Ian Stewart, and Bobby Keys.
Metal Talk's review of the new edition notes: "A meticulously selected compilation of 40 tracks, Forty Licks offers an immersive sonic experience that showcases the band's evolution from their blues-infused rock origins to their groundbreaking and iconic sound.
"From the hauntingly captivating melodies of 'Paint It Black' to the gritty, rebellious anthem 'Gimme Shelter,' Forty Licks is a mesmerizing sonic voyage that reverberates through time and resonates with fans old and new. This illustrious album encapsulates the Rolling Stones' unparalleled ability to blend infectious rhythms with introspective lyrics, capturing the zeitgeist of each era and leaving an indelible mark on the annals of rock music."
The Rolling Stones - Start Me Up - Official Promo
On Wednesday, a launch event for the digital and Dolby Atmos audio was held in London for media and Stones fans, in the 70-seat preview theatre of the Soho Square headquarters of Dolby Europe. Featuring a playback of eight tracks from Forty Licks in Dolby Atmos audio featuring early gems such as "(I Can't Get No) Satisfaction" and "Under My Thumb" and later favorites including "Miss You" and "Start Me Up," it was hosted by uDiscover writer Paul Sexton, author of Charlie's Good Tonight, the authorized biography of Charlie Watts, with guest musician and Stones devotee Huey Morgan, who presents shows on BBC 6 Music and BBC Radio 2.
Buy or stream the new editions of Forty Licks.