'Roxy Performances' Box Set Captures Frank Zappa & The Mothers In Their Prime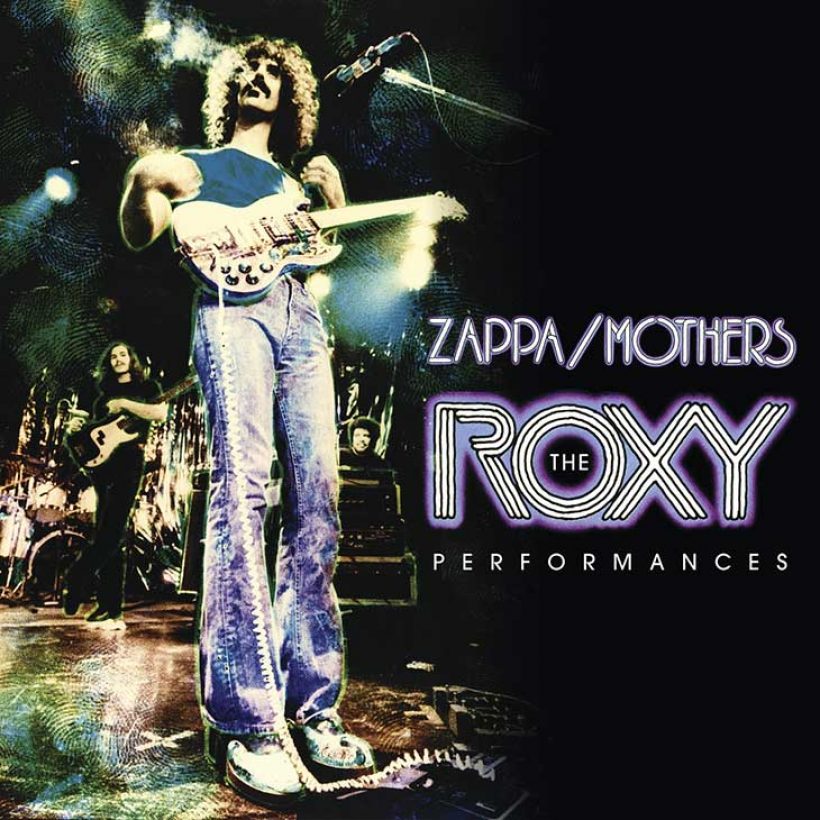 The Roxy Performances, a definitive, 7CD box set of all of the famous concerts by Frank Zappa And The Mothers at the Roxy Theatre in Hollywood in 1973, will be released by Zappa Records/UMe on 23 March 2018.
It will include not only the four public concerts on 9 and 10 December but the film shoot and soundcheck that took place on 8 December, to a private, invitation-only audience. Each of these performances is presented in its entirety for the first time. The shows have long been regarded as one of the key points of Zappa's unique career. This prolific and creative period was followed a few days later by a filmed recording session at Ike Turner's Bolic Sound in Inglewood, California, all of which Zappa recorded.
Portions of the shows have appeared in various configurations, including on 1974's Roxy and Elsewhere, 2014's Roxy By Proxy and the 2015 film Roxy The Movie, but the new set marks the first time they have appeared in complete form.
The new set, which comprises nearly eight hours of material, will also have bonus material such as rarities from a rehearsal, unreleased tracks and highlights from the Bolic Studios session. It boasts new mixes completed in 2016 by Craig Parker Adams, created from new 96K 24-bit transfers of the multi-track masters.
An accompanying 48-page booklet includes photos from the performances, extensive liner notes by "Vaultmeister" Joe Travers, essays from the Australian writer Jen Jewel Brown — a friend of the Zappa family — and American singer/songwriter Dave Alvin. Both present their memories of the shows, alongside a selection of contemporary press reviews.
Writes Travers in the liner notes: "The mix approach was to simply showcase the sounds that went to tape with minimal production, effects or processing, thereby creating an honest account of what went on during those infamous shows. By doing so, the band/maestro relationship shines through, demonstrating the dis/ensemble's whip-smart ability to execute Frank's special music to near perfection on a regular basis."
Those pre-ordering the box set will receive an instant grat download of 'RDNZL'. Taken from the 9 December show, it now appears in its never-before-heard 2016 mix which sets the scene for the sonic vista of the box set.
Ahmet Zappa, who has co-produced The Roxy Performances with Travers, comments: "This is one of my favourite FZ line-ups ever. This box contains some of the best nights of music Los Angeles has ever seen with their ears at a historic venue. Hold on to your hotdogs people. This box is the be-all-end-all. This is it. This is all of it. It's time to get your rocks off for the Roxy."
The Mothers line-up for the shows featured George Duke on keyboards, bassist Tom Fowler, trombonist Bruce Fowler, tenor saxophonist and vocalist Napoleon Murphy Brock, percussionist Ruth Underwood and drummers Ralph Humphrey and Chester Thompson. Material includes tracks from such albums as Uncle Meat, Hot Rats, Waka/Jawaka and Over-Nite Sensation.
In his notes, Alvin recalls meeting Zappa on the Isle of Capri in 1982 while touring with his band the Blasters. "You were at a Roxy show?" beamed Frank. Alvin continues: "The Roxy Mothers were a grand combination of high art, low art, masterful technique and razor-sharp humour with a touch of wild abandon."
Adds Brown: "This material shows an absolutely sleek beast at its prime. This is a cultural record and there's some prime Zappanalia here. Frank had put the crippling disasters of December '71 behind him and was plunged headlong into some of the most beautiful music and zestful, open-hearted engagement with life imaginable."
Order The Roxy Performances here and see the full tracklist below.
DISC 1
12-9-73 Show 1
1. Sunday Show 1 Start 4:59
2. Cosmik Debris 11:33
3. "We're Makin' A Movie" 3:16
4. Pygmy Twylyte 9:08
5. The Idiot Bastard Son 2:19
6. Cheepnis 3:44
7. Hollywood Perverts 1:07
8. Penguin In Bondage 5:54
9. T'Mershi Duween 1:56
10. The Dog Breath Variations 1:44
11. Uncle Meat 2:29
12. RDNZL 5:14
13. Montana 7:49
14. Dupree's Paradise 15:25
DISC 2
1. Dickie's Such An Asshole 10:29
12-9-73 Show 2
2. Sunday Show 2 Start 4:08
3. Inca Roads 8:27
4. Village Of The Sun 4:19
5. Echidna's Arf (Of You) 4:01
6. Don't You Ever Wash That Thing? 13:22
7. Slime Intro :59
8. I'm The Slime 3:34
9. Big Swifty 9:01
DISC 3
1. Tango #1 Intro 3:50
2. Be-Bop Tango
(Of The Old Jazzmen's Church) 18:12
3. Medley:
King Kong
Chunga's Revenge
Son Of Mr. Green Genes 9:46
12-10-73 Show 1
4. Monday Show 1 Start 5:31
5. Montana 6:57
6. Dupree's Paradise 21:26
7. Cosmik Intro 1:05
8. Cosmik Debris 8:05
DISC 4
1. Bondage Intro 1:52
2. Penguin In Bondage 6:54
3. T'Mershi Duween 1:52
4. The Dog Breath Variations 1:48
5. Uncle Meat 2:29
6. RDNZL 4:59
7. Audience Participation – RDNZL 3:08
8. Pygmy Twylyte 4:05
9. The Idiot Bastard Son 2:21
10. Cheepnis 4:49
11. Dickie's Such An Asshole 10:21
12-10-73 Show 2
12. Monday Show 2 Start 5:13
13. Penguin In Bondage 6:33
14. T'Mershi Duween 1:52
15. The Dog Breath Variations 1:46
16. Uncle Meat 2:28
17. RDNZL 5:11
DISC 5
1. Village Of The Sun 4:05
2. Echidna's Arf (Of You) 3:54
3. Don't You Ever Wash That Thing? 6:56
4. Cheepnis – Percussion 4:08
5. "I Love Monster Movies" 2:10
6. Cheepnis 3:35
7. "Turn The Light Off"/Pamela's Intro 3:59
8. Pygmy Twylyte 7:23
9. The Idiot Bastard Son 2:22
10. Tango #2 Intro 2:01
11. Be-Bop Tango
(Of The Old Jazzmen's Church) 22:08
DISC 6
1. Dickie's Such An Asshole 15:39
Bonus Section: 12-10-73 Roxy Rehearsal
2. Big Swifty – In Rehearsal 2:50
3. Village Of The Sun 3:13
4. Farther O'Blivion – In Rehearsal 5:34
5. Pygmy Twylyte 6:17
6. That Arrogant Dick Nixon 2:19 *Unreleased Track
12-12-73 Bolic Studios Recording Session
7. Kung Fu – In Session 4:50
8. Kung Fu – with guitar overdub 1:17
9. Tuning and Studio Chatter 3:38
10. Echidna's Arf (Of You) – In Session 1:22
11. Don't Eat The Yellow Snow – In Session 9:49
12. Nanook Rubs It – In Session 5:41
13. St. Alfonzo's Pancake Breakfast – In Session 2:46
14. Father O'Blivion – In Session 2:31
15. Rollo (Be-Bop Version) 2:36
DISC 7
12-8-73 Sound Check/Film Shoot
1. Saturday Show Start 2:20
2. Pygmy Twylyte/Dummy Up* 20:25
3. Pygmy Twylyte – Part II 14:25
4. Echidna's Arf (Of You) 3:42
5. Don't You Ever Wash That Thing? 6:01
6. Orgy, Orgy 3:39
7. Penguin In Bondage 6:30
8. T'Mershi Duween 1:53
9. The Dog Breath Variations 1:45
10. Uncle Meat/Show End 4:01
Format:
UK English