Robert Glasper-Led Collective R+R=NOW Announces Live LP
Out February 12, 'R+R=NOW Live' features Christian Scott aTunde Adjuah, Terrace Martin, Derrick Hodge, Taylor McFerrin, and Justin Tyson.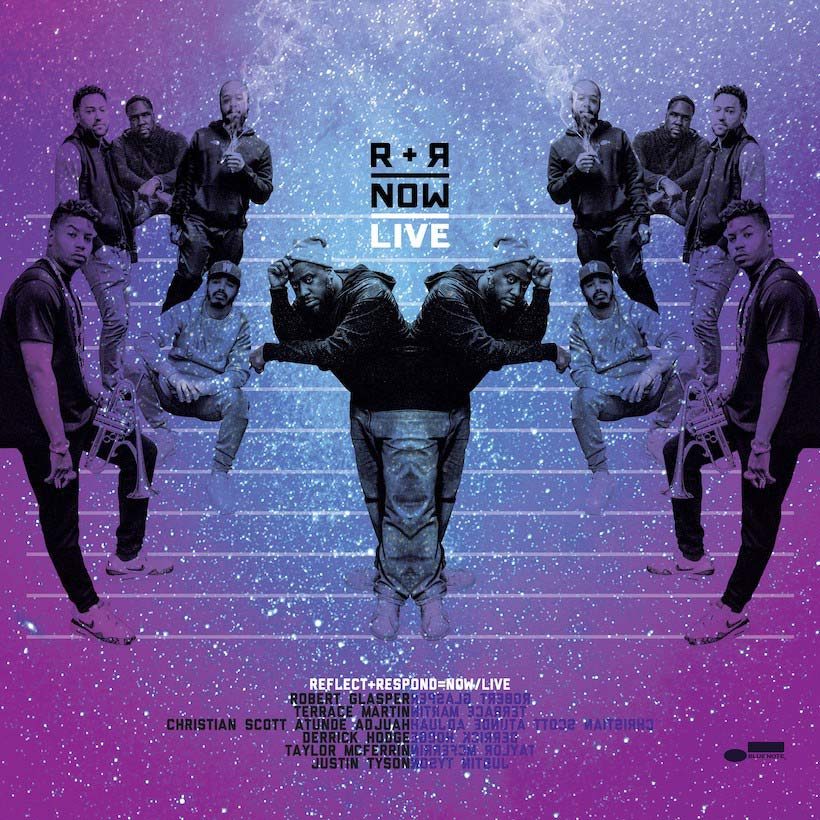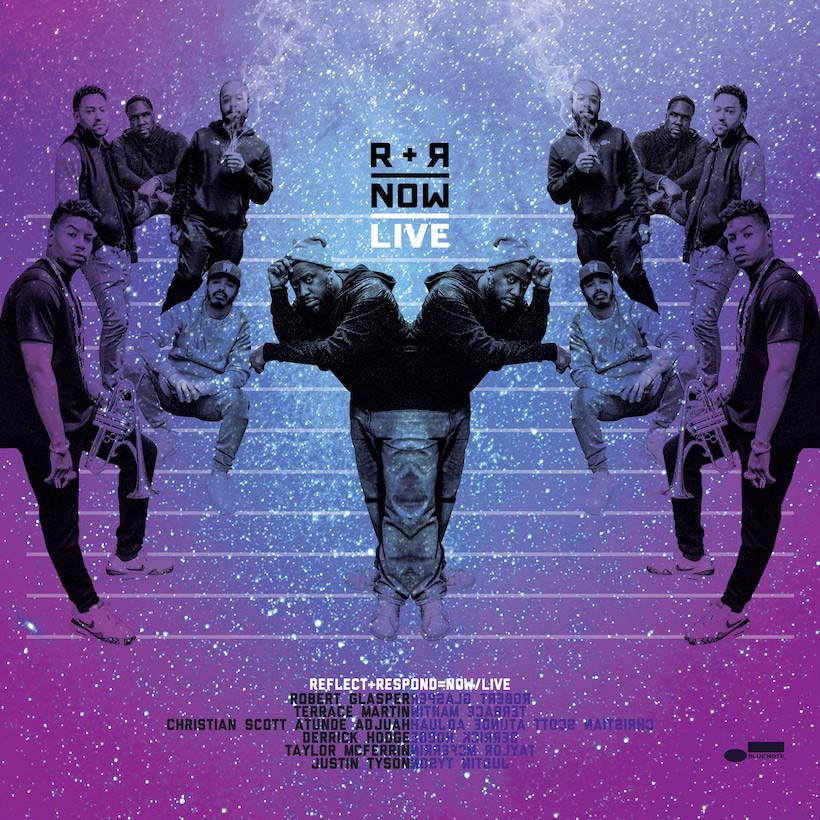 The Robert Glasper-led R+R=NOW sextet, which features the talents of trumpeter Christian Scott aTunde Adjuah, saxophonist/vocoderist Terrace Martin, keyboardist and beatbox specialist Taylor McFerrin, bassist Derrick Hodge, and drummer Justin Tyson, is readying to release their debut live album, R+R=NOW Live, out February 12 via Blue Note Records.
Blending elements of jazz, hip-hop, R&B, and ambient music, R+R=NOW stands for "Reflect" and "Respond." "An artist's duty, as far as I'm concerned, is to reflect the times," explained Glasper in a press release. "When you reflect what's going on in your time and respond to that, you can't not be relevant. So 'R' plus 'R' equals 'NOW'.")
R+R=NOW Live was captured at New York City's legendary Blue Note Jazz Club in October 2018, not long after R+R=NOW released their debut album, Collagically Speaking. The six-song set included standout selections from Collagically Speaking, including "Change of Tone" and "Resting Warrior," as well as a cover of Kendrick Lamar's "How Much a Dollar Cost" (co-written by Martin). The latter track is available to stream now.
R+R=NOW - How Much A Dollar Cost (Live)
The collective first came together as "Robert Glasper & Friends" for the 2018 SXSW festival in Austin, TX. Festival organizers looked to the innovative keyboardist and producer to bring something fresh to their stages. Assembling the all-star group, Glasper delivered – and then some. "There was no rehearsal and no plan. Just a quick soundcheck," said Glasper in a statement. Yet, "we were vibing, listening to each other, and coming up with stuff on the spot that was so dope."
When Glasper was readying to work on his follow-up to 2016's ArtScience, he decided to take a different route, and reunite with the group in the studio.
In a 2019 interview with uDiscover, Glasper spoke about the chemistry of the group. "Those specific guys are all trailblazers in their own right and they have an individual voice. I felt like it would be a great collaboration between all of us because we all bring something different to the table and understand each other."
He continued, "There are other guys I could have chosen that, musically, could do the same things but they have egos, which affects the music and the whole vibe. I specifically chose these guys because there's none of that – and that's a rare thing: to be so good at what you do but with no ego."
In a press release, Adjuah elaborated on this notion: "Everyone in this band is a six-foot-tall black guy who didn't come from an affluent background. In order for us all to make it into that room together, we've had to go through some hell, fight for some things, build up a lot of armor, and do a lot ourselves to forge our realities, to become who we are. We're all very aware of that, so anytime we get together, it's a celebration."
Critics, too, reveled in the group's work, offering wide praise to Collagically Speaking. Pitchfork declared, "In an era of uncertainty, Collagically Speaking is a means of regrouping in times of intense conflict. It's made to replenish, to help recharge when the burdens of life become too heavy." Jazz Times simply called it "powerful stuff."
R+R=NOW Live will be available February 12. Scroll down to view the tracklist and preorder here.
R+R=NOW Live tracklist:
1. Respond (6:01)
2. Been On My Mind (3:32)
3. How Much A Dollar Cost (4:08)
4. Change Of Tone (9:01)
5. Perspectives/Postpartum (11:25)
6. Needed You Still featuring Omari Hardwick (12:38)
7. Resting Warrior (25:21)