Watch 'Stage Wear,' Episode 13 of Queen's 'The Greatest Live' Series
This week's episode revisits some of the band's most iconic stage costumes.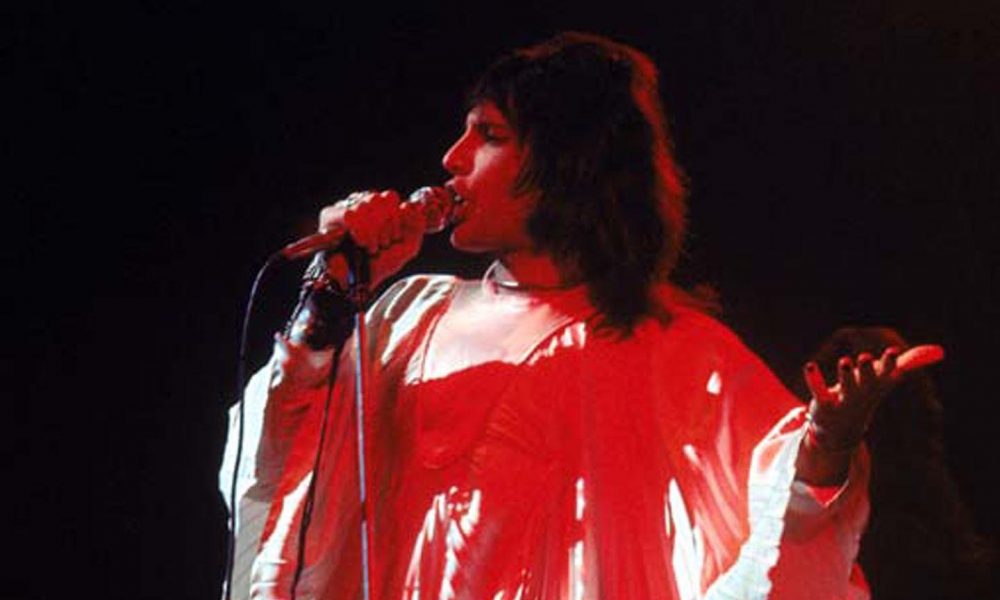 As Queen's 'The Greatest Live' series continues its journey to explore what makes a Queen show the ultimate live experience, and having already studied the rehearsals, opening numbers and lighting, this week's episode – which you can watch in full below – turns its attention to Queen's memorable stage wear.
'Stage Wear' features new and exclusive interviews with Brian May and Roger Taylor and in it 'The Greatest Live' series creator and director Simon Lupton learns from them both the history behind some of the band's most iconic stage costumes, including the one that didn't quite measure up for Roger Taylor and Brian's initial reaction to Freddie's infamous red sequined shorts.
And it is unlikely to come as a surprise to learn which band member was the driving force behind many of the choices.
Queen The Greatest Live: Stage Wear (Episode 13)
Brian May: "The clothes are part of it, and no one was more aware of that than Freddie. Freddie really pioneered a lot of stuff and we came out of an era which was called glam, where people in rock groups realized that they could dress up and look fancy and make a big splash. But it was all very kind of random."
"And what we tried to do was, I guess, call on the traditions of opera and other art forms and make the costumes speak for us, make them part of the storytelling. So Freddie, with his little wings on his suits and all his of crowns and paraphernalia, also the black and white stuff, which we got into, and it's all designed to be dramatic. It's designed to accentuate our movements and accentuate the moods of the songs."
"We were lucky enough to work with some great designers. Zandra Rhodes was the first one we really worked with, and we had these very, very dramatic kind of pleated efforts and that was really helpful to us because it made us more aware of our physicality on stage, made us speak with our bodies as well as our hands and voices."
The collaboration with Zandra Rhodes resulted in some outfits that are now legendary – but it quickly became apparent that extravagance might not work for everyone in the band…
Roger Taylor: "At the beginning, many years ago, there was this big thing, you know, that we wanted Zandra Rhodes to do everything. Well, she made me a costume. I wore it once. It was so bloody hot I never wore it again. It was completely impractical."
"And I don't really like the word costume because with 'costume' I think of kids, or I think of pantomime or, you know, and this isn't costumes, this is meant to be rock and roll. So I don't really have a costume. And also, being drums, it's pretty sweaty. You need something where you can move that is not hampering you in any way."
"And I leave it to… I leave it to the sort of those people out the front, whoever they are, to ponce around in their frilly dresses."
For Freddie, stage wear was an aspect of the live show that he reveled in, and he particularly enjoyed surprising his fellow band members, as much as he did the fans.
Roger Taylor: "Freddie, he didn't always tell us. I mean, when he first turned up in the ballet thing, I think he slightly looked like Kermit, and the ballet pumps as well. I mean, we were we were absolutely tickled. It could have gone the other way. You know, we could have gone 'don't be so ridiculous', but because it was Fred, It was 'yeah, come on. That's brilliant.' You know, why not?"
"And if you've got the balls to get… and let's face it, we'll be able to see them, you can get away with that. Yeah, let's go. I mean, it was a great talking point. I remember several musicians faces, sort of jaws dropping in astonishment that this guy could come on, and they could play some serious rock n roll, you know?"
Brian May: "I think Freddie preferred to shock us. I do remember him appearing in the red sequined shorts. Swimming trunk type efforts and we went 'Freddie really?', and he went 'Darling? This is what I do.' Yeah, he was pretty outrageous. And he did like to shock us all – those cat suits and everything."
"But it's all great. You know, he took so many chances, did Freddie. And I think because physically he was in such good shape as well, he could carry it off. And a lot of people would look ridiculous in those kind of leotards and stuff. But he looked like Nijinsky or whatever because he was physically at that point."
Ultimately, Queen's stage wear was not simply about being shocking or outrageous, but instead another well crafted, integral part of the overall audience experience.
Brian May: "I think to make best use of yourself on stage, it is a whole-body thing and it becomes very instinctive, after a while. You're conscious about it for a while, the clothes and everything and the movements, but then it becomes part of what you are. And instinctively you do that and you instinctively know if you're wearing the wrong stuff, it just kind of feels wrong. And so you go in search of good stuff and we have some great people to interact with who will say, 'you've tried this?'. So, we're not kind of glam, but we are, I suppose…. Yeah, maybe we are glam, but mainly we're dramatic that's the idea."
Watch every episode of 'The Greatest Live' on Queen's official YouTube channel.