'Stax '68: A Memphis Story' Marks Momentous Year At Stax Records
The compilation celebrates one of the most memorable years in the distinguished history of Stax.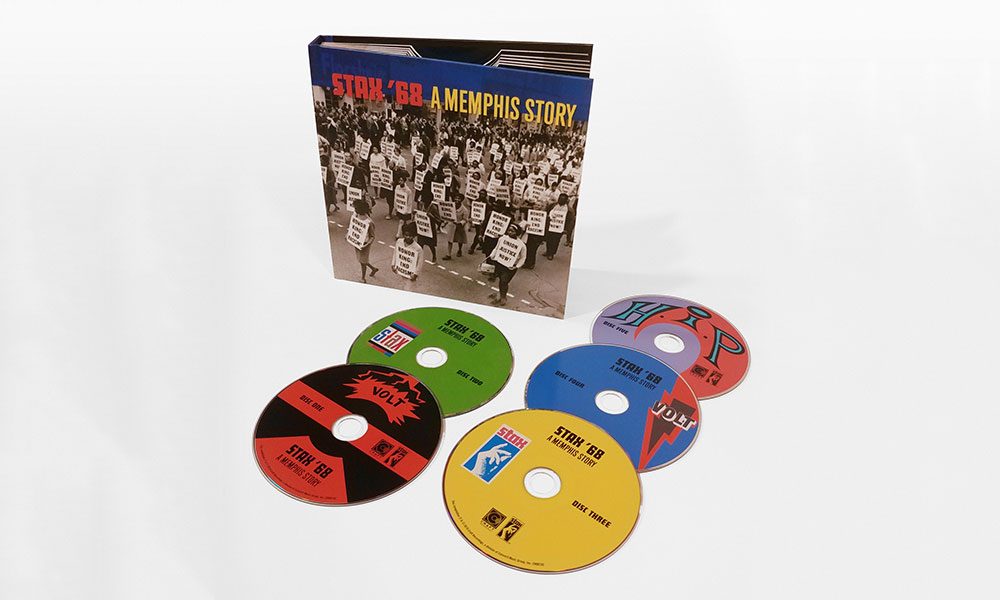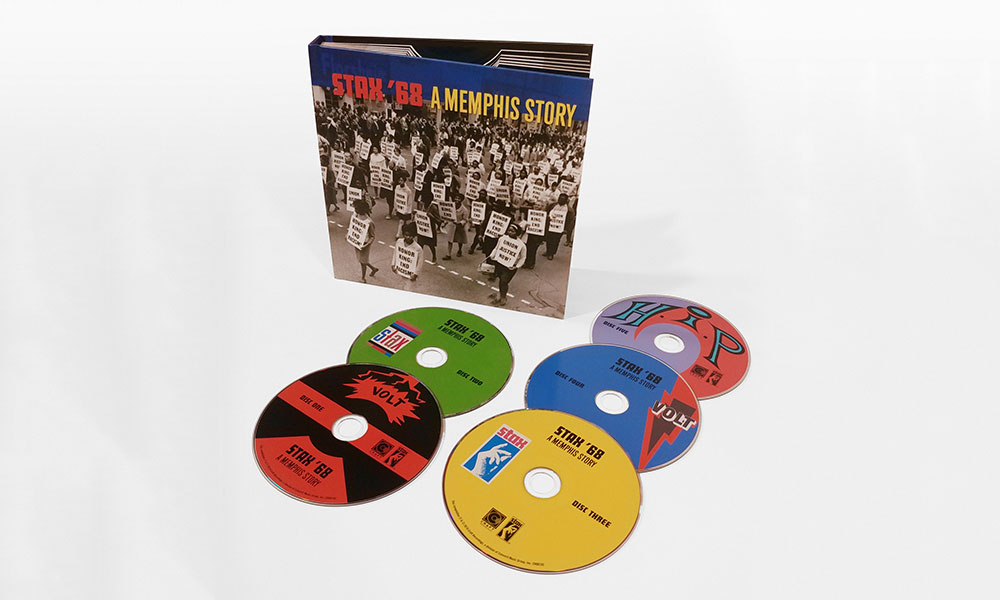 The five-disc box set Stax '68: A Memphis Story will be released on 19 October  via Craft Recordings. The 50th anniversary collection contains the A- and B-sides of every single that was released under the Stax banner in 1968, including the company's sub-labels.
The compilation celebrates one of the most memorable and momentous years in the distinguished history of Stax, in which the company redefined its sound at a time of seismic social change. It features a 56-page book with in-depth liner notes by Andria Lisle, Robert Gordon and Steve Greenberg, as well as rare and previously unseen photographs.
Stax '68: A Memphis Story offers over 120 songs which showcase both the widely-recognised  names in the company's roster such as Isaac Hayes, the Staple Singers, William Bell, Booker T. & The M.G.s and Johnnie Taylor and deeper catalogue material by the likes of Linda Lyndell, the Soul Children and the Mad Lads.
The collection will also be available as a digital set, and in the four weeks leading up to release date, one instant grat single download will be offered each week with all digital pre-orders. The first of these, available on 21 September, is 'Long Walk to D.C' by the Staple Singers, to be followed a week later by Lindell Hill's 'Used to Be Love,' which becomes available digitally for the first time.
Shirley Walton's 'Send Peace and Harmony Home' is out as an instant grat on 5 October, with 'Going Back to Memphis' by Billy Lee Riley, also making its digital debut, available on 12 October.
The Stax Records online store will offer deluxe bundles featuring a limited edition Stax '68: A Memphis Story poster, letter-pressed using authentic vintage materials from the Globe Collection and Press at MICA.
The release of the box set coincides with two exhibits presented by the Stax Museum of American Soul Music in Memphis, The Sound of '68 (which documents life inside the company's Studio A as seen by early Stax notable Don Nix) and Give A Damn! Music+ Activism at Stax Records.
Hosted by, and located at, Crosstown Arts in Memphis, the second exhibition is the culmination of a year-long examination of Stax and its commitment to political activism, community engagement, and social justice in the years following Dr. King's death in that year of 1968. The Sound of '68 opens on 4 September and closes on 30 November; Give A Damn! opens on 28 September and closes on 25 November. More information on both can be found here.
Stax '68: A Memphis Story is released on 19 October. Scroll down for the track list, and buy it here.
Disc 1
1 Otis Redding '(Sittin' On) The Dock of the Bay'
2 Otis Redding 'Sweet Lorene'
3 Sam & Dave 'I Thank You'
4 Sam & Dave 'Wrap It Up'
5 The Memphis Nomads 'Don't Pass Your Judgement'
6 The Memphis Nomads 'I Wanna Be (Your Lover & Your Honey)'
7 Shirley Walton 'I Was Born to Love You
8 Shirley Walton 'I'm so Glad You're Back'
9 Otis Redding & Carla Thomas 'Lovey Dovey'
10 Otis Redding & Carla Thomas 'New Year's Resolution'
11 Ollie & the Nightingales 'I Got a Sure Thing'
12 Ollie & the Nightingales 'Girl, You Have My Heart Singing'
13 Eddie Floyd 'Big Bird'
14 Eddie Floyd 'Holding on with Both Hands'
15 Bar-Kays 'A Hard Day's Night'
16 Bar-Kays 'I Want Someone'
17 Johnnie Taylor 'Next Time'
18 Johnnie Taylor 'Sundown'
19 William Bell 'Every Man Oughta Have a Woman'
20 William Bell 'Tribute to a King'
21 Mable John 'Able Mable'
22 Mable John 'Don't Get Caught'
23 Rufus Thomas 'The Memphis Train'
24 Rufus Thomas 'I Think I Made a Boo Boo'
25 Jeanne & the Darlings 'What Will Later on Be Like'
26 Jeanne & the Darlings 'Hang Me Now'
Disc 2
1 Derek Martin 'Soul Power'
2 Derek Martin 'Sly Girl'
3 Linda Lyndell 'Bring Your Love Back to Me'
4 Linda Lyndell 'Here I Am'
5 Carla Thomas 'A Dime a Dozen'
6 Carla Thomas 'I Want You Back'
7 Kangaroo's 'Groovy Day'
8 Kangaroo's 'Every Man Needs a Woman'
9 Isaac Hayes 'Precious Precious'
10 Isaac Hayes 'Going to Chicago Blues'
11 The Mad Lads 'Whatever Hurts You'
12 The Mad Lads 'No Time Is Better Than Now'
13 Otis Redding 'The Happy Song (Dum-Dum)'
14 Otis Redding 'Open the Door'
15 Albert King '(I Love) Lucy'
16 Albert King 'You're Gonna Need Me'
17 Johnnie Taylor 'I Ain't Particular'
18 Johnnie Taylor 'Where There's Smoke There's Fire'
19 Eddie Henderson Quintet 'Georgy Girl'
20 Eddie Henderson Quintet 'A Million or More Times'
21 Shirley Walton 'Send Peace and Harmony Home'
22 Shirley Walton 'The One You Can't Have All by Yourself'
Disc 3
1 Booker T. & The MG's 'Soul Limbo'
2 Booker T. & The MG's 'Heads or Tails'
3 Eddie Floyd 'I Never Found a Girl (To Love Me Like You Do) '
4 Eddie Floyd 'I'm Just the Kind of Fool'
5 Delaney & Bonnie 'It's Been a Long Time Coming'
6 Delaney & Bonnie 'We Just Been Feeling Bad'
7 Linda Lyndell 'What a Man'
8 Linda Lyndell 'I Don't Know'
9 Harvey Scales & The Seven Sounds 'Broadway Freeze'
10 Harvey Scales & The Seven Sounds 'I Can't Cry No More'
11 Johnny Daye 'Stay Baby Stay'
12 Johnny Daye 'I Love Love'
13 Bobby Whitlock 'Raspberry Rug'
14 Bobby Whitlock 'And I Love You'
15 Judy Clay and William Bell 'Private Number'
16 Judy Clay and William Bell 'Love-Eye-Tis'
17 Jimmy Hughes 'I Like Everything About You'
18 Jimmy Hughes 'What Side of the Door'
19 The Delrays 'Lollipop Lady'
20 The Delrays ' (There's) Always Something There to Remind Me'
21 Lindell Hill 'Remone'
22 Lindell Hill 'Used to Be Love'
23 The Aardvarks 'Subconscious Train Of Thought'
24 The Aardvarks 'Unicorn Man'
25 Fresh Air 'Somebody Stole My Gal'
26 Fresh Air 'Somebody Stole My Gal' [Instrumental]
27 Judy Clay 'Bed of Roses'
28 Judy Clay 'Remove These Clouds
29 The Staple Singers 'Long Walk to D.C.'
Disc 4
1 Staple Singers 'Stay With Us'
2 The Soul Children 'Give 'Em Love'
3 The Soul Children 'Move Over'
4 Johnnie Taylor 'Who's Making Love'
5 Johnnie Taylor 'I'm Trying'
6 Rufus Thomas 'Funky Mississippi'
7 Rufus Thomas 'So Hard to Get Along With'
8 Carla Thomas 'Where Do I Go'
9 Carla Thomas 'I've Fallen in Love '
10 The Mad Lads 'So Nice'
11 The Mad Lads 'Make Room'
12 Charmells 'Lovin' Feeling'
13 Charmells 'Sea Shell'
14 Jeanne & the Darlings 'It's Unbelievable (How You Control My Soul)'
15 Jeanne & the Darlings 'I Like What You're Doing to Me'
16 Southwest F. O. B. 'Smell of Incense'
17 Southwest F. O. B. 'Green Skies'
18 The Village Sound 'Sally's Got a Good Thing'
19 The Village Sound 'The La La Song'
20 Eddie Floyd 'Bring It on Home to Me'
21 Eddie Floyd 'Sweet Things You Do'
22 Booker T. & The MG's 'Hang 'Em High'
23 Booker T. & The MG's 'Over Easy'
24 Ollie & the Nightingales 'You're Leaving Me'
25 Ollie & the Nightingales 'Showered with Love'
26 The Pop Corn Generation 'Kitchy Kitchy Koo'
27 The Pop Corn Generation 'Shake It'
28 Bar-Kays 'Copy Kat'
29 Bar-Kays 'In the Hole'
Disc 5
1 Dino & Doc 'Mighty Cold Winter'
2 Dino & Doc 'A Woman Can't Do (What a Man Do)'
3 William Bell 'I Forgot to Be Your Lover'
4 William Bell 'Bring the Curtain Down'
5 The Goodees 'Condition Red'
6 The Goodees 'Didn't Know Love Was so Good'
7 Mable John 'Running Out'
8 Mable John 'Shouldn't I Love Him'
9 Billy Lee Riley 'Family Portrait'
10 Billy Lee Riley 'Going Back to Memphis'
11 Judy Clay and William Bell 'My Baby Specializes'
12 Judy Clay and William Bell 'Left Over Love'
13 The Soul Children 'I'll Understand'
14 The Soul Children 'Doing Our Thang'
15 The Staple Singers 'The Ghetto'
16 The Staple Singers 'Got to Be Some Changes Made'
17 Albert King 'Blues Power'
18 Albert King 'Night Stomp'
19 The Epsilons 'The Echo'
20 The Epsilons 'Really Rockin'
21 Rufus Thomas 'Funky Way'
22 Rufus Thomas 'I Want to Hold You'
23 The Generation 'The Children Have Your Tongue'
24 The Generation 'Give Her What She Wants'
25 Daaron Lee 'Who's Making Love'
26 Daaron Lee 'Long Black Train'
27 Johnnie Taylor 'Take Care of Your Homework'
28 Johnnie Taylor 'Hold on This Time'
Format:
UK English