Tomorrow X Together Shares R&B-Inspired Carol 'Sweet Dreams' As Christmas Gift For Fans
The K-pop idols surprise fans with a special holiday song for their fans.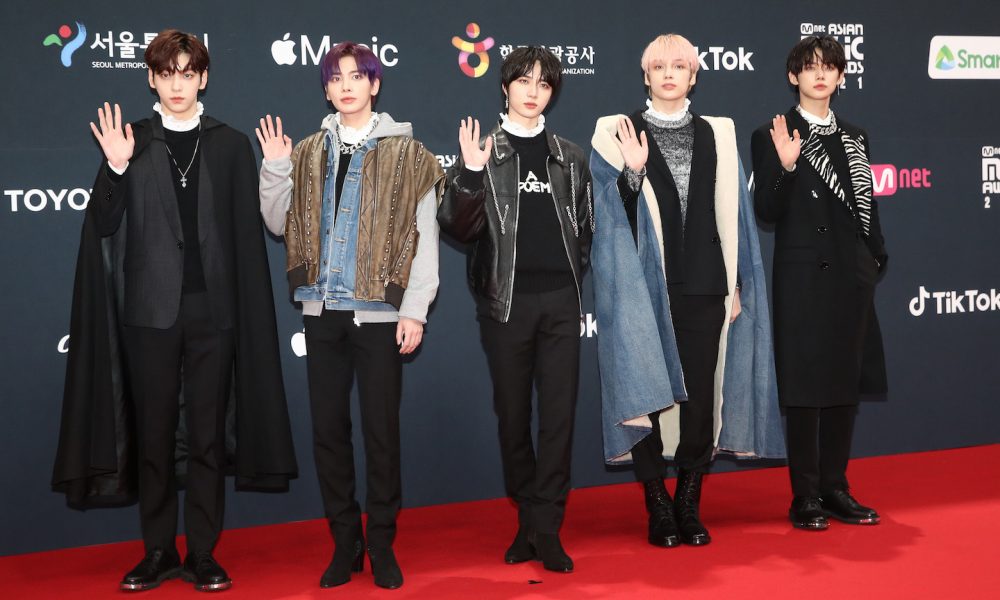 Tomorrow X Together has shared a surprise new song called "Sweet Dreams," intended to be a Christmas gift for its fans.
Described as an "urban R&B carol with vintage piano sounds", the track describes festive scenes like "Streets glimmering with warm light like stars in the night" and "white snow that settled silently." A press release states that the song "expresses hopes for a warm and comfortable Christmas and great things to come after difficulties of the year including COVID-19."
The lyrics for "Sweet Dreams" were written by Tomorrow X Together members Soobin, Taehyun, and Hueningkai, while Yeonjun and Hueningkai contributed to the writing of the melody. The track was produced by Slow Rabbit and features backing vocals from musician Pollen.
"I hope for a comfortable night at the end of your day/Like a present, sweet dreams and good night," the members of TXT sing, reflecting their gratitude to their fanbase – known as MOA – for all the love and support they have received. "Merry, merry Christmas/You're always shining like a star."
TXT (투모로우바이투게더) 'Sweet Dreams'
Over the last year, Tomorrow X Together has dominated the global K-pop scene, scoring a No.5 album on the Billboard 200 chart with The Chaos Chapter: Freeze, which went on to be the longest-charting K-pop release of 2021 with 13 consecutive weeks in the charts. TXT was also nominated for the likes of the People's Choice Awards, the MTV Millennial Awards, and Mnet Asian Music Awards, among others.
The Chaos Chapter: Freeze and its repackaged version The Chaos Chapter: Fight Or Escape also ranked in numerous publications' end-of-year lists, including Rolling Stone, NME and TIME.
Earlier this month, the group also released its first Japanese EP, Chaotic Wonderland. The record saw the boyband team up with the popular Japanese band GReeeeN on the original song "Ito," which served as the opening theme song for the Japanese TV drama Spiral Labyrinth – DNA Forensic Investigation. The EP also included Japanese-language versions of "0X1=LOVESONG (I Know I Love You)" and "MOA Diary (Dubaddu Wari Wari)."