U2 Announces 'Joshua Tree' Tour 2017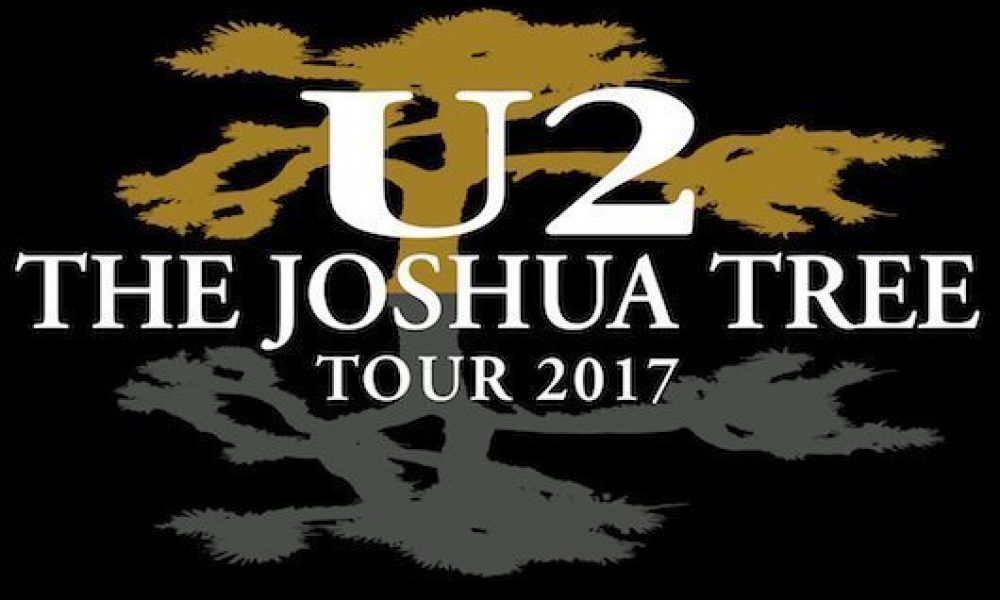 In celebration of the 30th anniversary of the band's seminal album, The Joshua Tree, U2 will perform their classic fifth album in its entirety during the U2: The Joshua Tree Tour 2017, which is scheduled to start 12 May in Vancouver, Canada and includes the band's first-ever US festival headline appearance at the Bonnaroo Music & Arts Festival.
The band then heads to Europe with a show in Twickenham on 8 July and the prodigal sons will return to their hometown to play Dublin's Croke Park on 22 July, 30 years after their iconic sold out shows at the Jones' Road venue in June 1987.
In addition to taking the album on the road, they'll be joined by special guest Noel Gallagher's High Flying Birds, for some of the dates in Europe and the UK. The Joshua Tree was met with universal acclaim after its release on 9 March 1987 and gave us the enduring singles, 'With Or Without You', 'I Still Haven't Found What I'm Looking For' and 'Where The Streets Have No Name'. Produced by Brian Eno and, the album marked a defining turn for the band, morphing them into the larger than life stadium act they are today.
U2: THE JOSHUA TREE TOUR 2017
Bono shared his thoughts on the upcoming tour:
"Recently I listened back to The Joshua Tree for the first time in nearly 30 years… it's quite an opera. A lot of emotions which feel strangely current, love, loss, broken dreams, seeking oblivion, polarisation… all the greats… I've sung some of these songs a lot… but never all of them. I'm up for it, if our audience is as excited as we are… it's gonna be a great night. Especially when we play at home. Croke Park… it's where the album was born, 30 years ago".
Tickets for the U2: The Joshua Tree Tour 2017 go on sale 16 January in Ireland, the UK and Europe and 17 January in the US and Canada. For complete tour and ticket information, click here.
North American Tour Dates & Support
May 12 Vancouver, BC: BC Place – Mumford & Sons
May 14 Seattle, WA: CenturyLink Field – Mumford & Sons
May 17 Santa Clara, CA: Levi's Stadium – Mumford & Sons
May 20 Los Angeles, CA: Rose Bowl – The Lumineers
May 24 Houston, TX: NRG Stadium – The Lumineers
May 26 Dallas, TX: AT&T Stadium – The Lumineers
June 3 Chicago, IL: Soldier Field – The Lumineers
June 7 Pittsburgh, PA: Heinz Field – The Lumineers
June 8-11 Manchester, TN: Bonnaroo Festival – Multi-Artist
June 11 Miami, FL: Hard Rock Stadium – OneRepublic
June 14 Tampa, FL: Raymond James Stadium – OneRepublic
June 18 Philadelphia, PA: Lincoln Financial Field – The Lumineers
June 20 Washington, DC: FedExField – The Lumineers
June 23 Toronto, ON: Rogers Centre – The Lumineers
June 25 Boston, MA: Gillette Stadium – The Lumineers
June 28 East Rutherford, NJ: MetLife Stadium – The Lumineers
July 1 Cleveland, OH: FirstEnergy Stadium – OneRepublic
European Tour Dates & Support
July 8 London, UK: Twickenham – Noel Gallagher's High Flying Birds
July 12 Berlin, DE: Olympic Stadium – Noel Gallagher's High Flying Birds
July 15 Rome, IT: Olympic Stadium – Noel Gallagher's High Flying Birds
July 18 Barcelona, ES: Olympic Stadium – Noel Gallagher's High Flying Birds
July 22 Dublin, IE: Croke Park – Noel Gallagher's High Flying Birds
July 25 Paris, FR: Stade de France – Noel Gallagher's High Flying Birds
July 29 Amsterdam, NE: Amsterdam Arena – Noel Gallagher's High Flying Birds
August 1 Brussels, BE: Stade Roi Baudouin – Noel Gallagher's High Flying Birds
Format:
UK English