More U2 In London & Barcelona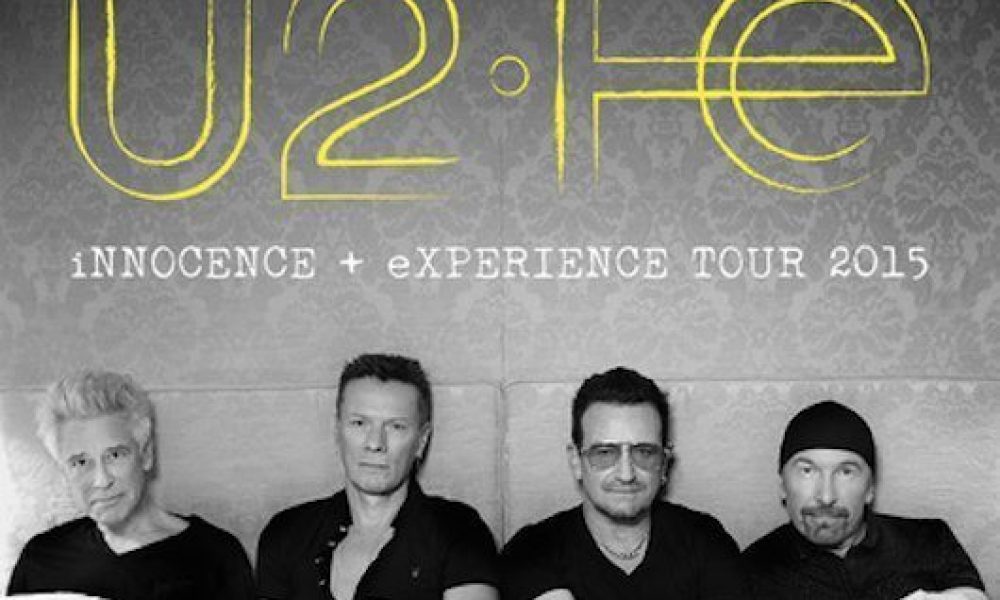 U2 have added further shows in London and Barcelona to their 'iNNOCENCE + eXPERIENCE' tour for later this year. As the itinerary continues to sell out through Europe and North America, Live Nation have announced that due to huge public demand, the band will now play a fifth London show at the 02 on November 2, and a third in Barcelona at Palau Sant Jordi on October 9.
Tickets for the London date go on sale tomorrow (6) and for Barcelona next Tuesday (10). The tour follows U2's 'Songs Of Innocence' album, which has been downloaded by more than 40 million fans worldwide.
The full, updated tour itinerary is as follows:
NORTH AMERICA 2015
May 14th, Vancouver, BC, Rogers Arena
May 15th, Vancouver, BC, Rogers Arena
May 18th, San Jose, CA, SAP Center at San Jose
May 19th, San Jose, CA, SAP Center at San Jose
May 22nd, Phoenix, AZ, US Airways Center
May 23rd, Phoenix, AZ, US Airways Center
May 26th, Los Angeles, CA, Forum
May 27th, Los Angeles, CA, Forum
May 30th, Los Angeles, CA, Forum
May 31st, Los Angeles, CA, Forum
June 3rd, Los Angeles, CA, Forum
June 12th, Montreal, QC, Bell Centre
June 13th, Montreal, QC, Bell Centre
June 16th, Montreal, QC, Bell Centre
June 17th, Montreal, QC, Bell Centre
June 24th, Chicago, IL, United Center
June 25th, Chicago, IL, United Center
June 28th, Chicago, IL, United Center
June 29th, Chicago, IL, United Center
July 6th, Toronto, ON, Air Canada Centre
July 7th, Toronto, ON, Air Canada Centre
July 10th, Boston, MA, TD Garden
July 11th, Boston, MA, TD Garden
July 14th, Boston, MA, TD Garden
July 15th, Boston, MA, TD Garden
July 18th, New York, NY, Madison Square Garden
July 19th, New York, NY, Madison Square Garden
July 22nd, New York, NY, Madison Square Garden
July 23rd, New York, NY, Madison Square Garden
July 26th, New York, NY, Madison Square Garden
July 27th, New York, NY, Madison Square Garden
EUROPE / UK 2015
Sept. 4th, Turin, Italy , Pala Alpitour
Sept. 5th, Turin, Italy, Pala Alpitour
Sept. 8th, Amsterdam, The Netherlands, Ziggo Dome
Sept. 9th, Amsterdam, The Netherlands, Ziggo Dome
Sept. 12th, Amsterdam, The Netherlands, Ziggo Dome
Sept. 13th, Amsterdam, The Netherlands, Ziggo Dome
Sept. 16th, Stockholm, Sweden, Globe
Sept. 17th, Stockholm, Sweden, Globe
Sept. 20th, Stockholm, Sweden, Globe
Sept. 21th, Stockholm, Sweden, Globe
Sept. 24th, Berlin, Germany, O2 World
Sept. 25th, Berlin, Germany, O2 World
Sept. 28th, Berlin, Germany, O2 World
Sept. 29th, Berlin, Germany, O2 World
Oct. 5th, Barcelona, Spain, Palau Sant Jordi
Oct. 6th, Barcelona, Spain, Palau Sant Jordi
Oct. 9th, Barcelona, Spain, Palau Sant Jordi
Oct. 13th, Antwerp, Belgium, Sportpaleis
Oct. 14th, Antwerp, Belgium, Sportpaleis
Oct. 17th, Koln, Germany, Lanxess Arena
Oct. 18th Koln, Germany, Lanxess Arena
Oct. 25th, London, UK, O2
Oct. 26th, London, UK, O2
Oct. 29th, London, UK, O2
Oct. 30th, London, UK, O2
Nov. 2nd, London, UK, O2
Nov. 6th, Glasgow, UK, The SSE Hydro
Nov. 7th, Glasgow, UK, The SSE Hydro
Nov. 10th, Paris, France, Bercy
Nov. 11th, Paris, France, Bercy
Nov. 14th, Paris, France, Bercy
Nov. 15th, Paris, France, Bercy
Format:
UK English