Valerie June Performs Frank Ocean's 'Godspeed,' Announces Covers Album
'Under the Covers' is due out August 26 via Fantasy Records.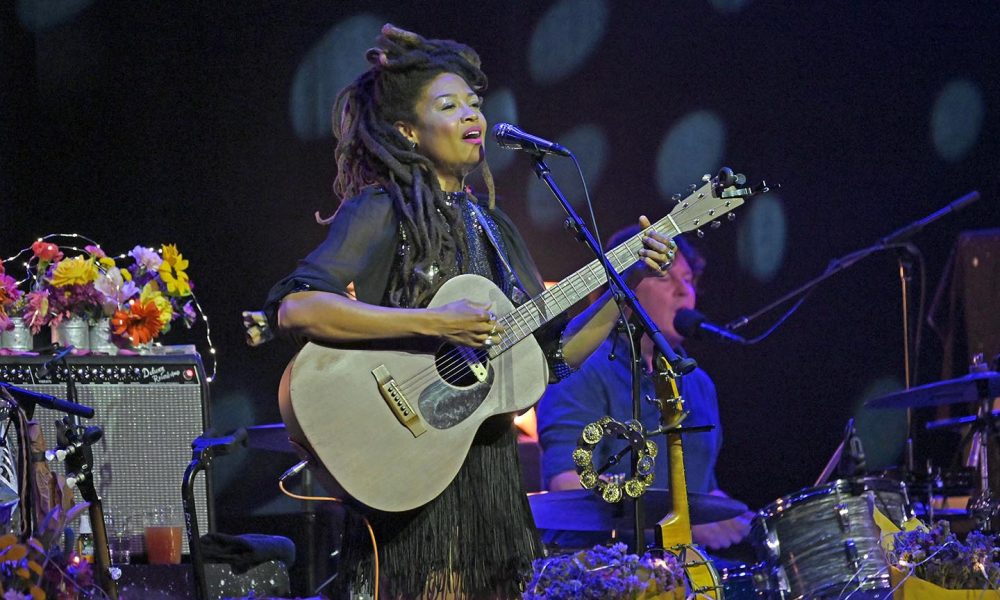 In the able hands of Valerie June, Frank Ocean's kinda-churchy/kinda-trippy ballad "Godspeed," from 2016's Blond, becomes an even more stripped-down piano-and-voice reflection. The tune, which was premiered today, is part of June's upcoming covers record, Under the Covers, due out August 26 on Fantasy Records.
Seemingly an opportunity to pay tribute to some of the songs that have inspired her, Under the Covers includes a fairly wide range of material. There's British folk-rock cult hero Nick Drake's hazy, mysterious "Pink Moon," Mazzy Star's '90s shoegaze-pop classic "Fade Into You," John Lennon's "Imagine," Americana icon Gillian Welch's "Look At Miss Ohio," country-pop maverick Joe South's 1969 gem "Don't It Make You Want to Go Home," Bob Dylan's country rocker "Tonight I'll Be Staying Here With You," and Nick Cave's romantic ballad "Into My Arms."
Valerie June - Godspeed featuring Treya Lam (Official Audio)
It's interesting to note that several of the artists covered here by the Tennessean singer/songwriter have released covers albums of their own at some point: There's been John Lennon's 1975 Rock 'n' Roll, Gillian Welch's 2020 All the Good Times are Past and Gone, Nick Cave's 1986 Kicking Against the Pricks, and several by Bob Dylan. So, it seems somehow fitting for them all to end up together on June's album.
But June won't simply be sitting around in anticipation of the record's release in the meantime. On July 9, she'll be kicking off a summer tour that takes her around North America and then to the UK. Maybe if you catch one of the shows and yell it out loud enough, she'll even play "Godspeed" for you.
Preorder Under the Covers here and scroll down to view tour dates.
Valerie June tour dates:
07/09 – Pasadena, CA @ Palomino Festival
07/10 – Big Sur, CA @ Henry Miller Memorial Library
07/11 – Petaluma, CA @ Lagunitas Brewing Company
07/24 – Newport, RI @ Newport Folk Festival
07/29 – Kaslo, Canada @ Kaslo Jazz Fest
07/31 – Spokane, WA @ Knitting Factory
08/02 – Victoria, BC @ Capital Ballroom
08/03 – Tacoma, WA @ Alma Mater
08/04 – Eugene, OR @ Hult Center for the Performing Arts
08/05-08/07 – Happy Valley, OR @ Pickathon
08/18-08/21 – Crickhowell, UK @ Green Man 2022
08/23 – Manchester, UK @ Blues Kitchen
08/24 – Bristol, UK @ Thekla
09/2 – The Gorge Amphitheatre @ George, WA
09/17 – Camden, NJ @ XpoNential Music Festival