Vince Staples Performs For NPR's 'Tiny Desk (At Home)' Series
The band included 'Vince Staples' producer Kenny Beats on bass.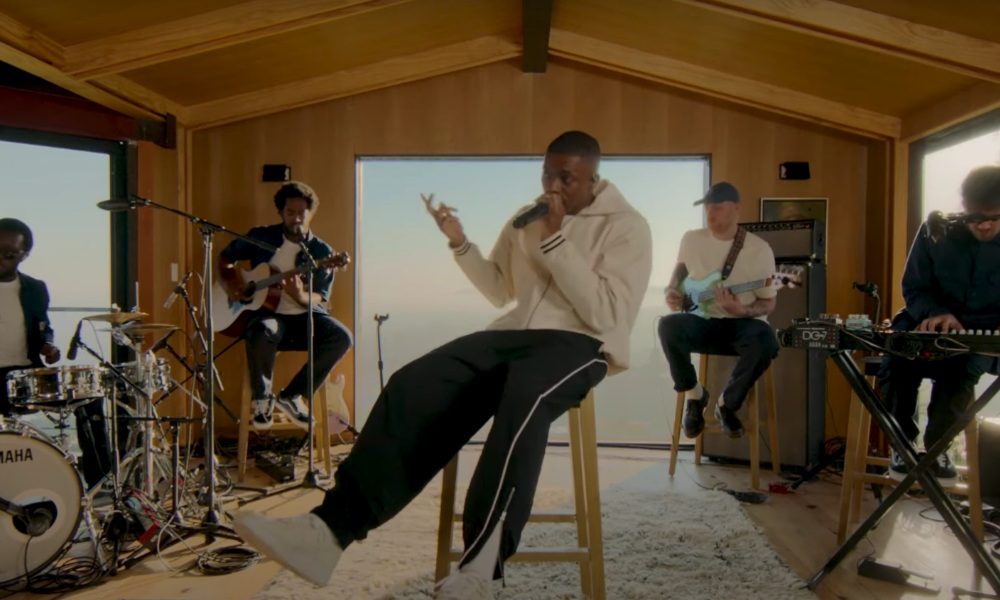 Vince Staples and a full band performed hits from his self-titled album from an undisclosed Calabasas home for NPR's Tiny Desk (At Home) series. The MC performed "Law Of Averages," "Sundown Town," "The Shining," and "Take Me Home."
Vince recruited an excellent live band to highlight the intricacies of his new record, which includes (Vince Staples producer) Kenny Beats on bass, Gio "Dutchboi" Ligeon on guitar and vocals, Reske on keys and vocals, David Meyers Jr. on drums, and Fousheé on vocals.
Vince Staples: Tiny Desk (Home) Concert
Says NPR regarding the performance: "Despite years-long demand from our audience on YouTube, this was the perfect time for a Vince Staples Tiny Desk performance. We've very rarely seen him perform with a band in the past. Then there's the sound of his new work – Kenny Beats, seen playing bass, handled the bulk of the production of the album, Staples' most melodic to date. The band, outfitted in blue khaki suits, was able to recreate the sound of Vince Staples seamlessly (it's mostly made up of players from the album), and coast wonderfully through this four-song set, punctuated by Vince's signature, tongue-in-cheek humor between songs. Always willing to share the spotlight with future stars (see Snoh Aalegra), he closes with the assistance of another on the horizon, the singer Fousheé, on 'Take Me Home.'"
Of the new LP, Staples says, "It really gives much more information about me that wasn't out there before. That's why I went with that title. I feel like I've been trying to tell the same story. As you go on in life, your point of view changes. This is another take on myself that I might not have had before."
"I'm a mind more than I am an entertainer to a lot of people," Staples says, adding "I appreciate that my fanbase is willing to go on this ride with me. I'm ready to diversify what we're doing and see how we affect the world." That trip has begun with the recent announcement of his new graphic novel, Limbo Beach.