Watch U2 And A.R. Rahman Perform 'Ahimsa' At Historic Mumbai Show
The show marked the last night of the band's 'The Joshua Tree Tour,' which has played to nearly three million people in 2017 and 2019.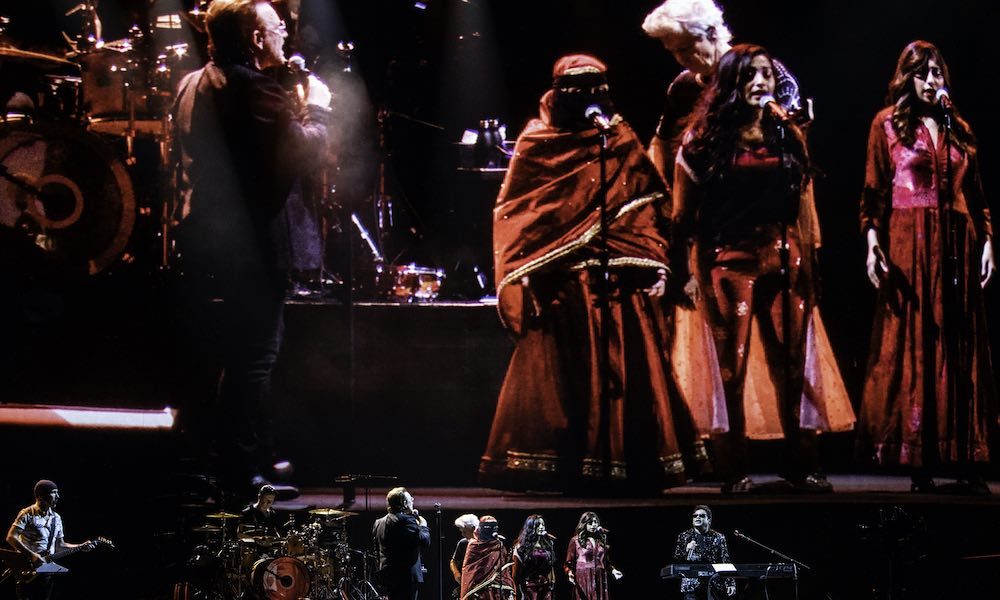 Grammy-winning producer A.R. Rahman joined U2 on stage at their historic first-ever performance in India last night (Sunday) to help perform their new 'Ahimsa' collaboration. The show marked the last night of the band's The Joshua Tree Tour. Watch an excerpt of this first-ever live rendition of the song here.
'Ahimsa' in Mumbai with AR Rahman
The concert, at the DY Patil Stadium in Mumbai, also saw U2 and Rahman joined by his daughters Khatija Rahman and Raheema Rahman, as well as singer-songwriter Rianjali Bhowmick. All of them also feature on 'Ahimsa' which, after its 22 November release, immediately went to No. 1 on the iTunes rock charts in more than  20 countries.
Says Rahman: "Performing with U2 in Mumbai, in a way, was celebrating Mahatma Gandhi and his world revered faith, Ahimsa. We are touched by U2's stand against injustice, for women empowerment and for goodness in this world.
"The collaboration with U2 on 'Ahimsa' comes at a very appropriate time, while the whole world celebrates 150 years of the Mahatma, the message of Ahimsa needs to reach every nook and corner. This is also a debut performance for my daughters, Khatija and Raheema, singing in a rock concert. I hope the people who came for the concert enjoyed the performance!"
The tour opened in Vancouver in May 2017 and has played to more than 70 stadiums. It has played to almost three million people around the world in 66 shows in 2017 and 2019, in Europe, North and South America, Mexico, New Zealand, Australia, Japan, plus first-ever visits to India, Singapore, South Korea and the Philippines. 
Noel Gallagher, whose High Flying Birds have been guests on the itinerary, joined U2 for 'Desire,' which closed the main set. Earlier on, as u2.com reports, Bono had told the crowd: 'We come to India as pilgrims. Like so many over centuries, we come in search of the great soul Gandhi. We are students, you are our teachers."
The set list for the closing night opened with the early U2 favourites 'Sunday Bloody Sunday,' 'I Will Follow' and 'New Year's Day,' adding 'Bad' and 'Pride (In The Name Of Love)' before they set about performing the whole of The Joshua Tree.
After 'Desire,' the band returned to play 'Elevation,' 'Vertigo,' 'Even Better Than The Real Thing,' 'Every Breaking Wave,' 'Beautiful Day,' 'Ultra Violet (Light My Way)'and the aforementioned 'Ahimsa.' Everyone then joined the band on stage for the closing 'One.'
The Eternal Remixes can be bought here.
Follow the best of U2 on Apple Music and Spotify.
Format:
UK English