Yeah Yeah Yeahs Still Running Hot With 'Fever To Tell' Deluxe Reissues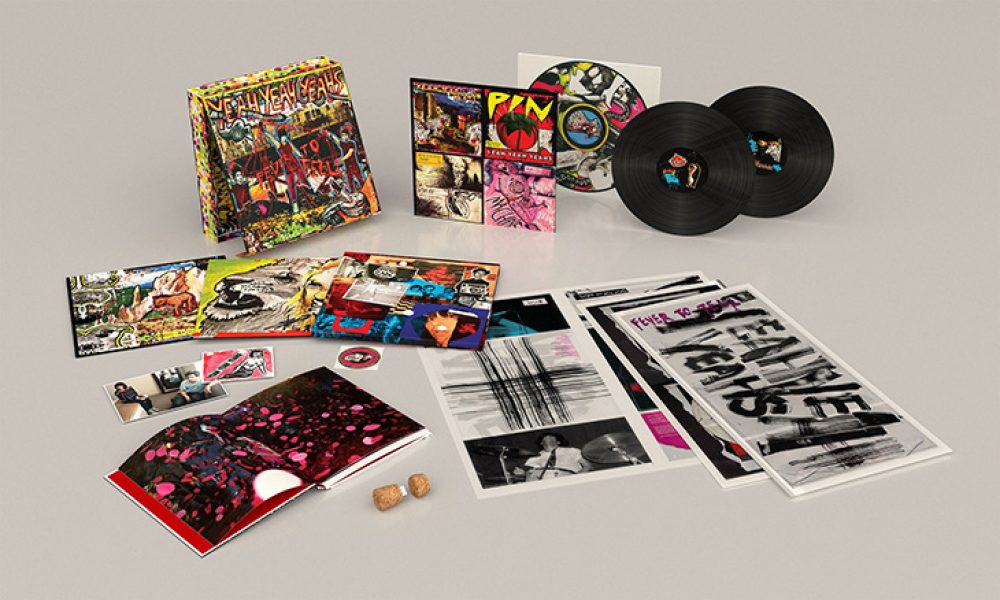 Nearly 15 years later and Yeah Yeah Yeahs' impassioned debut album Fever To Tell is getting the deluxe vinyl reissue truly deserves with Interscope Records/UMe announcing a deluxe, limited edition box set wrapped in red fishnet stockings and remastered vinyl LP set for release on 20 October 2017.
Fusing together blistering garage rock with punk's attitude and danceable rhythms, the Yeah Yeah Yeahs brought rock music back to the dance floor. While The Strokes may have lit the fire of New York's nascent rock revival, the Yeah Yeah Yeahs kept it burning in the boroughs, setting the scene for the city's DIY rock scene and introducing the rest of the world to one of the most formidable frontwomen in music history, Karen O.
Before their major label debut, the band had already won over the city with their maniacal live shows, featuring Karen O dousing herself in Vaseline and donning the most wildly inventive costuming, like Ziggy Stardust after a long night out. From the very beginning, critics remarked the band shared the same musical DNA as other female fronted punk provocateurs like Siouxsie and the Banshees, Blondie and Lydia Lunch. But like art-school kids who got to run amok, they cut through the cool-kid posturing of their peers and injected an infectious energy into their music and visuals. Along with bandmates Nick Zinner and Brian Chase, they would come to embody the weirdo outsider artists who made the mainstream take notice.
When it came to reissuing their 2003 album the band said, "A friend of a friend kept asking if we were ever gonna put Fever To Tell out on vinyl as it hasn't been on vinyl in 10 years. That's not right. So here it is on vinyl for the first time in 10 years plus a time capsule of photos, demos (1st ever recorded,) a mini film documenting our near downfall and other fun memorabilia, from the turn of the century NYC, made with love + the usual blood, sweat and tears of Yeah Yeah Yeahs."
Released in 2003, Fever To Tell would become the blueprint for the countless indie-rock that emerged in early 00s and beyond. Thanks to Nick Zinner's propulsive guitar and Brian Chase thunderous drums the New York trio could produce gritty bangers like 'Date With The Night' and 'Y Control' to scorching love anthems like 'Maps', that coincidentally put them on the map after it got serious play on MTV and racked up a slew of accolades at the MTV Video Music Awards that year. The album would go on to be nominated for a Grammy Award for Best Alternative Music Album and was certified gold in both the US and the UK. While the band would go on to release three additional critically and commercially acclaimed albums, Fever To Tell will always remain their lightning a bottle moment.
Yeah Yeah Yeahs - Fever To Tell - Deluxe Remaster Reissue
The album will be available as a limited edition deluxe box, standard LP, and digital deluxe and standard re-mastered editions available for pre-order starting on 26 September. The deluxe version will be signed and numbered and limited to 2,000 copies worldwide and contains the original album newly remastered on 2LPs, with nine unreleased demos, eight B-sides and rarities and five newspaper lyric posters.
It also features a 164-page hardbound photo book of Nick Zinner's personal photos and includes notes from Karen O's personal collection, an embroidered iron-on patch, sticker, one photo card from Nick Zinner's personal collection that all three members will sign and a custom champagne cork 8GB USB stick that includes over ninety minutes of video content as well as the twenty-nine audio tracks on the vinyl.
The first 500 buyers purchase the deluxe box will also receive a bonus cassette with four additional exclusive, unreleased demo bonus tracks with handwritten labels by the band.
The single LP version features a new remastering by Stephen Marcussen on black 180 g vinyl and includes and five newspaper lyric posters with exclusive photos by Nick Zinner, Spike Jonze, Lance Bangs, Julian Gross, Patrick Daughters and Cintamani Calise.
The band has also announced dates for their fall tour, with pre-sale starting 26 September and general sale 29 September.
Yeah Yeah Yeah's Fever To Tell is set for release on 20 October. Scroll down for tour dates and the tracklist, and order Fever To Tell here.
Tour Dates
25 Oct | Los Angeles, CA | The Fonda Theatre
28 Oct | Long Beach, CA | Growlers 6 Festival
7 Nov | Brooklyn, NY |Kings Theatre
10 Nov | Austin, TX | Sound on Sound Festival
The full Fever To Tell: Deluxe Edition tracklisting is:
LP 1 / Side A
1. Rich
2. Date With The Night
3. Man
4. Tick
5. Black Tongue
6. Pin
7. Cold Light
LP 1 / Side B
1. No No No
2. Maps
3. Y Control
4. Modern Romance
LP 2 / Side A
1. Date With The Night (Four Track Demo)
2. Black Tongue (Four Track Demo)
3. Pin (Four Track Demo)
4. Maps (Early Four Track Demo)
5. Poor Song (Four Track Demo)
6. Tick (Four Track Demo)
7. Shot Down (Four Track Demo)
8. Ooh Ooh Ooh (Four Track Demo)
9. Maps (Four Track Demo)
LP 2 / Side B
B-sides & Rarities
1. Shake It – Previously Unreleased
2. Machine
3. Modern Things
4. Graveyard
5. Shot Down
6. Yeah! New York
7. Boogers – Previously Unreleased
8. Countdown
Video
1. There Is No Modern Romance (Tour Documentary by Patrick Daughters & Stephen Berger)
26 mins of unreleased, unseen behind-the-scenes video of the band on their 2003 UK tour
2. Fukuoka Nagoya Osaka Tokyo (Japan Tour Behind The Scenes)
3. They Don't Love Like I Love You (Interviews by Lance Bangs & Spike Jonze)
4. Maps (Official Video)
5. Date With The Night (Official Video)
6. Y Control (Official Video)
7. Pin (Official Video)
8. Y-Control (Live at Fillmore San Francisco)
9. Black Tongue (Live at Fillmore San Francisco)
10. Maps (Live at Fillmore San Francisco)
11. Rich (Live at Fillmore San Francisco)
12. Miles Away (Live at Fillmore San Francisco)
13. Poor Song (Live at Fillmore San Francisco)
Cassette (Limited to first 500 Deluxe Box Customers)
1. Phone Jam
2. Art Star (Four Track Demo)
3. Bang (Four Track Demo)
4. Our Time (Four Track Demo)
Format:
UK English