Yonaka Invites Fans Into Its World With 'Welcome To My House'
The single precedes a new EP of the same name, which will arrive this spring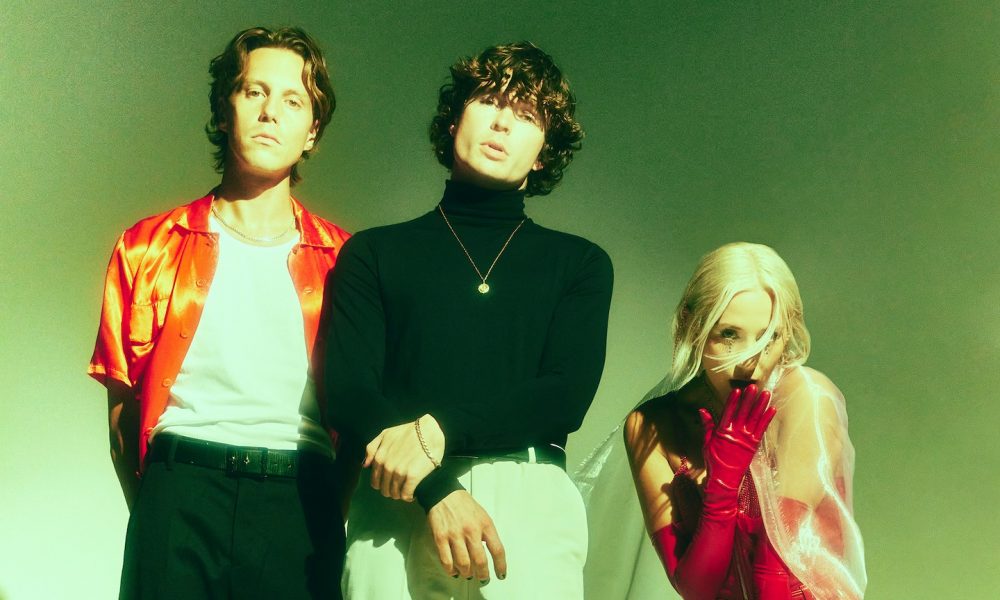 Yonaka has returned with its new single "Welcome To My House," the first track to be taken from a new EP of the same name.
The track finds the UK hard rock disruptors – comprised of singer Theresa Jarvis, bassist Alex Crosby, and guitarist George Werbrouck-Edwards – matching airy synths with an unexpectedly danceable bassline.
The music video, meanwhile, sees Crosby and Werbrouck-Edwards flanking Jarvis, dressed in white suits and seated in a circle of folding chairs. The frontwoman takes center stage in a black couture gown, singing to the camera and putting every ounce of emotion and truth from the track on full display.
Yonaka - Welcome To My House (Official Music Video)
The Welcome To My House EP will follow on May 26 via LAVA/Republic Records and will be followed by a series of festival dates across the UK and Europe, including slots at Reading & Leeds 2023.
"Each song represents a memory or emotion inside me," Jarvis explained of the EP. "The experiences I have gone through have all spent time inside my house and consumed me. With the EP being called Welcome To My House, visually, I want listeners to be able to open up a door, come into my world and see what each song meant to me at that specific time in my life."
"Welcome To My House" arrives on the heels of the previous single "PANIC," which one acclaim for the band from outlets including NME and LA's world-renowned radio station KROQ. To date, Yonaka has released one album – its 2019 debut, Don't Wait 'Til Tomorrow – and the 2021 mixtape Seize The Power, using those records to fuse pop, punk, and hip-hop into a hypnotic alternative-rock hybrid.
So far, the group has quietly emerged as a phenomenon with 150 million-plus streams and the applause of The Guardian, NME, and Clash. Beyond collaborations with FEVER 333 and Barns Courtney, they notably joined forces with Bring Me The Horizon for the standout "±ªþ³§." The band secured placements of their music in popular media, including the Apple TV+ series ROAR, Marvel's SheHulk (which reached No.1 in the US and No.7 globally on Shazam charts), and video games such as Fortnite and NHL 23.
Recently they teamed up with e-sports team G2 for the release of "Detonate," the track features hardcore gamer, metalhead, and TikTok sensation Jeris Johnson and its music video features G2 creators and players.