See Yusuf/Cat Stevens, Keb' Mo', And More Playing For Change On 'Peace Train'
Twenty-five musicians in 12 countries, also including Baaba Maal and Rhiannon Giddens, take part in the new version of the 1971 anthem.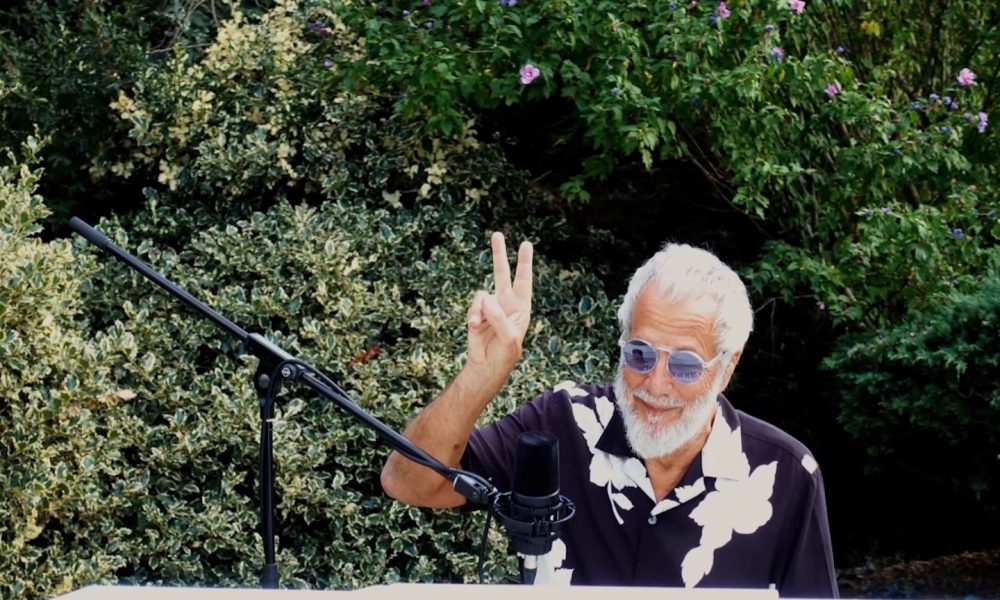 Yusuf/Cat Stevens has teamed up with Playing For Change, the multimedia company behind the hugely popular Songs Around The World video series, to create a new version of his anthemic "Peace Train" with global contributions. Fellow stars taking part include Keb' Mo', Baaba Maal, and Rhiannon Giddens.
Playing For Change's Songs Around The World series has garned more than one billion total online views. As its newest addition, the Rock and Roll Hall of Fame inductee and much-loved singer-songwriter has produced the new version of his classic song with the help of 25 musicians from 12 countries. Grammy winners Mo' and Giddens are joined by Grammy nominee Maal among many others on the track, for which the video has been released in honor of today's International Day of Peace. It's available on Playing For Change's YouTube Channel.
Yusuf/Cat Stevens wrote "Peace Train" as a call for unity and understanding on his storied Teaser and the Firecat album of 1971 and it became his first US Top 10 hit. On the new version, he's seen singing and playing an elegant white piano in a tranquil open air setting in Istanbul, Turkey.
"Peace Train" featuring Yusuf / Cat Stevens | Playing For Change | Song Around The World
Other featured artists include Ghassan Birumi playing the oud in Ramallah, Palestine; musicians from the Silkroad Ensemble in Rhinebeck, New York; and Pat Simmons of the Doobie Brothers and James "Hutch" Hutchinson, bassist with Bonnie Raitt, in Maui, Hawaii. Tushar Lall plays the harmonium in Delhi, India, and Joshua Amjad the ancient wooden instrument the kartal in Karachi, Pakistan.
"We are privileged to be able to create a glimpse of unity through music," says Yusuf/Cat Stevens. "However, if you want to make the Peace Train real, then you need two tracks: one track has to be Justice, and the other must be Well-being. Everybody should have access to these two things, then the Peace Train can really get going."
Standing up for a compassionate world
Playing For Change co-founder Mark Johnson adds: "We're extremely honored to collaborate with Yusuf/Cat Stevens to create a global 'Peace Train' with musicians from around the world. This song's powerful message is as relevant today as the day it was written and as we celebrate the International Day of Peace, we hope that everyone will join us as we stand up for a more equitable and compassionate world."
The full musician credit for the Playing For Change version of "Peace Train," and the locations for their contributions, are: Adrian Buono (Argentina), Avadhoot Phadke (India), Baaba Maal (Senegal), Colin Jacobsen – Silkroad (USA), Eric Appapoulay (UK), Eric Jacobsen – Silkroad (USA), Ghassan Birumi (Palestine), James "Hutch" Hutchinson (Hawaii), Joshua Amjad (Pakistan), Karen Ouzounian – Silkroad (USA), Keb' Mo' (USA), Kwame Yeboah (Ghana), Olodum (Brazil), Pat Simmons (Hawaii), Playing For Change Foundation (Mali and Argentina), Rahat Inayat Ali (Pakistan), Rhiannon Giddens (Ireland), Roots Gospel Voices of Mississippi (USA), Tushar Lall (India), William Barton (Australia), and Yusuf/Cat Stevens (Turkey).
Playing For Change was created to inspire and connect the world through music, born from the shared belief that music has the power to break down boundaries and overcome distances between people. PFC spreads its positive message for humanity to millions of people through inspiring multicultural music videos, a live global touring band and a 501c3 foundation supporting music education around the world.
Listen to the best of Cat Stevens on Apple Music and Spotify.