Playing For Change Are Playing For Keeps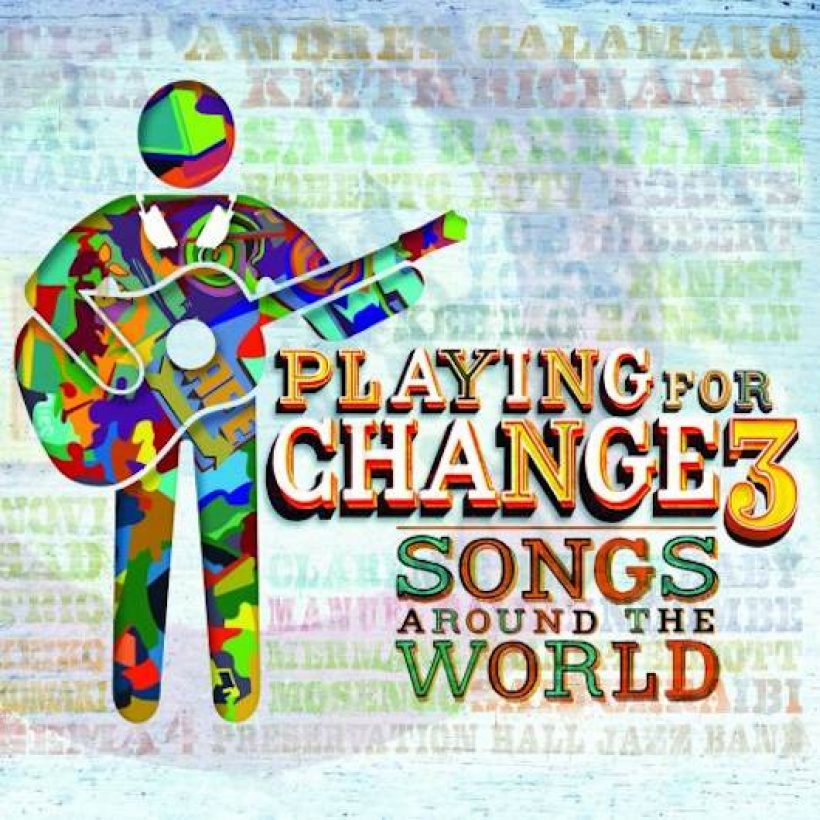 Playing For Change is more than a charity, and more than a series of recordings packed with stars and musicians from around the globe. It's a state of mind, a source of inspiration and an unstoppable campaign to change the world for the better through music.
The series of Playing For Change releases are recorded and filmed on mobile equipment that gives the material a unique and striking audio-visual aura. After the groundwork was laid in the early 2000s, recordings began a decade ago with a first album project that featured a flagship rendition of 'Stand By Me.'
That composite performance included 35 musicians from ten countries, who only ever met in the virtual sense, united on a track for which the intercut video featuring them all has been viewed online 100 million times. They helped create the momentum that PFC has kept moving ever since, with unit sales since that first release of more than 550,000 worldwide.
Last summer saw the appearance of the third album and DVD 'Playing For Change 3: Songs Around The World,' which features such guest stars as Keith Richards, Los Lobos, Taj Mahal, Keb' Mo', Toots Hibbert and Sara Bareilles, and a song produced by Jackson Browne. The Playing For Change Band are, as ever, taking the project around the world, and the combined effect is to the emotional and physical benefit of disadvantaged people by the hundreds of thousands.
PFC co-founder and producer Mark Johnson spoke to uDiscover recently from Brazil, where the album went to No. 1 in the international chart. "We've just built our 11th music school here," he says with quiet pride about the non-profit-making PFC Foundation. "We came over here specifically to tour, then we use the tour as a way to visit the schools, bring the band, and play in a children's hospital."
The Foundation has previously opened music schools, and started music programmes, in such locations as Kathmandu in Nepal, Tamale in Ghana, Guguletha in South Africa and Kigali in Rwanda. Musicians who take part in the albums are paid fees, and featured artists receive royalties.
"Between the first three records, we've raised over $1.5m in artist royalties," says Johnson. "A Zulu choir in Africa that's HIV positive is receiving $25,000 cheques every two months. That's life-changing stuff."
'Songs Around The World' features some 185 musicians from 31 countries, of which, inarguably, the most famous is a certain Rolling Stone who gave the movement his blessing in 2012. "We started with Keith Richards, because he'd seen our version of 'Gimme Shelter,'" says the producer. "He was in New York City, and he said 'Pick any of my songs,' so that's how we started with 'Words Of Wonder.'"
Words of Wonder/Get Up Stand Up feat. Keith Richards | Playing For Change | Song Around The World
Richards was filmed performing this new version of the reggae track from his 1992 solo album 'Main Offender,' featuring a number of international musicians including Roberto Luti and Titi Tsiraand. That segues into a take on Bob Marley's 'Get Up Stand Up' with Keb' Mo', Mermans Mosengo, Aztec Indians, Natalie Pa'apa'a of Blue King Brown and Jamaican singer Sherita Lewis.
Next up for PFC is a track with Buddy Guy, a new take on his song 'Skin Deep' on which the intention will be the same as ever. "It's a great way to show people that we're all connected, without having to preach to anybody," says the affable Johnson. "You can pick a different song, you can pick 'Gimme Shelter' and it's going to be a bit more serious, like 'We're going to unite to overcome the troubles that we face in humanity,' or 'Stand By Me,' or 'Cottonfields.'
"But music has such a strength in uniting people. We can use music as the tool we invented it to be — for us to connect deeper, and at a human level instead of your race, your religion, your politics or how much money you have. That world is dividing everybody, so we keep making these songs to remind everybody that we're all here together.
"People have to learn about their connections through history books. Often that means it's politics and war, but the reality is when you get to show people through a song, they're so much more inspired about the Congo, for example. Instead of being afraid of it, they're inspired by it. It's a new way to look at the world."
Playing For Change has the enthusiastic endorsement of Island Records founder Chris Blackwell, now in a more official role. "From the beginning he was a big supporter," says Johnson, "and he's now come on as a partner with us, for manufacturing, distribution, marketing, music publishing, and really just helping to keep the credibility. He brings such a musical history, obviously. It had been a dream for me to try to build something that would even be interesting to him."
The Playing For Change Band will roll through Europe this summer, spreading a message of irresistible positivity and looking forward to the global celebration of this year's Playing For Change Day on September 19. Richards, not for the first time, has the final word.
"The first thing he said to me," reveals Johnson, "was 'Playing for change? That's the way music was meant to be.'"
Words: Paul Sexton
Listen to 'Playing For Change 3: Songs Around The World' on Spotify
Format:
UK English