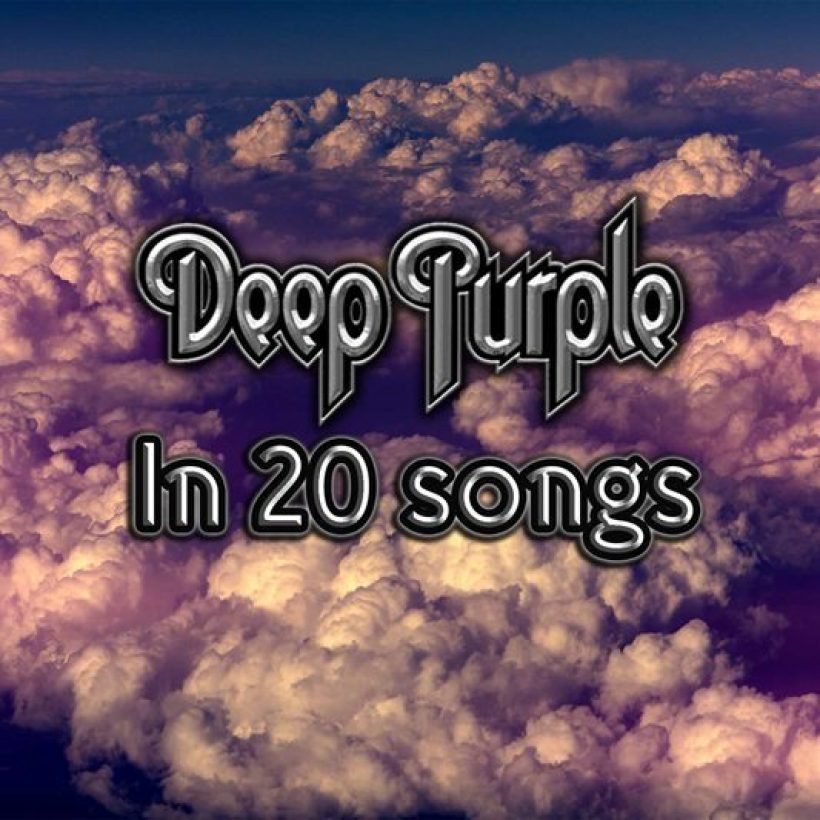 There are very few bands with the pedigree of Deep Purple. Their music has helped to define rock for six decades, with their music going from Prog to Hard rock, to more of an AOR sound during this time. They have produced a string of anthems, classics and even hits on the singles charts in the UK, the US and around the world. But, what if someone asked you to pick 20 songs that would give a non-believer a career retrospective of Deep Purple? It's not their greatest hits, but a musical autobiography and here are our reasons for picking each track. Originally we picked 19 songs and asked you to tell us what you thought we should add as the 20th track. There were many great suggestions but ultimately 'Burn' the title track from the band's 1974 album.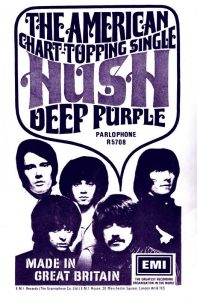 Where to start Deep Purple in 20 Songs? The band's debut single of course, the brilliant cover of Joe South's 'Hush', with Jon Lord's trademark Hammond organ, taken from their debut album, Shades of Deep Purple. What many of you may not know is that in September 1968 'Hush' peaked at #4 on the Billboard chart… in the UK it was not even a hit. Purple's second single was another cover, this time from the unlikely pen of Neil Diamond, 'Kentucky Woman' was included on The Book of Taliesyn that included covers of the Beatles' 'We Can Work it Out' and also, 'River Deep Mountain High' – both 'Kentucky Woman' and 'River Deep' were hits on the Billboard chart, but once again, not in the UK.
Early in 1969, the band recorded 'Emmaretta', named after Emmaretta Marks, a cast member of the musical Hair, and it became a single that reached #128 in America. We've included a version from the BBC's Top Gear radio show, on which Deep Purple were regulars and it just proves how well they replicated their recorded sound.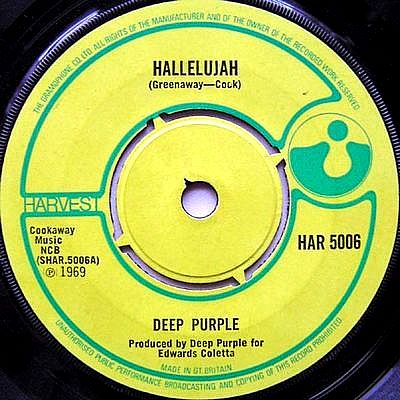 In the summer of 1969 Purple released 'Hallelujah', their first record on EMI's new progressive label, Harvest. It made No.108 on the Billboard charts, yet again not enough people in the UK bought it and it failed to chart. It's classic Prog Rock and shows the influence of both classical music and the thoughtful approach that drove the band's music at this point in their career. Ritchie Blackmore said at the time, "[We] need to have a commercial record in Britain", and described the song as "an in-between sort of thing
'Hallelujah' was the first record not to feature singer Rod Evans; he was replaced by Ian Gillan, and bass player Nick Simper also left, to be replaced by Roger Glover; both new recruits came from Episode Six, a band with a not dissimilar musical vibe to Deep Purple. The new line up, which of course included Jon Lord, Blackmore and drummer Ian Paice were soon back recording, although it was on a project altogether more ambitious than they, or just about any other band, had tried before.
The Concerto for Group and Orchestra was recorded at The Royal Albert Hall in London on 24 September 1969 and it was a groundbreaking album in so many ways. Composed by Lord it is a tour de force and the third movement featuring Paice's drum solo is awesome.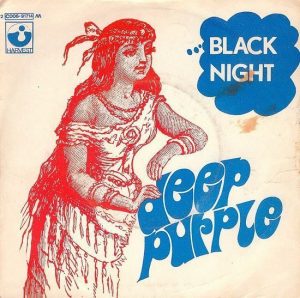 By June 1970 everything changed for Deep Purple, no longer was there any hint of Prog Rock, they were now fully-fledged hard rockers. The day before Deep Purple In Rock was released, the band put out 'Black Night' as a single, yet it's not included on the album. By 17 October it climbed to No.2 on the UK chart, while the album made No.4 in the UK; 'Black Night' could only make No.66 in the US. 'Child in Time' is taken from In Rock and both these tracks represent a new kind of Purple, although with Jon Lord's keyboards to the fore on the latter there is no mistaking their pedigree.
Deep Purple always have been a fantastic live band and their version of 'Speed King', originally from In Rock, was recorded for a BBC radio show in February 1970. A year later Purple released 'Strange Kind of Woman', it made the UK top 10. The song that became the band's third UK hit single was also the title of their fifth studio album was the much loved, 'Fireball'.
'Fireball' was released in the summer of 1971 and in March 1972 Deep Purple were back with another classic album, Machine Head. The opening track is another riff-heavy classic 'Highway Star'. The album was recorded at the Grand Hotel in Montreux Switzerland between 6 – 21 December 1971 using the Rolling Stones Mobile.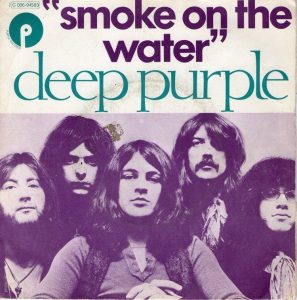 Machine Head also includes what many Deep Purple devotees regard as their finest record, the brilliant 'Smoke On the Water' – for many THE greatest rock riff ever. The lyrics of 'Smoke On The Water' tell the story of a Frank Zappa and The Mothers of Invention concert was held in the casino's theatre on 4 December 1971. Zappa's keyboard player, Don Preston's synthesizer caught fire when an audience member fired a flare gun into the ceiling. The resulting conflagration destroyed the casino complex – the song's title came to Roger Glover in a dream. It's the stuff of rock legend. The version of 'Smoke' is taken from Purple's classic live recording, Made In Japan, recorded in Osaka on 15 August 1972.
The following year Who Do We Think We Are became the band's 7th studio album and from it we've picked the opening cut, 'Woman From Tokyo', a track that was a modest hit in America. In 1974 the band's line-up changed, with David Coverdale taking over the lead vocals and Glenn Hughes coming in to play bass. The first album for the new band was Burn and we've chosen 'Mistreated' a Blackmore/Coverdale composition from this LP; it's a track that shows something of a new direction for the band.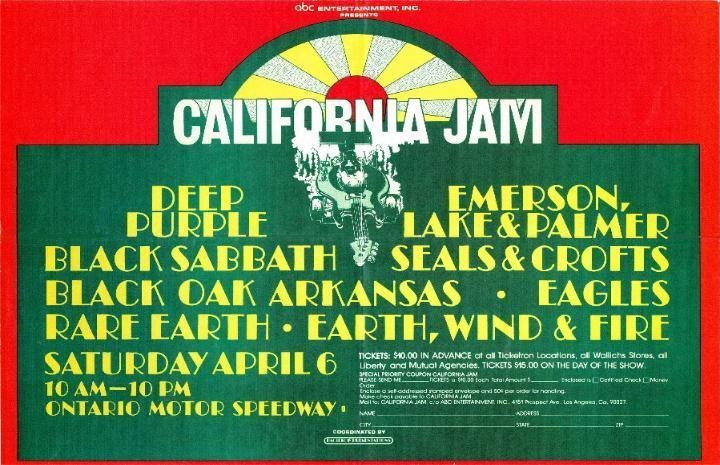 After releasing the album, Stormbringer later in 1974, Ritchie Blackmore moved on to pastures new with Rainbow and Tommy Bolin who had previously been with The James Gang took his place. 'You Keep On Moving' from 1975's Come Taste the Band is, like the previous track, more blues influenced and less riff driven – but there's no doubting the quality of the band or the track that was written by Coverdale and Hughes.
In early 1976, after Come Taste the Band, Deep Purple split up, it would be 1984 before the Purple name was back up and running, this time with the Lord/Paice/Glover/Blackmore/Gillan line-up and the resulting album, Perfect Strangers, while having 80s synth overtones, is a return to the glory days. 'Knocking At Your Backdoor' was released as a single and despite the sexually charged lyrics every FM rock radio station in America played it –and it became a modest hit on the Billboard charts, as well as the band's last US hit.
The follow-up album came three years later with The House of Blue Light and it includes 'Call of The Wild', which has an even more 'current' sound to it, very AOR friendly, something that was not necessarily what every Purple fan wanted to hear – it doesn't in anyway detract from the record which has a classic Purplesque riff.
With former Dixie Dregs guitarist Steve Morse coming in for Blackmore, the new Deep Purple released their second album with their new member in 1998, Abandon included 'Any Fule Kno That'. By 2003's Bananas, Jon Lord had left the band he helped found and Don Airey had replaced him. To bring us right up to date we've included 'All the Time In The World' from 2013's Now What? It's Deep Purple's 19th studio album and while their sound has changed over the years, there's a sense of them staying true to their roots.
So here they are, 20 Classic Deep Purple tracks that tell the story of their career from the very beginning to their latest album. It's a great reminder of the heritage of a band that has been one of the mainstays of hard rock, having started out at a time when albums were taking over from the single.
Format:
UK English