Glen Campbell's daughter, singer-songwriter and banjo player Ashley Campbell, has told uDiscover of her great pride in her father and his final album Adiós, out now on UMe. The record makes a remarkable debut at No. 3 in the UK chart today (16 June); it's Glen's first time in the British top ten since the 20 Golden Greats album ended its run there in January 1977.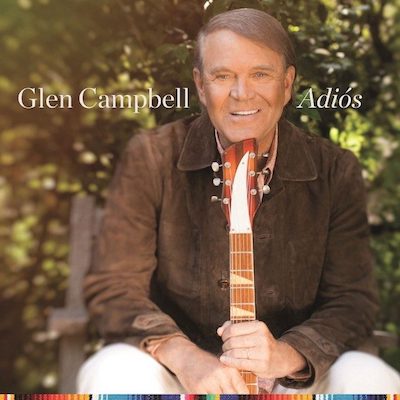 "I heard it on the radio as I was on my drive over to the Universal office this morning," said Ashley last week. "I'm so proud of my dad, it's such a beautiful record." Her father's vocals were recorded in Nashville after his diagnosis with Alzheimer's disease in the aftermath of his 2011-12 world tour.
Adiós was completed more recently under the direction of Glen's former banjo player and family friend Carl Jackson. Ashley sings and plays on the album, asdo her brothers Cal and Shannon; she says that she was completing her background vocals for the project only two months ago. 
Of the more traditional sound of the album, which features songs Glen admired and had performed live but, largely, never recorded, Ashley adds: "I thought 'It's beautiful, he's going back to his roots,' just a straight country and bluegrassy sound. I think it's a nice change."
A poignant highlight is a new version of 'Postcard From Paris,' one of four compositions by frequent collaborator Jimmy Webb and a song previously cut for 2013's See You There album. "I felt very honoured to be asked to sing on the album," says Ashley, "and I think with the particular song 'Postcard From Paris,' those lyrics mean a lot, especially now, 'wish you were here.' Obviously the song isn't about Alzheimer's, but for me it is."
She says of the choice of material in general: "Some of them were songs that he would play when he was sitting around at home with a guitar, especially after he was diagnosed with Alzheimer's and started losing some of the newer stuff. If he sat down with a guitar, you could guarantee that the first song he would play would be one of these songs from the album.
"His go-to song was either [Bob Dylan's] 'Don't Think Twice, It's All Right' or 'A Thing Called Love' [the Jerry Reed song made popular by Johnny Cash]. Those are two of the songs he actually sat down and taught me how to play on guitar, when I started touring with him."
The Campbell family have been widely praised for their openness over the singer's condition, as widely seen in the 2014 documentary Glen Campbell: I'll Be Me. "I can't tell you how many people came up to me after they saw it and said thank you, and that they felt we were sharing their story as well, because up until [then], I don't think it was really very publicly known what Alzheimer's is and how it affects families."
Order Adiós, and explore our dedicated Glen Campbell Artist Page.